SEARCH CINEFEAR
Loading
EXCLUSIVE: Read our interview with actress Natalie Rogers star of the lost Andy Milligan classics Kiss Me, Kiss Me, Kiss Me (1968) and Tricks of the Trade (1970).
Would you like to read out of print EXJ issues for FREE? Cinefear has a blog site, and we'd love to have you come on board and do some reading of the very vintage, out of print issues from 1987 on...They are slowly but surely being scanned and posted, so keep checking back for added issues: CINEFEAR.BLOGSPOT.COM .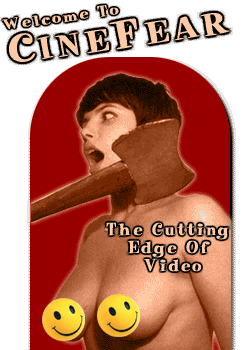 Our spankin' brand new 3-D Movie page!!!
Blitzkrieg - Escape From Stalag 69 - My latest feature film. Buy the DVD right here!
Visit Blitzkrieg - Escape From Stalag 69 official website!
The Bloody Ape, my very first film is on a DVD jam packed with extras! Buy it here!
READ JERRY VENEMAN'S REPORT ON THE BRUCE LEE CLONES!!!(PDF)
CHECK OUT OUR NEW ONLINE SOUND & VISION CATALOG PDF or HTML
CHECK OUT OUR NEW CINEFEAR CATALOG HTML

NOW OFFERING EVERY TITLE IN DVD FORMAT!!! Read on...
Hi and welcome to Cinefear Video, the connoisseur's source for 1960s/70s horror and exploitation, both national and international. This is the final stop for the educated consumer of ultra-rare horror and exploitation cinema on DVD & video. We also carry the largest collection of unreleased audio and video of classic rock and folk music from the late 1960's to early 1970's. In essence we are the ultimate provider for the hungry customer in search of previously unavailable material. We are 32 years in business.
We have been in business since 1990, have advertised in all the major genre magazines (ie Fangoria, Psychotronic), were quoted in Time Magazine, and have been providing the customer with the rarest titles, best quality, lowest prices, and the finest service on hard to find genre titles on DVD & VHS. We, like you, are also fans and collectors and have formed this DVD / video company to stop the current rash of rip-off artists and fly-by-night thieves. We know what its like ordering tapes through the mail; we've been ripped off plenty of times, and we're here to stop that!
On this site I will list some of our most popular titles. Our titles are comprised of imported international master tapes and long out of print American source material. All titles are $15.00 unless otherwise noted. $20.00 for titles personally transferred by us off film prints. These rare $20 titles are packaged directly by us and include boxes with ad art and summaries.
We carry hundreds of videos in our catalog that don't appear on the website. (check it out, we now have three quarters of our catalog on line for you to see just what else we carry).
We are now offering Region 0 custom made DVD's for your viewing pleasure. If you'd like your title choices in DVD format as opposed to VHS, we are more than happy to oblige. After placing your title requests into your shopping cart, upon check-out, you will see a "Special Instructions" option where by you can specify DVD or VHS by simply typing in what format you'd like. If you don't specify format, I will immediately ship your choices in DVD. All prices remain the same as above regardless of format chosen.
I will convert any title of your choice to video formats of PAL, Beta, or SECAM free of any extra charge!!! If no format is specified, we will automatically make your order DVD or VHS NTSC. Please include $4.50 for postage, shipping, and handling for orders of 1-3 DVD's or tapes. Large orders (four DVD or tapes or more) should add $1.50 for each additional DVD/tape. Orders will be shipped in ten days or less from the date we recieve your order. All mailings are first class post office delivered. Foreign orders: $10 postage for the first DVD or tape, $5 each additional title.
Return policies: You can only return a video or DVD if the product is defective (ie... arrives cracked, broken or severly scratched. US Residents have 30 days to return defective product from date of purchase, Canada, Europe and Asia have 60 days). You are then entitled to a replacement copy of the same title only. We will not accept returns on product because you don't like the film, didn't like the quality (we make very specific notes about master quality, however, if you don't see any comments and have questions about a title, please Email me and ask before you order). Now, custom DVD's can be very tricky, playing in some machines, but not playing in others. If you're not sure that your DVD machine can handle custom DVDs, then you must find this out. I will not accept returns based on "It will not play in my machine". Make sure your DVD player can play DVD-R. We use high grade DVD-R. We hold tight to these return policies, follow instructions carefully and there should be no reason for returns.
All titles designated Adults Only require a signature and statement of legal age (this applies to our vintage late seventies/early eighties porn classics ).
Send us your WANT LISTS : We will search for all your requests, no matter how weird or obscure and inform you if we're able to locate them. If we can provide you with the tape or DVD, the cost is $20.00 per title. UPGRADES: We are always in the process of upgrading and updating our source material. If we should happen to locate a better copy of a title you've previously purchased, we will inform you of this and give you the option of sending back the previously purchased tape for an upgrade at no extra expense.
---
HOW TO ORDER
There are two easy ways to purchase Cinefear products. For your convenience, we offer an online SHOPPING CART. Just click "order" for the item you want, and it's in your cart. Add your shipping information, fill out a simple form, and you're done! You can continue shopping or proceed to the checkout at any time.


We accept Visa and Mastercard and Discover payments (International Mastercard & Visa & Discover accepted as well) as well as Google Pay. Use our shopping cart to place your order, and follow the links to submit your credit card information on the100% secure Square page. When using the shopping cart, please choose the "On Account" option when you get to it . The whole process will take you under five minutes. I can also invoice you and you can process the transaction yourself. You must specify in the "special Instructions" section of the order form, and you in turn will be invoiced. Email me if you have any questions. We do not accept Paypal. Payment will be expected within 24hours or the order will be cancelled.
Or to do things the old-fashioned way, you can print this ORDER FORM and fill it out by hand. Email me for the addressto send to.
Make out all checks/money orders to:
Keith J. Crocker
Email me at keithjc@cinefear.com for the address to mail payments.

If you have any questions email me at: contact
Personal checks: please allow five working days to clear. NOTE: All checks and money orders not made out to the above name and address will be immediately returned. No exceptions. All titles are known or believed to be in the public domain. If we are wrong about the copyright on any of these titles please be sure to email us and we will immediately desist. No rights are given or implied. The charges for these DVD's & tapes are incurred in their reproduction and are done so on request of the buyer.
---
CINEFEAR VIDEO TAPE CONVERSION SERVICE
Hey Pal, do you have video tapes from Europe (PAL format) or Asia (SECAM format) that you need converted to good old NTSC? Well, let Cinefear do the conversion for you.
Hey buddy, do you have relatives in Europe or Asia who would love to recieve some home videos from you? How about a TV show you'd like them to see? Or maybe you want to send them some great American made film (that is if any are still being made!). Let Cinefear do the conversion for you! We can convert to PAL and SECAM.
We offer the most competitive rates around. We can convert one hour of tape (or DVD format) to either PAL, SECAM or NTSC for $10.00. Two hours for $20.00. All you need to do is send the tape you want converted with your payment, and we do the rest. Please be sure to include $4.50 for return postage of your first 3 tapes, $1.50 more for each additional. We should have your tape off in 3 days or less. How's that for service?
FILM TO VIDEO/DVD TRANSFERS AVAILABLE
New to Cinefear for Fall 2009, we are making available to our loving public our spanking brand new film to video/DVD transfer service. If you have 16mm, Super 8mm or Regular 8mm film titles you'd like to have transferred to video or DVD, let Cinefear do it for you. Are your home movies sitting around gathering dust? Wanna watch them again on the safety of your widescreen TV, well, we are the guys who can do the job for you. We offer competitive rates but you must email me with your transfer wants in order to get a price quote. Don't wait, do it now! contact