CINEFEAR PRESENTS NEW "CHOKE YOUR CHICKEN" CLASSICS FOR 2019
That's right ladies and gentlemen, Cinefear is proud to present new exclusives that you will find no where else but here. These compilations are transferred directly from vintage 8mm / Super 8mm films long kept hidden in the vaults...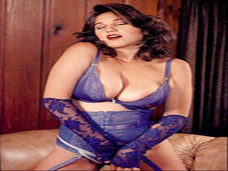 70's SLEAZE (1970's) Here are even more 8mm transfers from the Cinefear vaults. This is our ultimate tribute to the glory days of the 42nd St peep booth. This is a mixed bag of goodies including interracial, big name stars, fetish themes, role playing, and perhaps even an Ed Wood loop or two. There are some big names in this compilation, and when we say big, we mean real big. John Holmes shows up showering a young starlet with some golden goodness. Little Oral Annie drops by to give a motion picture projectionist a lesson in sword swallowing. King Paul finds a tasty tart with a hole so large she can make cucumbers and beer cans vanish in it. And what I just detailed ain't even half of what you get in this DVD. So, what are you waiting for, order now! ORDER
---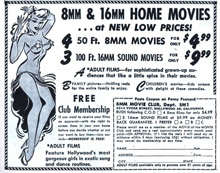 GRANDPA'S STASH (1950/60's) Here's our latest compilation of vintage 8mm loops. All of these films were shot in the 1950's & 60's, this was the type of material your grandparents were getting off on. Prior to the porn loop coming to popularity in the early 70's, these were films you had to order through the mail and are some of the earliest recorded hardcore depictions of sex. Titles on this compilation include Caught in the Act, Delivery Boy, On The Rug, Sleepy, The Atic, The Ironing Board, The Model, Three Way Ride, Through the Keyhole and more! ORDER
---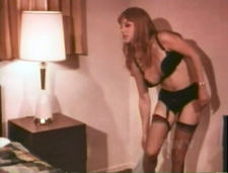 ED'S WOOD VOLUME II (1973-75) Get your Wood on! Because one was just not enough! Here is our second volume of long lost Ed Wood 8mm loops. Included for your viewing pleasure are Park Lovers, Morning Walk (perhaps the most Wood like of them all, and a must to see), Big John 1&2 (featuring the incredible John Holmes), 15" Commercial, Wives at Play, Two Hot To Handle, 69 Park St, Camper Girls, Garter Girls. Over 90 minutes of Wood at his most delirious and jaw dropping. Despite the fact that Wood was at his most alchoholic period in his life, these porn loops are perhaps his most original material. It seems that Ed toiled in this field for so long that he literally laid down the template to how these films were made. Only now is he getting the credit he richly deserved. ORDER
---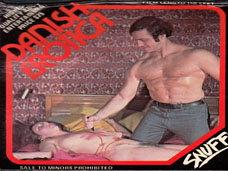 FREAKY FREDDIE'S FREAK LOOPS PART II (1970's) You asked for it, you got it! Another collection of very, very unusual adult film loops featuring odd and lurid subject matters that often make these films far from arrousing. This time out, we've got titles like Nazi Interrogation, Tampon Rapist, Snuff (a hysterical fake Snuff film featuring that idiot Ron Hudd), Jaws (women with fake blood in their mouths biting a cock) and various other freak show nonesense. Other titles include Hot Dog, horror themed films like Vampire Orgy (a guy gets head from a skull) and Vampire Lovers. And a bunch of Tranny sex loops featuring such tranny faves as Sulka, Margo and Nikko starring with classic adult actresses such as Sharon Mitchell, Loni Sanders among others. Over two hours of freak show madness. Watch this with a blind fold on your head. You wont believe your eyes. ORDER
---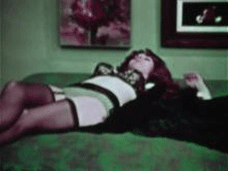 ED WOOD'S 8MM PORN LOOPS (1973/74) How many of you know that the legendary Ed Wood Jr. the man who gave us Plan 9 From Outer Space, also directed 8mm porno loops? Did you know that he directed the first series of films offered by Swedish Erotica in the 1973/74 years? Did you know that we put together as many of these as we could find, and are now offering the 8mm Porno Films of Ed Wood. With titles such as Girl on a Bike, Behind the Ate Ball, The Virgin Next Door and Western Lust, you better believe some "Wood-isms" are going to show themselves in these charming little films. And the added bonus to this is that a few of these short films feature the King of Porn himself, that's right, the incredible John C. Holmes. In the whole of your lives have you ever imagined John Holmes and Ed Wood working together? The two super freaks of sexual indulgence working together to bring you salacious sexual thrills. And who brought this compilation to you!? The incredible Cinefear Video, that's who! ORDER
---
Burnin' for Black (1970's) and it's so hot it puts the previous interracial compilation to shame. Aside from the usual studs such as King Paul, Jonathan Younger, Johnny Keyes, and various other street corner bums, you also get golden girls such as Connie Peterson, Taylor Evens, Eileen Wells and countless others. Double penetrations, oral cumshots, golden showers, you name it, this comp has got it. Loop titles include Treasure Slave, Schoolgirl Fun, Anal Treasure, Oreo, Three Way Girl, Hitch-hiker,Hot Piss, Hot Black Soul and countless others. Have a large glass of water ready. You're going to need it! ORDER
---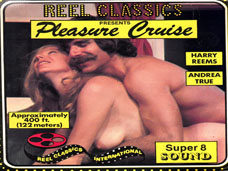 Sound Super 8mm Loops (1970's) is our latest compilation for you and it features Super 8mm films which came with live soundtracks. This one features digests of two theatrical features including Pleasure Cruise (1974) featuring Harry Reems and Andrea True, and Teenage Housewife (1976) featuring Bobby Astor and Susan McBain. Also included for your audio as well as visual pleasure is Swedish Erotica #164 Apartment for Rent starring Eileen Wells, Johnny Keyes & Jonathon Younger. And if that's not enough you get Joggers Delight (with Billy Dee) and an original theatrical trailer for The Devil in Miss Jones. Yes, we are that good! ORDER
---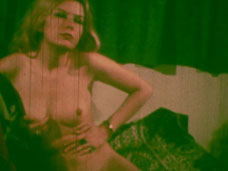 THE AGONY OF LACE LASH & LOVE (1970's) Ok folks, this is anyones guess. It carries the title The Agony of Lace, Lash & Love yet there is another 16mm one day wonder that bares this title as well !?! Anyhow, the other one is an interracial feature, this one is actually just a buntch hippies in various couplings having sex with each other. As far as one day wonders go, this one literally has no plot what so ever, but you do get 100% sex as various folks frolick from bedroom to bedroom. Don't ask me who's in this, because honestly I haven't got a clue, but the girls are cute, some very attractive and stacked, and the males perform admirably. This is our most recent 16mm porn transfer, and you are going to love it. So order it right now, and tell them Horny Herm sent ya! ORDER
---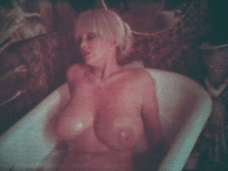 GIANTS OF PORN (1970/80's) Ok folks, just when you thought I was sleeping on the job, here I come with another batch of transfers that are going to knock your eyes out. And who are the GIANTS OF PORN? Well, as far as some of the ladies go, we have Seka, Desiree Cousteau, Candy Samples (that's right folks, not only was she a giant, but she did hardcore as well), Cindy Wong, Aki Wang, Lisa DeLeeuw, Holly Page, Vicky Steele and many, many more. As far as the giant males go, well you can't get any bigger than John Holmes, Tom Byron (very young, prior to his video shot work), John Leslie, Jeff Conrad, Mick South, Kevin James and so much more. Once again, two hours of blistering sex featuring performers you loved to watch doing the very acts you loved to watch them do. ORDER
---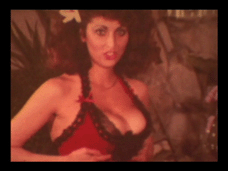 HUGE TITS AND BIG DICKS (1970/80's) That's right folks, we are proud to annouce our latest batch of 8mm transfers. Here you have a two hour compilation of classic 8mm/Super8mm porn flicks, long gone from public view and authetically transferred and color corrected at the Cinefear labs. This delicious compile features just what it promises, huge tits and big dicks. We focus on the oversized with this set, and let me tell you, everyone is packing. We have stars such as Little Oral Annie, Seka, Lisa Thatcher, Dana Dennis, Mary Columbo and the overbearing Italian girl named Maree that carries two watermelons that will have your mouth watering. As far as the studs go, how can you go wrong with Jamie Gillis, Mike Ranger, Star Buck and Johnny Harden who gives John Holmes a run for his money. Of interest, there are lots of unknown faces in this comp but what they have to offer will have you needing one glass of water per loop. There's solo boob loops, lesbians and of course boy girl, boy and two girls, one girl and two boys...it's all there! Great for parties with your friends. ORDER
---
JOHN HOLMES - THE WONDER YEARS 1975-78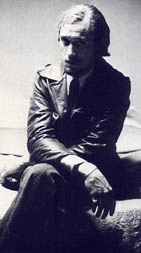 John Holmes, was in many's eyes, the King of Porn. A handsome but lanky man with a huge 14 inch penis, Holmes represented the everyday working man, only this guy possessed a love muscle the size of an elephants trunk, and the unique ability to lay any chick he set eyes on. Cinefear is proud to present this incredible compilation of never before seen loops made by Holmes during the height of his stardom from 1975-78. This comp includes the classic Behind The Ate Ball Parts One and Two, which was directed by the legendary Edward D. Wood Jr (Plan 9 From Outer Space). Young girls are split like firewood by Holmes enormouse girth, and you've never seen such enthusiastic young ladies in your life, literally struggling to get every inch of this giant in to their hungry orafices. This compilation runs two hours, is comprised of color 8mm / Super 8mm shorts that are no longer available to the viewing public, until now! ORDER
---
FREAKY FREDDIE'S FUCKED-UP FREAK LOOPS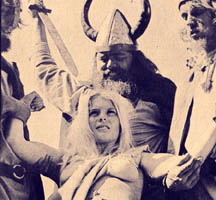 Ok, for those of you with "unusual" tastes in adult cinema, Cinefear is proud to present a whopping ninety minute collection of some of the freakiest sex films ever made. You'll need a strong stomach to get through some of these vintage pieces of "no holes barred" sex, as these performers are not affraid to try anything in that endless search for the ultimate sexual high. Tampon eaters, piss drinkers, poop lovers, folks who like it so rough it hurts, this stuff has to be seen to be believed. Transferred off vintage 8mm / Super 8mm loops (both color & B/W) that were made between the late sixties and early seventies, I can promise you that you have never seen the likes of these before, nor are you likely to see it again? Some of the titles include: Linda Lovelace and the Lassie, The Tampax Freak, The Undertakers Dream, well, you get the idea.... ORDER
---
VINTAGE STARS, VINTAGE LOOPS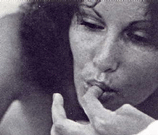 (1970's) Cinefear does it again! Here's a collection of classic 8mm loops all from the heyday of porn, featuring legends like Linda Lovelace, Paul Thomas, Eric Edwards, all the kind guys and gals who made porn what it is today. These were the shorts that made porno stars porno stars. And since they were shorts they were loade from beginning to end with sex, sex and more sex. From our personal archives. Cum and get it! ORDER


---
BLACK LIQUORICE AND SWEET WHITE CREAM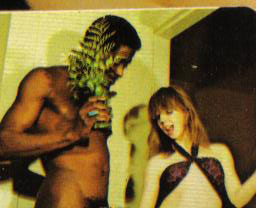 (1970's) Another "Choke your Chicken" classic from your pals at Cinefear. This collection of 8mm classics features interacial themes, hence you'll get big black men giving it good to hot white women, and visa versa, with well hung white studs banging well endowed black broads. Once these shorts were thought of as taboo, now interracial sex films are hot product. See how that all began. This compilation is a real barn burner. One of our best selling titles. With Angel Cash (and her lactates), King Paul, Jamie Gillis... A full two hours. ORDER
---
HOG TIED - S&M LOOPS FROM THE 70's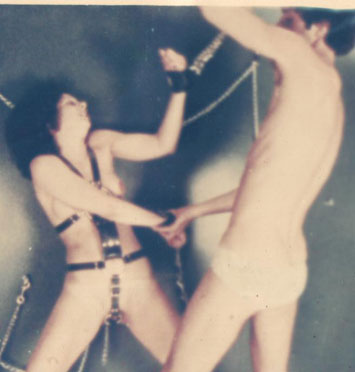 (1970's) And just when you thought we were done, we come back with a whole new shit load of transferred 8mm porn. This compilation features S&M loops, some in B/W, some in color. some are girl/girl, others boy and girl. some are hardcore, some are softcore. All feature bondage, S&M, cat fights, whipping, beating etc... Some of these loops are very, very rare, so if your a fan of the genre you must not let this slip... ORDER
---
THE VALLEY STREAM SLUT (1992)

"FROM YOUR ASS TO HER LIPS!" Back in the days, when we graduated film school and could not find a job, the folks at Cinefear tried their hand at porno. The title abortion is the result. Watch middle-aged Ms. Lulu service the paper boy for his reliable deliveries. Watch a coke addled idiot get his tushy licked by his hopeless Hispanic maid. Listen to Little Rascals music as the proceedings unroll before your eyes. Whatever you do, don't blame us, we tried! This video benefits from oral cum shots, ass eating, people you have never seen before (hopefully you'll never see again) and a ripe old down home atmosphere. You won't believe your eyes and ears! Please buy it as it would put a smile on our face. IT'S BACK, ORDER NOW AND RECEIVE YOUR COPY SIGNED BY THE INCREDIBLE MS. LULU. COMPLETE WITH A KISS MARK FROM MS. LULU AS WELL! |ORDER|
---
CINEFEAR'S VINTAGE XXX DOUBLE FEATURES
Cinefear's vintage XXX double features are lost adult films that run between 50 and 60 minutes and were made with the rain coat crowd in mind. Idiotic yet intricate plots, raunchy, gooey close-up sex and great, fresh faces you may have never seen and may never see again. Each tape comes with original box art work, funny introductions by the series host, Horny Herm, a man so stupid you'll think this is a gag, but it's not, as well as some previews of vintage X trailers. Each tape is $20 dollars including shipping and handling, and if you are a collector of this type of stuff you can't do with out it! * Note- These film prints come directly out of the grindhouse and they look it! Scratches and marks abound, but we cleaned and transferred them our selves and despite their worn out look the quality is just fine, in fact their condition only adds to the atmosphere. Enjoy!
Vicious Virgin (1973-5) Not quite sure what year this one was made, but it involves a spoiled brat teenager who's parents incarcerate her to a clinic for troubled teens. It is here she gets the discipline in life and love that she really needs! Basically a raunchy rain coat classic, this film suffers from the worst post production dialog sinking I've ever seen in my life. It's sort of like a Godzilla movie only it's not, it's typical low grade porn from the seventies. With crude sex, S&M, and faces you have never seen before, how could you go wrong!

PLUS

Hot Lips (1973-5) Another untraceable year but fun just the same. A young lady looking to get "ahead" in the rat race world learns that you have to know more than how to whistle with your lips! Great sexist seventies fun that has to be seen in a smoky room while drinking warm beer. You will feel like taking a shower after these two films.
3 Phases of Eve (1973-5) Great take off on the Sybil craze with a Psychiatrist trying to help a woman experiencing multiple sex personalities. This film has the distinction of having it's credits written out on the Doctors file. A real class act!

PLUS

Stripped for Action (1973-5) Great cheap detective story in which a guy, waking up from a one night stand, finds his lady friend dead. As he inquires into her background it proves she had many, many suitors. Of course we get to see her, him and others in action. Find out why the naughty slut got killed! Buy both volumes of this series and feel the oils on your skin rise.
---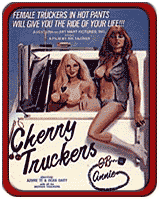 VINTAGE CLASSICS ($15)
A&B VIDEO GANG BANG #7 (Late 80's, early 90's) Long out of print amature video. It was the surge of amature videos in the late 80's, early 90's that set the standard for the type of porn you see today. Having people who authentically loved sex and enjoyed doing these videos saved the porn industry at the time, as the Lords scandle and the AIDS epidemic was virtually wiping out the porn video scene. Anyhow, this is an inter-racial gang bang involving a firey red head named Shelly and her taking on four black men or more and getting turned over more times than your car engine. This has all the type of action you'd expect from a product shot today, only it has that amature eroticism which makes it far hotter. ORDER
A PLACE BEYOND SHAME (1979) Seka plays a frigid woman who through therapy begins to fantasize and live out her sexual fantasies via other women. This is a classic directed by Fred Lincoln and also starring Lori Blue, Veri Knotty, Lisa Addams. With Don Fernando, Paul Thomas and Jon Martin. ORDER
ALICE IN WONDERLAND (1978) A fantastic musical porno completely uncut and featuring the incredible Kristine De Bell, who gets a face full of jizz from the mad hatter. Feed your head! Note: master tape has minor tracking issues, but wont interfere with your enjoyment! ORDER
AMANDA BY NIGHT (1981) Here's a classic from porns golden era. Directed by veteran Gary Graver (aka Robert McCallum) and starring Veronica Hart, Samantha Fox, Lisa DeLeeuw, Lee Carol, Brook West, Robert Kerman, Ron Jeremy and Jamie Gillis. This one features a psycho who is murdering high end prostitutes. Enter detective Kerman who's trying to save Veronica Hart, who in turn must save herself. ORDER
ANGELA, THE FIREWORKS WOMAN (1975) Here is a very interesting psychological hardcore sex film directed by the late Wes Craven. In fact Craven even plays a role in the film, but he doesn't have any naughty scenes. It tells the tale of a young woman and her brother (played by Sarah Nicholson and Eric Edwards respectivly) who have engaged in incest and seperate from each other over the shame of their act. The brother becomes a priest and Angela goes through a series of sirdid sexual adventures that result in several nightmarish sequences. Basically a roughy with a brain. Wes Cravens early work was his best work, don't pass this up....ORDER
ANNA OBSESSED (1977) Excellent and engrossing adult classic starring Constance Money and Annette Haven. Money is no longer sastisfied by her husband (John Leslie) so she starts having rape fantasies and an affair with photographer Annette Haven. At the same time a psycho rapist stalks Long Island women. Uncut and nice quality. ORDER
ARCADIA LAKE'S FANTASIES(1983) Showgirl Superstars put out these great compilation videos in the early 80's usually pulled from Super 8mm loopsd or other films. This is some of the hottest material from the time. This one highlights Arcadia Lake as she nurses Eric Edwards back to health with her special brand of mouth to cock therapy. Then she proceeds to engage in some sapho love with another nurse and later her room mate (Tins Blair). Finally, Eric, Arcadia, Tina and Gary Andersen finally join in a pool hosted orgy. You need to see this to belive this. If your an Arcadia Lake fan, you need this flick! |ORDER|
BABY FACE (1978) Alex DeRenzy's version of the Lolita story made even more interesting by the strange subplots in the film. Starring Cuddles Malone, Amber Hunt and Linda Wong. DeRenzy was a master of adult cinema. A masterpiece. ORDER
BABY ROSEMARY (1975) Directed by John (Grave of the Vampire) Hayes under his Howard Perkins porno name, this is a delerious tale of rape, sexual frigidity, and other madeness as only John Hayes can do it. With Sharon Thorpe and Leslie Bovee. Males include John Leslie and Ken Cotton. ORDER
BARBARA THE BARBARIAN (1987) Directed by the always reliable Robert McCallum, this flick features Barbara Dare as a barbarian queen who must kick the ass of evil warlord Randy West. She has plenty of help in the form of Erica Boyer, Nina Hartley, Jeanne Fine and Nikki Knights. West has Peter North and Billy Dee on his side. Good for a laugh. ORDER

BEHIND THE GREEN DOOR (1974): A long out of print classic from the psychotic Cain and Abel of pornography. This film was the first introduction of the former "Ivory Snow Girl" Marilyn Chambers, who plays a waitress who is abducted by some cretins and forced to participate in a sexual stage show of outrageous debasement. Marilyn on a swing servicing three bozos has to be seen to be believed. And get ready for the great psychedelic 5 minute cum shot that brings things to a close. Quality a bit weak but worth it. |ORDER|
BEYOND DeSADE (1976): Marilyn Chambers and the Mitchell Brothers again. This time Ms. Chambers has golfball sized Ben Wha balls shoved up her ass and then yanked out slowly. Yummy. According to Marilyn, "if you don't do bizarre things and enjoy doing them, that will screw you up". How's that for a philosopher. Buy the premise, buy the flick. |ORDER|
BEYOND FULFILLMENT (1978) Classic John Holmes flick with a series of scenes stuck together involving Big John and porno starlets such as Claudine Grayson, Barbara Barton and Penni Walters. Notable for one of the first "cum swapping" scenes.Static on bottom of the picture as master source was older than the hills, otherwise quality is good. A must for Holmes fans. ORDER
BIG AND BLACK VOLUME 2 (1989)Massive, turgid ebony prongs thrust with wanton zeal into every juicy orifice offered them. These insatiable nymphs love black-and may never go back! Yeah, right. With Megan Leigh, Gale Force, Tiffany Storm, Kim Brown, Ray Victory, F.M. Bradley, Billy Dee, Larry Koster. ORDER
BIG BOOB BABES Vol. #1 (1970s) This is a long out of print collection of nudie shorts involving the top big bust models of the day. Girls such as Candy Samples (44DD) and Roberta Pendon (40DD) and Rhonda Jo Petty (38DD) are photographed wondering around a room, or bathing, lying on a bed, ect... Great if you love old fashioned figure modeling loops. |ORDER|
BLACKS & BLONDES - Best of - (1984-89) Here is two discs worth of episodes from the classic adult interracial series Blacks & Blondes. Featuring such classic episodes as The Lonely Widow (with Lili Marlene, King Paul and friends), Big Tool (with King Paul), The Milkman (a nasty classic), Dark Brothers (with Summer Rose, FM Bradley, Robbi D), Swap Meat (with Summer Rose, FM Bradley and Jack Baker) to name just a few. Others in the these episodes in Channel Price, Tanya Foxx, Ray Victory and countless others. These were never issued on DVD, they come off video masters and are highly sought after by collectors. In fact the original tapes fetch quite a price on Ebay. Get them all here in this two disc set and save yourself the expense. ORDER
BLACKS AND BLONDES- BIGGER, BLACKER & BLONDER (1980's) Here we go, offering more from the long out of print classic series. In this comp you get Hooker's Haven, featuring Cherri Ellay, Sue Lion and the usual studs. Range Fire, featuring Sarah Smile and Robbie Dee and friends. And then we wrap it up with Hot Hour #16, Moonshine Mama starring Janey Robbins and Summer Rose as well as F.M. Bradley and Ron Jeremy. And you also get Black Exposure starring Paula P., Robbie Dee and F.M Bradley. That's right, bigger, blacker and blonder. ORDER
BLACKS AND BLONDES- EVEN BIGGER ANBD BLACKER! (1980's) Here we are back at it and giving the people what they want. This one features Hot Hours 17 and 21. In 17 you get Fantasy Come True with Keli Richards and Robbie Dee. More clips from Moonshine Mama featuring Janie Robbins and Christara Barrington. Birthday Surprise with D. J. Star and Bradley, Dee and Jeremy. You also get on #21 Midnight Lady, Fantasies Unlimited , Uncle Buck with Tanya Foxx and F.M. Bradely. Simply put, you just can't beat these. Grab 'em up! ORDER
BLACKS & BLONDES - SIZZLING 60's - THE HOT HOUR (1986) This includes two segments from the legendary series; Moonshine Mama starring Janey Robbins and Summer Rose as well as F.M. Bradley and Ron Jeremy. And you also get Black Exposure starring Paula P., Robbie Dee and F.M Bradley. Have a glass of water handy. Even Gunga Din wont be able to help you. ORDER
BLACK HUSTLE (1972) Here is a golden oldie from the grand porn rush that hit right after Deep Throat was released. This is a 16mm transfer direct from the Cinefear print collection. Not only do you get Black Hustle, but we open that film with two 8mm transfers of two interracial classic loops, Showcase Series #1 and Wild Mary & Black Prince. Showcase features a young white lass fending off two would be black rapists and turning the tables on them. Wild Mary features a fiery young lady giving lots of oral support to a black stud. Then we have Black Hustle, a one day wonder that features a bunch of pool playing pimps having an orgy with a bunch of tighty whities. The lead pimp wont shut his mouth and talks all sorts of philosophical nonsense that one girl tells him to "shut up and get busy". And if that isn't enough, you get occasional sound snippets of comic Rudy Ray Moore making dick jokes. No, I can't make this up. You also get Barry White snippets on the musical track. And one huge orgy between six people fill out this time capsul. If you're a fan of the "Blacks and Blondes" school of porn, you'll love this prehistoric relic. ORDER
BLACK STUDS & LITTLE WHITE TRASH (1995) one of the last videos directed by the incredible Alex DeRenzy (under the pseudonym Rex Borsky) featuring an array of interacial gangbang sex scenes featuring top stars of day such as the very innocent looking Vanessa Chase, Tess Newhart, and Dallas. Males include the usual prison inmate line-ups such as Sean Michaels, Mr. Marcus, Jake Steed and Santino Lee among many others. Each scenario is different, ex...Vanessa Chase locked up in a prison full of men, etc....you get the point. ORDER
BLAZING ZIPPERS (1974) Naturally cute Milissa Jennings plays a chick who fantasizes about being banged by cowboys (sometimes two at once!). A psychiatrist suggests she go out to the country and find herself a genuine cowboy. She gets a job in a cowpoke bar, and ends up getting roped and poked herself. Fun, good natured sex film that even most gals will find enjoyable. |ORDER|
BLUE MEMORIES II THE CLASSICS (1900's) Here is a compilation of real vintage (and I mean REEL VINTAGE) 8mm loops back from the days before "porn" was even a word. This is the golden oldie stuff my friends, lots of B/W fuckie suckie footage that makes you realize non of this is new, porns been around since grandma and grandpa and this tells the story of their youth. If your a completest of vintage hardcore, you'd be a fool to pass this up. |ORDER|
BODY AND FENDER (1976) And here's another rustic one day wonder from the 16mm Cinefear archive. And again, we are offering an 8mm loop as a prelude to the feature film. This time you get the incredible Tina Russell in Hollywood Swingers, an early 70's loop that remained in circulation through the early 80's. This is the loop that features Tina getting hot and heavy with a cucumber. So influencial was this loop that it influenced Cinefear's own The Valley Stream Slut (Aka The Farmingdale Fanny Licker), which is also available on this page. Then there's our feature, Body and Fender. This one day wonder features several attractive females in need of car fixing but lacking the money to pay for the repairs. Needless to say, they pay their bill in ass. This flick also played under the title Sex Mart in the early 80's. If you love vintage porn, you are gonna love this! ORDER
CALIFORNIA COWGIRLS (1982) From director R. Williams, the man responsible for the bulk of the Diamond Super 8mm porno collection, comes this feature length flick involving cowpokes and their galfriends having joyus reunions. The cowpokes are more than glad to spread their prods around this one horse town, and all the lovely ladies are more than pleased to have their hides tanned by these willing workmen. Featuring the lovely ladies and overtly hung men of the Diamond film collection. If your a fan of the Diamond collection series than you really need to add this babe to your own personal inventory. Ride 'em cowboy! ORDER
CALIFORNIA VALLEY GIRLS (1983) From Hal Freeman comes four Valley girls (Cindy Shepard, Misty Dawn, Kimberly Carson and Desiree Lane) who are duped into working as call girls for two lesbians (Becky Savage, Shaun Michelle). They have to service pathetic old farts like John Holmes, Ron Jeremy, Hershel Savage, Paul Thomas, Eric Edwards. You know Freeman, so you know what to expect....ORDER
CAUGHT FROM BEHIND (1982) This is the original Hal Freeman classic, shot on film, and no longer in print, though the shot on video sequels continue to this day! Angel Cash and friends detail why it's so nice to take it in the heinie... nasty stuff! ORDER
CAUGHT FROM BEHIND 5 - BLACKS AND BLONDES(1986) Never issued on DVD, here is the long lost classic that was part of a very long series of films promoting anal sex. This one features a super star cast including Buffy Davis, Tanya Foxx, Rachel Ryan, Channel Price, Patti Patite, FM Bradley, Robbi Dee, Billy Dee and Jonathan Younger. Story involes a housewife who has a fear of black men. Her crazy, horny girlfriends gradually get her to forget her fears. Wild stuff complete with oral cum shots, DP's, etc...ORDER
CHINA SISTERS (1979) Classic from Director Anthony Spinelli, this one has Vicki Lyons trying to teach her sister Tina Wong what it's like to have sex with a man as opposed to the jerks she usually screws. Jack Wrangler gets a marital aid up his fanny. Fun for the whole family. ORDER
CHRIS CASSIDY'S FANTASIES (1980's) More from the long out of print Shpwgirl Superstar series. Big, blond, beautiful Chris Cassidy lets us into her deepest, most intimate secrets. From lebian leasons to taking on three guys at once during a rocking time in a recording studio. This chick leaves the porn goddesses of today out to dry. Check it! ORDER
A CLIMAX OF BLUE POWER (1979) From the Avon Dynasty of degradation comes this crazy tale of a power abusive cop (cut from today's headlines) who likes to "run young women in". The usual over the top S&M from the folks who made it the art it is. |ORDER|
CONFESSIONS OF A NYMPH (1985) Renee Summers kicks ass in this classic from the long lost VCR tapes. It is what it is, renee is a nymph and loves to suck and fuck such dudes as Eric Edwards, Hershel Savage,Michael Morrison, Tom Byron, and even chicks such as Susan Wild and Maria Tortuga. Nice BJ action in this one. |ORDER|
COVER GIRL PRESENTS VIDEO FANTASIES VOLUME 2 (1980s) Another one of those raunchy VCR compilations, this one featuring such pros as Jennifer West, Loni Sanders, Lee Carol, Cindy Marshall, Barbi Conrad and R.J. Reynolds. Huge studs pouding new holes into nubile, pigtailed starlets. a sweltering lesbian scene between Jennifer West and Michelle Cole as they slap it to each other with a huge dildo. Michelle stands up with this monster hanging out of her, you have to see this to believe it. Connie Marshall takes it up the poop shute. Don't pass this by...buy it now! |ORDER|
CRYSTAL DAWN'S FANTASIES (1983) Here is one of those fantastic compilations from the Showgirl Superstar series. This one featuring anal pro Crystal Dawn showing the world her remarkable talents for taking it in the ass. If you know Crystal, you know what your going to get. Double penetrations, facials, and just about everything you expect from this lovely honey. Yeah, this is the one you've been waiting for. With Lynx Canon, Blair Harris, Lisa Thatcher, Paul Thomas, Hershel Savage, and many more. ORDER
DARK PASSIONS (1970's compilation) Here is a fantastic compilation of vintage x-rated loops featuring black men on white women and black women with white men... Outrageous acts of interracial sex, you'll need a tall glass of water and a shower after this one is done. tape is hosted by the incredible Johnny Keyes (who hung on the trapeze in Behind The Green Door, and was hung to boot). ORDER
DEVIL'S PLAYGROUND (1976) Ric Tazi'ner directed porn involving old scratch himself (Kelly Guthrie, no relation to Arlo) tempting sweet young things (like girl scouts, catholic school girls, etc) into a life of vice. The chicks include Desiree West, Bonnie Holiday, Angela Haze. Paul Thomas can be seen lurking about as Uncle Fred. ORDER
DIAMOND DOUBLE COLLECTIONS (1970-80's) Here is a cool set of titles off the long out of print Diamond Video label. Diamond first started off as a Super 8mm distributor of adult films, and a large part of these titles are comprised of their sound super 8 product. Some of the other clips come from the Cinderella Video label of shot on video porn from the early eighties. Hence you'll be seeing lots of familiar faces in these like Lili Marlene and Ron Jeremy, King Paul, Don Fernando, Lisa DeLeuw, Trinity Loren, Christy Canyon, Jessie Addams. This is a collection of 11 discs and is sold as a set, contact me if your interesrted in individual titles. Each title has some sort of theme: #1) Interracial #2) Exotic Locals #3) Anything Goes #4) Super Sex #5) Erotic Costumes #6) Fantasies Unlimited #7) Kum Spacial #8) More Interracial #9) Orientals #10) Big Breasts #11) Blond Sex. ORDER
DIRTY LOOKS (1982) Escellent compilation film of material from the film of master pornographer Chuck Vincent. Some of the best scenes from his films are shown (Jack & Jill, Bang Bang, Fascination) with cornball introduction by Al Goldstein and Gloria Leonard. A classic. ORDER
DOING IT (1983) A rich husband and wife (Eric Edwards and Drea) travel the coutryside in search of new kicks. Needless to say, they find them! With Lily Marlene, Barbie Bendum, Mike Horner, Billy Dee. ORDER
DOMINATION BLUE (1976) A roughie from Joe Davian has four prisoners at a womans prison being given rough treatment by the warden and his guards until the ladies finally turn the tables. If you know Davian you know what to expect! With Vanessa Del Rio, Sharon Mitchell, Paula Morton, Holly Bush, April Showers, Roger Caine. ORDER
DOMINATRIX WITHOUT MERCY (1976) A Shaun Costello classic! One of the best bondage and discipline films ever made. About a sex service that delivers the nasty goods to its customers; urination, beatings, infantilism. Cast includes Mark Stevens, Vanessa Del Rio and the always willing Jamie Gillis. Shot in New York City, where everything seems sooo sleazy! |ORDER|
DRACULA EXOTICA (1979) More from the incredible Shaun Costello! A truly extravagant horror/porn combination that has to be seen to be believed. Long out of print, this flick features porn icon Jamie Gillis as a love sick Dracula who seeks out the reincarnation of his dead wife. One fantastic scene of outrageous perversion involves one of Dracula's victims (the ever ready Vanessa Del Rio) rising from the slab after having been molested by morgue attendant Herschel Savage. Great film and a sad reminder about how lazy today's pornographers are! |ORDER|
DRESDEN DIARY II (1985) More S& M nonesense from Bruce 7...if you liked the first one, you'll love this one! Knick Knack Paddy Whack, give us all a bonner! With Cyndee Summers. ORDER
EBONY EROTICA II (1985) From our friends at VCR, here's a compilation of interracial scenes that will blow your socks off. Killer cast includes Tina Russell, Crystal Dawn, Crystal Lake, Marc Wallice, Tracy Brooker, and many many more....ORDER
ENDLESS NIGHTS (1980's) A shot on video 80's porn with Sharon Mitchell and David Morris doing the honors among many others thing (and people). New York shot porn with some farmiliar locations. Check it out! ORDER
ERUPTIONS (1976) XXX version of Double Indemnity with John Holmes and Leslie Bovee taking over for MacMurry and Stanwyck. Holmes shoots some nasty bullets into Bovees mouth. A fine caper film that benefits from some great location photography shot in Hawaii. Holmes makes a suave leading man. And Bovee is without a doubt the hottest thing on the screen for that time. |ORDER|
EROTIC ADVENTURES OF DR. JEKYLL (1975): Fun, fun, and only more fun to be had in this classic re-telling of the Jekyll/Hyde story as Harry Reems, high on drugs and sex, plays a dumpy doctor who transforms himself into a suave ladies man who bangs on every cheap slut New York had to offer at the time. Bobby Astyr plays the hunchback assistant. C.J. Lang plays Reems wife. |ORDER|
EXPOSED (1979) Even more Spinelli madness... this is a sex comedy featuring John Leslie as a porn actor out to go straight by marrying Sharon Caine. When a producer offers Leslie $1,500 a day to return to porn, this creates trouble in married land. Great comedy with hot, hot sex. ORDER
F (1979) All I can say is John Leslie and 13 beautiful women. The ultimate male fantasy has John Leslie married to a bore only to enter a dream world were by all his sexual fantasies come true. Annette Haven, Seka, Kandi Barbour, Rhonda Jo Petty, Andrea Parducci (aka Little Oral Annie) are just a part of the cast assembled by David Frazer and Svetlana, two masters of big budget porn. ORDER
FEMMES DE SADE (1975) Nasty Alex De Renzy classic has some Neanderthal getting released from prison and violating young ladies in order to satiate his sexual appetite. However, the young ladies decide to take vengeance into their own hands, and invite this dipship to a party where NOTHING is forbidden... from here you can use your imagination, or better yet, buy this tape! |ORDER|
FIONA ON FIRE (1977) A classic hardcore remake of Laura as directed by the Otto Preminger of the hardcore scene, Mr. Costello (and I'm not talking about Lou Costello). Amber Hunt is Fiona, and the investigation of her death opens up some incredible sexual hyjinks, including some hardcore S&M as well as a rape on a moving bus. Cast includes Marlene Willoughby, Gloria Leonard, Jamie Gillis, Robert Kerman and John Leslie as a rapist. Uncut, in English. Enjoy! ORDER
FIRST TIME AT CHERRY HIGH (1984) Young girls perform sex with horny senators. One girl blows 12 idiots wearing masks. One of the better sex and politics mix that is most likely happening in the White House today!!! |ORDER|
FOR YOUR THIGHS ONLY (1986) Angel, Brittany Stryker, Erica Boyer and Kari Fox are on a mission to prove that moral majority types are really sex maniacs! With a cast of males like Harry Reems, Tom Byron, Jamie Gillis, Peter North and Joey Silvera, how can these girls loose! ORDER
FORGIVE ME- I HAVE SINNED! (1981) A cult leader called "The Confessor" hears confessions from rape victims, "cleanses" the female ones with sex and then arranges for all victims and sometimes himself to rape their own male or female rapists. George Payne excells as the cult leader, Ambrosia Fox, Jade East, Cheri Champagne are the girls being "cleansed" and even bozo Ron Jeremy shows up acting like his idiot self. A Phil Prince classic! ORDER
FRINGE BENEFITS (1975) Classic porn at it's best. A man enters the office of Dr. Tightwat (Georgina Spelvin) to cure his impotence. Employees with names like Marianne Lubglob and Kathy Thunderfart prove very helpful to this man. Not to mention some of the other employes like Dr. Cherry Popper and Miss Motor Mouth. I'm not kidding. ORDER
GARAGE GIRLS (1981) Robert McCullem (aka Gary Graver, one of Al Adamson's cameramen) directed this hot little number involving porn fave Lisa DeLeww and her girlfriends operating a repair shop that specializes in blowing bolt. McCullem's sex scenes are always hot and his photography is top notch. Class A. |ORDER|
GLORIA'S NYMPHO ADVENTURES (Late 80's, early 90's) Long out of print amature video. It was the surge of amature videos in the late 80's, early 90's that set the standard for the type of porn you see today. Having people who authentically loved sex and enjoyed doing these videos saved the porn industry at the time, as the Lords scandle and the AIDS epidemic was virtually wiping out the porn video scene. This one involves nympho Gloria (looks like Archie Bunkers little girl has grown up), who has just reached her 27th birthday and celebrates by having a huge inter-racial orgy (she brings in about 27 guys, one guy for each year). Her father would not be pleased. Gloria has huge boobs, so if you're a boob yourself you're going to love this. Facial cum shots like nobody's business. This has all the type of action you'd expect from a product shot today, only it has that amature eroticism which makes it far hotter. ORDER
GETTING AHEAD (1982) From our friends at Adventure Studios in Queens, NY. Angel Cash plays a mystic who raises more than just ghosts!!! Featuring a male porno star who looks a lot like Ed O'Neal from Married With Children. Fun and innocent in its own way. |ORDER|
GIRLS OF THE THIRD REICH (1990) Most likely, this flick was actually shot in the mid eighties, and was made in West Germany. It features German porn actress Duscha, who was a popular S&M actress in the eighties. As the title suggests, Nazi's visit government sanctioned whores and they fuck the shit out of each other. Hitler even makes an appearence. Shot on video! Cast includes Athena Star, Mindy Rae, Jade Nichols, Francois Papillon, Ron Jeremy, Damian Wolf. Quality a tad shaky but the title is rare. ORDER
GIRLS ON FIRE (1984) a classic from Harold Lime. this one features to assholes who fuck a mofioso's wife and must go on the run to avoid his henchmen. They all end up at a models runway and must dress as women to avoid capture. They meet plenty of horny young models just looking to get fucked, and guess what happens?! This classic has an all star cast including John Holmes, Jamie Gillis, Robert Bullock, Robert Kerman, and for the girls you have Kimberly Carson, Cody Nicole, Ginger Lynn Allen, Raven, Shanna McCullough, Misty Dawn, and many more. |ORDER|
THE GODMOTHER (1988) From Buttman himself, John Stagliano, comes this tale of pimps and ho's. Better than usual shot on video flick with lots of hot interracial sex. With Ebony Ayes, Alexa Parks, Fallon, Viper. ORDER
GOOD GIRLS DO (1984) Sequel to our also popular "Young & Naughty",and featuring Niki Charm as well... along with Susan Hart, who have a party once mommy and daddy leave for a trip... with male leads Peter North and Marc Wallace and Larry Koster. Oh that Niki is so naughty! ORDER
HALF THE ACTION (1980) Mike Ranger is married to Becky Bitter who finds him sleeping with another woman, so she steals his boat and turns it into a floating whorehouse. I shit you not! With Ron Jeremy, Donna Jones and Terri Galko. ORDER
HARD ACTION (1971) Another classic old school porn, this one tells the story of an ex-con (Norman Fields) who is out for revenge against the cop who put him in prison. Naturally, he goes after the cops family, the horny wife (Nora Wieternik, who sports a great set of golden bozos) who spends the bulk of her day masterbating with a huge dildo, and his two teenage daughters. Yes, this is as perverted as it sounds. Needless to say this all ends in a huge orgy that brings the family closer together, if you get my drift. Try it, you'll like it! ORDER
HARLEM CANDY (1987) From director Henri Pachard comes this crazy interracial fantasy involving Ray Victory as a Geni who makes womens fantasies come true. The threesome between Victory, F.M. Bradley and Tiffany Storm has to be scene to be believed...hot stuff. With Nina DePonca, Angel Kelly, Amber Lynn, Honey Malone, Shanna McCullough, Herschel Savage. ORDER
HEALTH SPA (1980) Here's one that will appeal to the ladies as well as the men. Lucious Kay Parker and Abigail Clayton run a health spa that concentrates on more than losing weight... and with Kay Parker being so top heavy, watching her exorcise is a treat even the laziest person can tolerate... |ORDER|
HOMEGROWN VIDEO #157 - From The Island of Hawaii, Mike & His Many Loves & Lust. (Late 80's, early 90's) Long out of print amature video. It was the surge of amature videos in the late 80's, early 90's that set the standard for the type of porn you see today. Having people who authentically loved sex and enjoyed doing these videos saved the porn industry at the time, as the Lords scandle and the AIDS epidemic was virtually wiping out the porn video scene. Mike is a foolish muscle man who has lots of wild conquests out in the open wilds of Hawaii. He bangs many women, tons of oral action complimented by oral cum shots. Visually this one is terrific in it's use of location as well as the atractiveness of the ladies. This has all the type of action you'd expect from a product shot today, only it has that amature eroticism which makes it far hotter. ORDER
HONEYMOON SUITE (1974) Different stories as related by a honeymoon suite! That's right, a honeymoon suite! Featuring porn faves Tina Russell and Mark Stevens. Stevens looked a lot like a life sized Howdy Doody doll with a big penis.Watching these funky junkies have sex brings to life images of Lou Reed songs. There was nothing like New York-shot porn. |ORDER|
HOT PINK AND CHOCOLATE BROWN (1988) 80's interracial porn involving a pair of private eyes (Doll and Victory) solving crimes and busting nuts. featuring Nina DePonca, Barbie Doll, Nina Hartley, Tiffany Storm, Ray Victory and Frank James. ORDER
ILLUSION OF ECSTACY (1985) Lawrence T. Cole gives us this tale of a magician (Jamie Gillis) and his assistant (Ginger Lynn) who make peoples fantasies come true. Cole never lets you down, so go with this one. |ORDER|
INDIANA JOAN IN THE BLACK HOLE OF MAMMOO (1984) When Indiana Joans (Barbi Dahl) boat explodes she finds herself on an island with Captain Jim sucking his cock. Some big black natives see this and decide they want her to do the same for them. The black native girls (Hazel Scott and Satin Summer) decide they want some of Captain Jim's white meat as well. Tit for tat! With Sarah Bernard, Tasha Voux, George Payne, and other porno jerks. |ORDER|
IN LOVE (1983) From director Chuck Vincent comes this cinematic sexual soap opera that restored dignity to the Adult film industry, at least for a little while. The film tells of two lovers, Jerry Butler (no, not the guy who sang "Moon River"), and Kelly Nichols, who experiance hardships of all sorts for 20 years between their first meeting. Will they hook up again and live happily ever after? Buy this and find out. |ORDER|
INSATIABLE TWO (1984) Marilyn Chambers returns playing the same sexual deviate she played in Insatiable. This time sado perv Jamie Gillis gives Ms. Chambers the masochistic ass whipping she'd been begging for... Also with Juliet Anderson, Shanna McCullough, and Valarie La Veaux. ORDER
INTIMATE DESIRES (1980) Gloria Leonard stars and directs this sleazy slice of vintage filth featuring the adventures of MILF Gloria and her girlfriends Alexandria, Beth Anna, Erica Eaton and Sharon Mitchell. The guys in the cast include Bobby Hollander, Eric Edwards and John Leslie. Classic! ORDER
INTIMATE LESSONS (1984) A rich man and his wife (Paul Thomas and Kay Parker) run a clinic for hung up and frustrated "would be swingers". When a party guest tries to leave early, he is drugged and raped by Kay Parker. Fun stuff! With K.C. Valentine, Danielle, Maria Tortuga, Becky Savage, William Margold. ORDER
JOYS OF EROTICA -SERIES 112 (1984) More Renee Summers if you want her! This one has Renee taking on Hershal Savage and Michael Morrison at the same time. Also, Crystal Lake takes on a meaty Black stud. Cara Lott strips for Bud and wait till you see what happens after that! Three other episodes follow and you'll be knocked off your seat. Hot action that will have you working your johnson like there is no tomorrow. |ORDER|
KING TONGUE MEETS ANAL WOMAN (1992) Classic Interracial (of sorts) from porn pig Bobby Hollander which has Anal Woman (Racquel Darrian) crossing swords with King Tongue (named as such because of his oversized tongue). Not exactly high brow entertainment, but if your a fan of chocolate and vanilla you can't do any better than this piece of nonsense. The rest of the cast includes Kimberly Kane, Rachel Ryan, Ray Victory, Larry Koster. The title alone makes it worth it. ORDER
KNEEL BEFORE ME (1983) George Payne overacts like a lunatic playing a man who houses the spirit of the Marquis DeSade. Violent S&M madness from that crazed Irishman Phil Prince. Annie Sprinkle does her thing, so to say...Even knucklehead Ron Jeremy shows up. ORDER
L' ESCLAVE (aka The Punishment of Anne 1976) Insane Radley Metzger S&M epic has a lovely submissive Anne being tortured in as brutal a manner as any classic Avon production, the only difference being that Metzger is an artist and he makes the horrific look beautiful. Letterboxed, in French language, which fits because it was shot in France. ORDER
LENA'S ORAL & ANAL AFTERNOON(1992) Long out of print amature video. It was the surge of amature videos in the late 80's, early 90's that set the standard for the type of porn you see today. Having people who authentically loved sex and enjoyed doing these videos saved the porn industry at the time, as the Lords scandle and the AIDS epidemic was virtually wiping out the porn video scene. That's right folks, Lena does it all, oral, anal and even eats ass. Watch her chew up and spit out lovers better than any garbage disposal unit you may have had (do they even make garbage disposal units anymore???). All I can say is that the guys in this videos leave Lena howling at the moon. You have to see this to believe it. This has all the type of action you'd expect from a product shot today, only it has that amature eroticism which makes it far hotter. ORDER
LESLIE BOVEE'S FANTASIES (1982) Another from Showgirl Superstars. This one features Lesllie Bovee. You get three episodes. First one is a roring hot masterbation scene. The second one has Lesllie getting hot and bothered with Chris Cassidy, who is lactating and gives Lesllie some breast milk. The third is Lesllies orgy. Lesllie fills her ass, mouth and pussy with cock simultaneously with three studs cocks. You'll need a glass of water after this one. Call the fire brigade! |ORDER|
LITTLE FRENCH MAID (1979) Banned due to its title, this classic features the incredible Connie Peterson (what ever happened to her?) as a naughty maid who loves to fuck two men at once. She even manages to fit John Holmes tool up her ass. Talk about stretching it! Also featuring Paul Thomas and Johnny Keyes. Excellent facial cumshots. Shot silent but dubbed in the most ludicrous manner. I mean Paul Thomas with an English accent, give me a break! |ORDER|
LONG JEANNE SILVER (1977) Directed by the brilliant Alex De Renzy, this is one of the best pro handicapped having sex film. Long Jeanne uses her stump on her amputated leg for more than getting around. Long out of print, and not likely to be seen again. Get it while you can. |ORDER|
LOOSE ENDS II (1985) From the shot on video era of 80's porn comes this much requested classic which extols the virtues of anal sex making this the END ALL of Anal Sex movies. With Bianca, Bunnie Blake, Erica Boyer, Keli Richards, Rachel Ryan, Peter North, Marc Wallice. ORDER
LOVE YOU TO DEATH (1971 Aka Cozy Cool) Excellent X-rated hardcore porn spoof of hitman movies, this one features a super sexy hit lady (Maria Arnold) who fucks all the men she has to knock off before knocking them off. A very young Joey Silvera is one of the guys on the hit list. Classic stuff, pick it up you wont be sorry! ORDER
LUST AT FIRST BITE (1979) Here is an all star studden adaption of the Dracula story which has the Count (Jamie Gillis) seeking fresh blood among the ladies of Dr. Seward's (John Leslie) Sanitarium. Directed by Philip Morris, this flick has high production value, a period piece setting and a who's who of adult cinema incvluding John Holmes, Paul Thomas, William Margold, Annette Haven, Seka, Serena, Kay Parker and Nancy Hoffman. Boody and Sexy! ORDER
MEATBALL (1974) Great comedy sex film by Gerald Damiano featuring born again whack job Harold Reems as a mad doctor who tries to invent a product to triple the size of beef but instead only causes erections in males every hour on the hour. It takes several nurses (including porn icon Andrea True) to help contain Harry's hornies. Great film with a fun outlook and fun sex, not Damianos usual guilt trip sex story. Go for it. |ORDER|
MERRY X-MISS (1986) From director John T. Bone comes a X rated Christmas tale involving Santa and his naughty helpers. Louis DeJesus from Bloodsucking Freaks is on hand playing Santa's naughty elf. With Lois Ayres, Sade, Samantha Strong, Rosemarie and Herschel Savage. ORDER
MYSTIQUE (1979) Georgina Spelvin stars as an intellectual who dreams up a dream lover (Samantha Fox) who inturn teaches Georgina to enjoy sex, no matter how odd or unusual it is...this includes Georgina being raped not once, but twice by a group of men. Crazy, surreal sort of flick that offsets it's drama with bouts of outrageous sex. Cast also includes Helen Madigan, Jake Teague, Randy West, Ron Jeremy. ORDER
NASTY (1984) excellent and authentically Nasty flick with Gail Sterling as Jamie Gillis's wife. they play a weird sex game were by Gillis hides in a closet and watches her pick up and fuck other guys and girls. Great scene has Sterling fucking life long asshole Ron Jeremy on a table that he lies under and sticks his cock through while she kneels on top riding him all the while the table spins around and around. At least it's inventive. Hot flick. With Lili Marlene. ORDER
THE NEW ADVENTURES OF CASSANOVA (1978) John Holmes classic has him playing the Cassanova of days gone bye and a more modern Cassanova of 1978. Very attractive gals in this film who haven't been seen since. With Susan Silver. ORDER
NICOLE : THE STORY OF O (1972) a classic, roughy S&M that must be seen to be believed. Starring Suzanne Fields as a girl who can take any kind of punishment, this girl goes from the bad to worse and loves every minute of it. One of the best parts includes her being lead into an orgy via a chain attached to a ring through her genitals. This film even has a whacked out necrophilia scene. This was made long before the rules were set. With Richard Smedley and and Sheldon Lee. Take a long shower after this one, please. |ORDER|
NIGHT OF SUBMISSION (1976) From the golden days of hot and heavy S&M laced porn comes this classic with a supernatural theme involving devil worship and satanic cults. This flick ends up with an orgy that needs to be seen to be believed. From Joe Davian, who has a knack for this type of thing. This is from the original, long out of oprint VHL cassette. Bare in mind that any later editions of this type of film are usually cut or altered soundwise for musical copyrite infringment. This is the film as it looked in the theater when it came out. No altering or games. Same goes for all my other vintage porn. Great cast includes Annie Sprinkle, Helen Madigan, Vanessa Del Rio, Cheryl White, Carter Stevens, David Christopher, Red Baron. |ORDER|
OLD - TIME BLUE - Yesteryears Favorite Naughty Stag Films Volume One (1900-1939) Here is a collection of pre-WWII porn loops that if produced today would gladly fill the expectations of the X - Rated film fans. Some of the loops featured include New York Honeymoon, Modern Pirates, Radio Man, Modern Magician, Wet Dream, Gigolo, Black Market. If you're a fan of hardcore 8mm loops than you are going to love this. These flicks actually contain the innocence and humor so rarely found in porn today. ORDER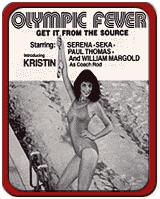 OLYMPIC FEVER (1979) Seka and Ron (time to retire) Jeremy play nasty Russians who are searching after an elixir that can make American girls compete faster and better than the opposing team. The elixir turns out to be male sperm. Good to the last drop. Fun stuff that makes you wonder if behind the scenes of the Olympics can really be this much fun. |ORDER|
OUI, GIRLS (1981) Here's a hottie for ya, and this one has a plot. Featuring a cast of girls who were all featured in Oui magazine, this story of a female undercover agent investigating a murder gets far more than she bargained for. All star cast includes Anne Ventura, Lisa DeLeeuw, Tiffany Clark, Sharon Kaneand the usual 'guy" suspectsPaul Thomas, Michael Morrison, Ken Starbuck, Larry Koster, etc Directed by Fred Lincoln, who gave us A Place Beyond Shame. The girls in this are on fire. |ORDER|
PARTY GIRL (1983) A young girl, tired of parental constraints, decides she's going to run off with the man she loves. Before doing this, she invites a few girlfriends over for a found farewell. If your a fan of vintage lesbian action, your going to eat this one up! With Danielle, Jacqueline Brooks, Viva. Get jiggy with this! ORDER
PERSONAL TOUCH II (1984) Sequal to Personal Touch. This was a series of shot on video porns by Bobby Hollander. The actors and actresses address the camera and sort of lure you into the action. Great, hot cast includes Shauna Grant, Cody Nicole, Honey Wilder, Tom Byron, Jesse Adams, Paul Thomas(who has a great scene giving a young girl a piano lesson). Hard to believe this stuff is considered vintage now. |ORDER|
PERVERTED PASSIONS (1974) Here's a rarity, one of Ray Dennis Steckler's long lost pornos from the early seventies. This one involves an overweight psycho with a small penis spying on various people having sex. Horror themed porno as only Steckler could do them. Lurid, skid row slasher type stuff with Steckler's trade mark facials. Enjoy! Off a Greek master in English with Greek subtitles. Master has some wear but is still very watchable. ORDER
PINK LAGOON (1984) From David I. Frazer and Svetlana comes another beautifully shot porn film featuring fantastic locations, super attractive women and handsome, horny men. This one is a sequal to the successful Surrender in Paradise only this time the girls return to a South Seas Island to bring home their friend and escort an archeologist who may or may not be a bad guy. With Ginger Lynn Allen, Stacey Donovan, Louis Ayres, Raven, Jerry Butler, Ron Jeremy. ORDER
PLAYGIRLS OF MUNICH (1973) Great companion piece for Olympic Fever. Excellent sex comedy with Zebedy Colt and his buddy having a great time with some lovely Fraulein's at the Munich Olympics. Fun and innocent. |ORDER|
PRETTY PEACHES (1979) Classic directed by Alex DeRenzy featuring the lovely Desiree Cousteau as a sexy chick who loses her memory and ends up getting the living daylights fucked out of her by several men in an attempt to jar her memory. Uncut, featuring the classic enema scene. In French, but bear in mind sometimes these are the only uncut versions you can get. Besides, French is the language of love! ORDER
PUSSY TALK (1975) French rip-off of Deep Throat in which a young lady discovers she has a talking vagina! This talking cunt desires the ultimate orgasm, hence you can imagine the adventures that lie ahead. The quality is not the best, but the film is extremely rare, so dig in... ORDER
RAPE VICTIMS (1976) And even more from that crazy Shaun Costello! Mr. Mustard strikes again. What can I say, this is a sick, twisted flick shot in New York that features a stocking faced pervert doing his thing. His victims go to a rape therapy clinic and recount their horror stories. From the days when porn films had balls. After seeing this you will understand why Mr. Mustard cuts the mustard. Vanessa Del Rio kicks ass in this. |ORDER|
RESURRECTION OF EVE (1973) Classic Mitchell brothers traces the sexual maturity of Marilyn Chamber's Eve character over a 13- year period. Intelligent porn that you'll never see the likes of again. |ORDER|
REVENGE ON A MOTORCYCLE MAMA (1972) Ok boys, back to the yucky, ucky rough stuff you all like. A motorcycle gang member gets irked when he thinks a sexy, black mama has squealed to the fuzz, so he tosses her a beating, sodomizes her and gives her a "Hot Box" with a cigarete lighter. Does she get away and put a fire hose on that "Hot Box". Find out! From the good old days. |ORDER|
RHINSTONE COWGIRL (1980) A lusty and vivacious sexpot named Marcie is the proprietress of Cactus Corners, with Marcie and her gals lending considerable sexual talents to ease the frustrations of the cowpokes, who are happy to poke something else. From the Golden era of porn. With Rhonda Jo Petty, Yvette Cole, Tiara O' Mally, Holly Sutter and Ann Joseph. ORDER
ROUGH SEX II (?) While we usually don't offer newer fair, we also like to make available things that others say shouldn't be available. Here's a recent "Banned" video that caused waves because of the mix of hard S&M and sex, a "no no" by todays standards. Not my type of thing, but fans of Rape Victims and Dominatrix Without Mercy should love it. Runs two and a half hours. |ORDER|
SCENT OF A WOMAN (1986) Heather Wayne and Tomara Longly are two of many chicks who decide to get nasty when mom and dad are out of the house. Needless to say, their "Scent" attracts a few of the local guys over for action. Smells good. ORDER
SECRET DESIRE (Mid-70's) Wacky S&M thrills with a crazy dad administering some serious disciplin to mom and his daughters. Vintage Kink from the days when porn had balls as well as brain. ORDER
SECRETS OF JENNIFER (1980) A classic starring the lovely Jennifer West. A must if your a fan. Basically it's about her secrets, which by the time you watch this wont be secrets anymore. ORDER
SECRETS OF A WILLING WIFE (1977) Well made sex film has Merle Michaels decides married life is for the birds and goes out seeking adventure. Does she return to her husband renewed, or is the swinger life too tempting... With Eric Edwards and Rikki O' Neal. ORDER
SEDUCTION OF AMY (1975) Arty Jean Rollin porn flick Raunchy enough for the rain coat crowd, but a visual treat as well. The story involves a cursed Satan who is forced to kill the women he loves. Featuring the lovely Castel twins. Yum. |ORDER|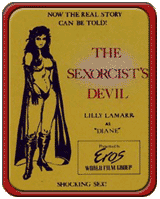 SEKA'S FANTASIES (1981) Director Bobby Hollander takes us through " The Secret Desires of the Sexiest Woman in the World!! " This features a classic vintage cast to make all your dreams cum true. Criss Cassidy, Connie Peterson, Crystal Dawn, Michael Morrison, Blair Harris, Hershel Savage. ORDER
SEKA IS TARA (1980) From Leon Gucci (aka Leonard Kirtman) comes this classic as Seka playing a modle named Tara finds out about the world of fashion photography "The Hard Way". With Veronica Hart, Samantha Fox, Jamie Gillis, Zebedy Colt, Bobby Astyr .ORDER
SENSUOUS OFFICE GIRLS (1970's) Here's one of those comps from the long gone Playtime Video label. I take it that the title indicates that we are going to be exploring the sex life of secretaries, but most of the loops seem a tad plotless. None the less, we get plenty of sex, including some two girls one guy scenario's that will leave you panting...ORDER
SERENA'S FANTASIES (1980) One of the earliest from the Showgirls Superstars series. Serena, sex siren and lover of Jamie Gillis, has her own show here, and she fucks guys, girls and sex toys like nobodies business. Watch her fuck a shy guy she's had the hots on. Watch her seduce a friends husband while playing sex therapist. These loops of her in action will have you sweating bullets.Get this title now and forever hold your piece. |ORDER|
7 INTO SNOWY (1977) Dave Friedman's adult version of the Snow White story. Kay Parker and her huge boobs are on hand to keep you smiling. With Abigail Clayton and Paul Thomas. ORDER
SEXORCIST DEVIL (1974) One of the best horror/sex combos. Shot in the swamps of New Jersey, it disperses cum and blood equally. A big-titted girl who loves to suck cock gets possessed by the Devil and kills her several conquests. A must if you are a fan of both genres. |ORDER|
SEX-A-VISION (1985) A very cute porno in which porn fan Joey Silvera gets his wish of fucking porno sluts once sex star Herschel Savage literally reaches out of the TV and invites him in! The sluts include Gina Carrera, Tamara Longley, Sheri St. Clair, and Colleen Brennan (aka Sharon Kelly). ORDER
SEX KITTEN (197?) Oddball French sex film featuring the incredible Marilyn Jess, famous female porn star from around 1977 though to '91. All sorts of funny nonsense involving a Lolita type sex kitten who witnesses various sexual scenarios involving all sorts of weird sexual situations including cuckolding, S&M (cop interrigates a female prisoner the "hard" way), etc...etc...Ends rather abruptly on a lesbian scener, may just be that my copy ends that way, can't say for sure, but certainly and odd and interesting European entry in the porn sweepstake. Directed by the renown Francis Leroi. ORDER
SEX WORLD (1978) The anthony Spinelli classic, a sex uped version of West World. a group of touriosts go to an Island that promises to bring their sexual fantasies to life. And believe me, it does...Great cast includes Leslie Bovee, Kay Parker, Sharon Thorpe, Annette Haven, Amber Hunt, Johnny Keys. ORDER
SHEER PANTIES (1979) Big John Holmes helps young ladies in Sheer Panties to discard them and hop on his happy hump hose instead. The chicks he fucks are Annette Haven, Linda Wong, Sharon Westover, Susan Strong, Barbera Lester and some big titted chick named Stella. Hey, it's not "Streetcar Named Desire", but at least you got a chick named Stella! |ORDER|
SINS OF SANDRA (1979) Some housewives have hobbies their husbands wouldn't care for. Classic. With Phil King, Darlene Devone and Sandra Kyoto. ORDER
SISSY'S HOT SUMMER (1983) John Holmes uses his fire hose to cool off Sissy and her friends! Lots of fun, and rare to boot! |ORDER|
STALAG 69 (1982) Crazy Nazi porn with Dorothy LeMay and several other cuties caught spying on the Nazi's and being whipped and fucked into submission by Angelique Pettijohn and several other well hung baddies. Great roughie, and rare! ORDER
SUE NERO"S FANTASIES (1980) Here's another in the Showgirl Superstars series, this compilation focusing on the huge tits of Sue Nero. A skank in the best sense of the word, Sue wasn't affraid to try anything, and anything is what she does. Anal, interracial, oral and it's a cum one come all orgy. Some of Sue's co-stars include Kitty Shane, Vanessa Del Rio, Phaedra Grant, Paul Thomas and John Leslie. Master tape has a bit of wear, but so will your johnson once your done watching this. If your a huge boob fan you don't want to miss this. ORDER
SUI MOI VAMPIRE (1975) Another Jean Rollin porn that is much less inspired than Seduction of Amy, but fun in an x-rated sort of way. It involves vampires, but more cocks get sucked than necks. So it goes. In French. Quality fair. |ORDER|
THE TAKING OF CHRISTINA (1975) Insane tale of Rape as two perverts (Al Levitsky and Eric Edwards) abduct a young girl (Bree Anthony) and violate her the day before her wedding. Also with the always reliable C.J. Laing. Directed by the incredible Armand Weston. ORDER
TEACHER'S PET (1985) From Director Anthony Spinelli, and it's exactly what you think it's about. Great cast includes John Leslie, Raven, Tess Ferre, Carol Titian and Rick Savage. ORDER
TEENAGE PAJAMA PARTY (1978) CJ Lang and friends make phony phone calls and tease the male populace. Featuring water sports. Never again will you see porn like this. |ORDER|
TEENAGE SEX KITTEN (1972) An xxx classic with Rene Bond as a sex lovin free spirit who gets violated by two backwoods cretins. This film works both as a boner inducing sex film as well as intriguing drama. These films are so good on so many different levels that you can only ask "what happened". |ORDER|
TOWER OF LOVE (1974) Early porn with a fun plot involving a bunch of models who go overseas for a job only to be told by their employer that they must wear chastity belts at all times!!! Guess what happens...With Jean Pascal, Tammy Smoth, Kitty Lombard. ORDER
UNTHINKABLE (1985) Directed by Gary Graver, this is a rip off of Taboo but boy, what a hot rip off it is. Brother bangs sister, family maid, big sister, you name it, he bangs it. Great cast includes Bunny Bleu, Pamela Mann, Tamara Longley and the always hot Honey Wilder. Scott Irish and Eric Edwards lend their manlyness...ORDER
UNWILLING LOVERS (1976) Directed by porn psycho Zebedy Colt, this underbudgeted shockers stars Colt as a mentally handicapped man/boy who likes to observe people having sex, then murder them so he can have sex with them. Yes, you read that right. He's a real nut job in this one. Fun cast includes Jody Maxwell, Terry Hall, CJ Lang, and Annie Sprinkles. ORDER
UP! UP! AND AWAY! (1989) Classic flick involving Paul Thomas running an airline that offered far more than just coffee, tea and pellows to it passengers. When Paul dies on the job, his wife has to take the business over, much to her surprise. Hot and humpin' action with a great cast including Cody Nicole, Ginger Lynn Allen, Laurie Smith, Colleen Brennan, Stacy Donovan, Debi Diamond, Bunny Bleu and Jamie Gillis. ORDER
UP IN THE AIR (1984) from Leon Gucci (aka Leonard Kirtman) comes this tale of naughty stewardesses. If you've seen the other Gucci stuff, you know what to expect; sex, sex and more sex. With Kristara Barrington, Beverly Bliss, Crystal Breeze, Mauvais De Noir and the usual guys...ORDER
VISTA VALLEY P.T. A. (1981) A classic from Anthony Spinelli. This one is a take off on Harper Valley P.T.A. Jessie St. James is the woman with an ax to grind againsta corrupt town full of hippocrites. She puts them straight by leading them into some very conprimising sexual predicaments. Great cast also includes Dorothy LeMay, Juliet Anderson, Jamie Gillis and John Leslie. Don't pass this one up! ORDER
WATERPOWER (1976) Insane Gerard Damiano produced porn directed by Shaun Costello and featuring real life shit head Jamie Gillis as the infamous enema bandit who stalked New York back in the good old days. Shows how damn good Damiano was as a producer. Intense study of a sexual stalker with a fetish. Uncut! In English with German subtitles. ORDER
WEEKEND DELIGHTS (1987) Two well hung negros enter a nudist camp full of naked white women. Guess what happens? Big black studs, nubile horny white chicks. Can you go wrong! With Tiffany Storm and Ray Victory (who sports the best Frankenstein haircut I've ever seen not to mention that coked up face of his). ORDER
WET SHOTS (1970's) Here is a classic compilation of "Pop Shots" from various porn loops from the 1970's. You'll see some of your faves, and some faces you wont even recognise. This stuff was ten times as nasty as the stuff you get today, only it had more heart and charactor. ORDER
WILD, WILD WEST (1986) Jack Remy directed this cute sex flick that has Hyapatia Lee running a dude ranch where by unhappy couples come to learn to be happy. Chicks like Porsche Lynn, Amber Lynn, and Barbara Dare can put a smile on anyones face! Enjoy! ORDER
YOUNG AND NAUGHTY (1985) From the Hal Freeman school of perversity comes this piece of filth, featuring the cute and innocent looking Nicki Charm. You know what to expect! |ORDER|
---
Hey pal, are you thinking about starting a vintage X collection? Well, how about picking 50 tapes for the super low price of $500 including postage and handling!!! Hell, you heard me right, that is a savings of over $250 bucks!!! How can you go wrong. Or if you'd rather pick and choose a smaller quantity, get any four titles at $15 a piece and get the fifth title free. And don't forget to pick up our catalog, it has plenty more vintage sleaze in it.