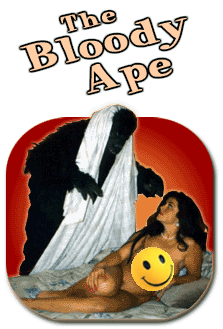 THE BLOODY APE
Good 'n' gross, nickel 'n' dime exploitation sludge at its most feverishly enthusiastic and righteously offensive.... a gloriously grody testament to fiercely self-reliant, Do -It -Yourself underground cinema at its most beautifully bent and berserk.
- VEX MAGAZINE
A throwback to crude, white trash, drive-in classics like early (Ron) Ormond or H.G. Lewis... Crocker et al have their sleazy hearts in the right place.
- SHOCK CINEMA
Gore and nudity and lots of racism...
- PSYCHOTRONIC VIDEO
The best crazy go-fuckin-nuts movie that I have ever seen! I laughed so much that I got cramps in my stomach! More films like the Bloody Ape!
- Ulf Bagenhammar, Haktet Prison, Sweden
---
SYNOPSIS
An eccentric sideshow barker accidentally lets his sex starved gorilla escape into the streets. The ape begins to go on a rampage of murder, incidentally killing some of the barker's enemies. Meanwhile, an innocent bystander known as Dwayne is believed guilty of the murders by racist police lieutenant LoBianco. Since Dwayne is black, LoBianco wants to throw all the blame towards him, but his sensible assistant Kerry believes the ape is really responsible for the bloodshed.
---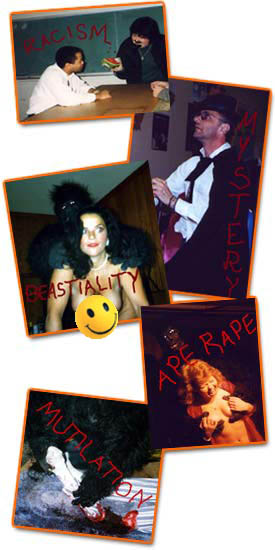 NOTES
Cinefear Productions has been around since 1986. Between then and 1992 we produced many horror film shorts shot on both 16 mm and super 8 mm film stocks. These shorts have been compiled and released through Cinefear (available as the Cinefear Sampler ) Video. In '92 we began work on the feature length Bloody Ape, deciding at that point that shorts were now behind us and it was time to enter a bigger arena. Shot during the course of one year on sound super 8 mm film for a mere couple of hundred dollars, we defied the odds of shooting a feature length film without having to lower ourselves by shooting on video as all my contemporaries have done.
Due to fact that myself and others involved with the film are working class filmmakers, with no parental or outside assistance, it took several years to produce the cash needed to transfer it properly to video and fine tune its editing (a very costly process). Finished in the Spring of '97, The Bloody Ape premiered at 112 Video of Medford in July of '97, with an encore screening in December that same year. It received accolades from the Manchester Horror and Sci-fi Festival in England, and was banned in film festivals in both Europe and the United States due to its lack of cohesion to the grand rules of political correctness. It received distribution through Vanguard Distributors in California, and is of course available through Cinefear Video. The film tells of the dire consequences suffered due to the inability of people to communicate properly. The film is a plea for mankind to see things the way that they really are, as opposed to how they perceive it to be.
KEITH J. CROCKER, Director
---
---
Finally available for the first time on DVD, the Bloody Ape! This little gem, transferred directly from the Bloody Ape master, is jam packed with with mouth watering extras. Not only do you get the feature film, but you get commentary with writer/director Keith Crocker, actor/co-writer George Reis and actor Paul Richichi. Also included, a brand new documentary, Grindhouse Gorilla, about the making of the film. Plus there are Bloody Ape and Blitzkrieg - Escape From Stalag 69 trailers. And if that's not enough, you get the pressbook, a lobby card and stills gallery, an Exploitation Journal cover gallery, and a 16mm Keith Crocker short subject film One Grave Too Many. All this for only $10.99. ORDER

And for those of you VHS purists, I still carry the original cassette:
Also includes:
• Outtakes and bloopers
• Great cover artwork
• The complete ten-minute Schindler's Lust trailer.
ORDER