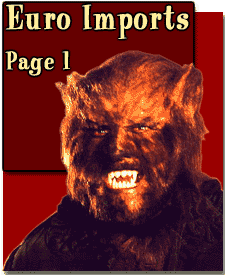 The following titles are off Euro masters and are $15 each. The quality is great. Order four and get the fifth one free. We have plenty of new imports coming in on a daily basis, so check out the Summer/Fall 2022 Updates for our latest titles. Have a taste for German Krimi films, then go right here! If you're hungry for Spaghetti Westerns, then hop onto this page! Looking for Paul Naschy, go no further!
A.A.A. MASSEUSE, GOOD LOOKING, OFFERS HER SERVICES (1972) Another very interesting Giallo, this one involving a young girl (Simonetta Vitelli) who leaves her parents and her comfortable home to go and live with a friend (Paola Senatore). She decides to become a Masseuse, and each time she services a client the client is discovered dead. Looks like a razor weilding killer is trailing her every move, and of these keeps up she'll no longer have any clients. What's interesting about this filkm is that for the most part just about all the victims are males. Yet, the mysoginistic tone of the film is unyeilding in that the girls activities are the catalist to the killings, hence her desire for independence has triggered all the violence. Message to women is "stay home with Mommy and Daddy". ORDER
ACT OF AGGRESSION (1975) A man vacationing with his wife and child gets into an altercation on the road with a biker gang. He awakes from being beaten only to discover that his wife and daughter have been raped and killed. He makes the decision to persue the attackers and prosecute them himself. This is an excellent and very haunting vigilante film, made in France and starring Jean-Louis Trintignant and Catherine Deneuve, this rare flick is in English with some missing scenes restored and in French with English subtitles. ORDER|
ADVENTURES OF TARZAN (1985) Here's one of those "you have to see it to belive it" India productions, this one of Tarzan. Features the usual trappings of Indian film production in the 80's, goofy disco numbers, stupid Tarzan, etc... But the selling point of this flick is Kimi Karkar, a hot piece of ass who wears see through shirts throughout the film, something worth drooling over. ORDER
AENIGMA (1987): Lucio Fulci's late attempt at a Carrie rip-off with offensive scenes of slugs covering a nude girl and various other nastiness done only as Fulci could do it. In English. |ORDER|
A FLOWER IN HIS MOUTH (1975 aka THE MASTERS) Here is a really weird but interesting giallo in which a school teacher (Jennifer O' Neill) comes to a small and clanish Italian village only to find that anyone who harasses her ends up dead. Is it boyfriend Franco Nero, or employer James Mason who is doing the killing? And just what is the motive? Off a Greek master, in English with Greek subtitles. ORDER
ALRAUNE (1952) A classic! This rare B/W beauty stars Eric Von Strohiem as a scientist who creates a daughter using the Alraune root (which grows under the gallows). The daughter (Hidegard Knef) seems to be lacking a soul and is ruthless in her persuit of men. Her crazed behavior results in several deaths and leads to a very drastic conclusion. This German film gives Von Strohiem a meaty mad doctor role, and a chance to resume position in German cinema. A top notch cast plus some georgeous B/W cinematography which really captures the classic film noir feel complete with unbridled sexual passions, a labratory and an ape creature behind bars. Ok, we are offering two versions of this particular DVD. One is the original German version, in German with English subtitles. Off a georgeous Euro DVD |ORDER| The other is the American print, which is dubbed in English but missing about ten minutes of footage, quality not as good |ORDER| , hence the choice is yours.
A PLACE IN HELL (1969) Guy Madison to the rescue as a journalist caught on a pacific island overwhelmed by the Japanese. Fun war film made in Italy, complete with nasty Japanese soldiers and heroic Americans. Nice shoot outs with machine guns and granades. Off Greek master, in English, letterboxed, with Greek subtitles. ORDER
AFRIKA (1973) Insane Italian flick concerning a closeted homosexual, his mentor, an African safari, endless sex and nudity, and the mutilation murder of a woman who was formally a man. Upgrade: Complete film with English subtitles. ORDER
AFTERMATH (1982) Pretty decent American made Mad Max rip-off with Sid Haig as a nasty leader of a gang of scumbags ravaging around necular waste after the blast. A group of surviving humanitarians must fight to stay alive as well as vanquish Haig's gang of goons. Very gory, with a nasty, pessimistic tone. Eat it up... ORDER
AGENT 003, OPERATION ATLANTIS (1965) The Red Chinese have built a secret atomic city and from within that city they are plotting to invade American. A secret agent (John Ericson) discoveres what's going on and makes every attempt to stop it. In the mean time we got treated to an x-ray machine; a dude who kills people with huge spiked pincers; a radioactive force-field, a ray that turns a man into a block of ice resulting in the guys disinigration, rubber masks to disguise the identity of various characters, and all sorts of cool stuff that makes these Euro spy films so much fun. And this one comes off a Euro DVD (wide) and in English. Can you beat that?! No you can't! ORDER|
A KNIFE FOR THE LADIES (1972) Ruth Roman and Jack Elam star in this bizarre hybrid of western and horror film. A Jack The Ripper type killer does in chicks in a small town out west. Gore and gunplay! ORDER
ALIEN 2: HELL ON EARTH (1981): Italian (who else?) made rip-off of Alien, extremely gory and full of fun! The action takes place in an underground grotto and stands to prove that not all E.T.'s are friendly! Directed by Sam Cromwell (?), but don't be fooled, it's only a fake name for Ciro Ippolito, who keeps up the grand tradition of Italian tastelessness. |ORDER|
AMANTI DEL MOSTRO (1976): Klaus Kinski stars in this atmospheric period piece as a possessed murderer/rapist. A beautifully photographed film directed by the usually reckless Sergio Garrone Made with the same sets, cast and crew as The Hand That Feeds The Dead, only that film has gore, this relies more on atmosphere. In Italian.Upgrade: Now with English Subtitles. |ORDER|
ALL THE COLORS OF THE NIGHT (1972 - aka They're Coming To Get You) Now here is the completely uncut, English language widescreen version of a classic Giallo by the master himself, Sergio Martino. Flipped out psychedelic nonesense with a Devil cult and some vicious knife murders. Surreal and underappreciated work of art. ORDER
ALMOST HUMAN (1974 - aka The Kidnapping of Mary Lou) Umberto Lenzi's ulta violent masterpiece has Thomas Milian as a ruthless gangster/kidnapper who wont hesitate to use his machine gun on anyone. Henry Silva co-stars. This flick was actually re-released to theatres in the early eighties with a misleading ad campaign suggesting it was a horror film, I should know, because I was suckered into seeing it. ORDER
ANGEL AND THE BEASTS (1977 - aka Terrifying Confessions of a Captive Woman) A German/Spanish co-production directed by Hubert Frank, loaded with nudity and violence and birthed out of the "Woman in Prison" as well as "Biker" genre. In English with Greek subtitles. ORDER
ANTHROPOPHIGUS BEAST (1980): Here it is, my friends, the complete, uncut Joe D'Amato favorite, brutally cut to pieces in this country and re-titled GRIM REAPER. This has the infamous fetus eating scene, and, now off a grand Greek master, is much better than the previous uncut tape I offered. In case you don't know, George Eastman plays a crazy cannibal man who torments Tisa Farrow and friends. In English. |ORDER|
ARCHER OF FIRE (1971) Guliana Gemma, straight out of his spaghetti westerns, takes time off to play Robin Hood in this variant of the story. An interesting add on to the tale includes a female antagonist played by Helga Line'. Mark Damon is the main protagonist, beginning his long foray into European exploitation. Directed with style by the always reliable Giorgio Ferroni. Off an Italian DVD and in English. ORDER|
ARNOLD (1973) A crazy horror comedy in the tradition of Dr. Phibes.After Arnold dies, his greedy lover follows through with wedding plans. However, folks lusting after Arnolds money end up dying in unusual sitituations. Great cast includes Patric Knowles, Stella Stevens, Roddy McDowell, Farley Granger, Elsa Lanchester, Victor Buono, and Bernard Fox. ORDER|
ASSAULT WITH A DEADLY WEAPON (1977 - aka Violent Rome) More insane Lenzi/Milian fun with old ham Tom playing a crazy hunchback (?) gangster who leads a gang of violent criminals in Rome while the great city undergoes a budget crises and cops are in short supply. Another flick that was passed off as a horror flick in the early eighties... how do I know you ask, read the Almost Human description and laugh! ORDER
THE ASTROLOGER (1976) This is one of the rarest films you are ever going to see offered here at Cinefear. It tells the rise and fall story of an Astrologer who's rise to fame from a fleabag carnival to his becomming the #1 astrloger on TV has very dire effects on the empire he has built. Basically this film was an ego trip for it's director star Craig Denney, who was at one time a high end astrologer. This movie has every element in it you'd want...action, violence, sexy women, vice. It even has a guest appearence by Florence Marly of Planet of Blood fame. But what put it in hot water was unauthorized music by the Moody Blues and Procol Harum. One does have to say that Craig Denney has great taste in music. Get it now while the getting is good! |ORDER|
ATOM AGE VAMPIRE (1960) Here is a really nice, uncut English language dubbed version of a late night TV fave. Off a Euro DVD, the quality has never been this good, plus it has the nudity, sexual innuendo and everything else that's been missing from the American 16mm TV prints that are used for all the public domain VHS DVD offereings. Alberto Lupo plays a scientist in love with a former stripper who's been disfigured in an accident. He turns himself into an ugly monster in order to procure her the glands of female victims that is needed to restore her beauty. ORDER
ATINI SEVEN KOVBOY (1974) This is one of those "you have to see it to believe it" pieces of Turkish cinema. Basically a spoof (I think) of Spaghetti Westerns, this flick has a dwarf, two midgets and one other fucking jerk robbing in the old west. Add to this a cowboy with a talking horse (I kid you not), some pretty hot looking Turkish chicks, some brief nudity, and you'd swear someone spiked your ice tea. They literally have the balls to steal pieces of the score from Once Upon A Time In The West and Midnight Cowboy. Needless to say, it's in Turtkish language, but the story is so simple you'd be hard pressed not to be able to follow it. ORDER
ATROCIOUS TALES OF LOVE AND DEATH (1979 - Aka Giallo Napoletano) Here is a truly unique spoof of "giallo" films directed by Spaghetti Western pro Sergio Corbucci. Marcello Mastroianni is an amature detective trying to solve a series of homicides while trying to get into the pants of Ornella Muti. A fun film that will leave you with a smile at all it's cleaver refrences to the genre. Off a Greek master, in English with Greek subtitles. ORDER
AZRAIL'IN 5 ATLISI (1971) Crazy Turkish made western inspired tale in which a group of rouges go searching for the treasure of Atilla The Hun. Brutal fighting, shooting, stabbing, etc... follow this group of low lives as there quest for treasure fuels there blood lust. In Turkish, master tape has some degree of wear, but very rare none the less. ORDER
EL ASESINO DE MUNICAS (1974) The son of a caretaker to a wealthy woman's estate like to play with dolls, as well as mutilate young lovers who use the grounds as a motel after hours. Great gore flick from the guy who gave us Graveyard of Horror. Since the director is gay, the film is loaded with male erotic overtones. In Spanish with English subtitles. Letterboxed. ORDER
AVERE 20 ANNI' (1978) (aka To Be 20) More Italian language madness as crazy man Fernando (Asylum Erotica) Di Leo tells of the horrors that happen to two sexually liberated females in a male dominated world. This is the uncut European print, accept no substitutes. A great film that should be viewed by males and females alike. Letterboxed, in Italian. ORDER
BAKIRE CENNETI (1986) Violent Fillipino Women In Prison style flick in which a bunch of women are kidnapped by a group of radicals who hold them for a huge ransom. Lots of shootings, stabbings, a rape or two, the usual crowd pleasers. Off a Turkish master tape (in Turkish language) which has seen better days but still worth watching. ORDER
BAMBOO GODS AND IRON MEN (1974) This is a really amusing piece of shit martial arts flick from the Phillipines that features a young black couple honeymooning in Hong Kong and accidentally coming in possesion of a hollowed Budda statue that contains something inportant to a group of assasins. Stupid, funny, cheap, I'm running out of ways to describe this. ORDER
BAMBOO HOUSE OF DOLLS (China- 1973): Perverted story set in a female prisoner of war camp located in Japan. Cruel Japanese soldiers do really mean things to the Chinese (and one Caucasian) females. Set the standard for women in prison flicks. Upgrade: Now in English language. |ORDER|
LA BAMBOLA DI SATANA (aka Satan's Doll) (1969) Leterboxed, Italian language print of an ultra rare giallo that features the lovely Erna Schurer returning to a family castle for the reading of the will. Rumor has it there is a ghost in the castle, she begins experiencing erotic nightmares, and gradually ends up kidnaped and tortured in the castle dungeon by a hooded creep. Can you do with out this flick? ORDER
BARE BEHIND BARS (1988) A late but equally sleazy Brazilian made entry to the "Women in Prison" genre. Nice, English language print makes this a must... ORDER
BARE KNUCKLES (1977) Directed by Don "Ilsa" Edmonds, this excellent combo of action/slasher film will leave you breathless. A bounty hunter in Los Angeles sets out to track down and stop a masked serial killer who murders women by using kung-fu moves. Robert Viharo makes for a fantastic private eye and plays perfectly with psychsexual stalker Michael Heit. This film features some fantastic action sequences that really give breathtaking scope to this low budget quicky. The rest of the cast is fantastic as well, featuring Karen Kondazian, Gloria Hendry, Sherry Jackson. Don't let this one slip by.
BEASTS (1977 Aka Bestije) Insane Serbian film directed by Sivko Nekolic. A woman arrives on a mysterious island and her presence turns men into beasts. I'd like to say this is a weird variant on Dr. Jekyl & Mr. Hide but it's not quite that either. Very hard to explain, but a very haunting and obscure film. In English with Russian subs. ORDER
THE BEAST IN SPACE (1977) Insane, delerious Italian fusion of Star Wars and The Beast. Sex, violence, and cheap special effects highlight this bizarre Italian entry. In Italian. ORDER
BEAST MUST DIE (1974): This is the British import tape that has all the gory after effects of the killings that is cut out of all the American tapes. This is a twist on the Most Dangerous Game with Calvin Lockheart as a rich and wacky Negro hunting some whitey werewolves in some rural part of England. Peter Cushing and Anton Differing are on hand to lend some class. Forget the out of print American tapes, get this! |ORDER|
BEATRICE CENCI (Italy- 1969): aka Conspiracy of Torture. Lucio Fulci directed this historical melodrama that is ripe with cruelty and torture and strange family relations...Very strong anti-religeous atmospher makes this a contender with Ken Russle's The Devils. UPGRADE - Letterboxed, in English . |ORDER|
BEAUTY AND THE BEAST (1978) This is a weird Italian film that tells several different stories of weird and abnormal sexual behavior. The bulk of the film is period piece, one story involving a king who allows political prisoners to indulge sexual fantasies, another story involving a man who locks his daughter up with farm animals to teach her a lesson about having sex with handy men in the barn. Anyhow, you get the point. Letterboxed, in Italian, and ultra rare. ORDER
BECAUSE OF THE CATS (1973) Insane Dutch Clockwork Orange take-off has a group of wealthy perverts victimising other wealthy folk. Opening has an outrageous gang rape commited where by the husband of the woman being raped is forced to watch. Humiliation doesn't get any more humiliating than this. With Sylvia "Emanuel" Kristel. Note: opening credits of film is effected by a reoccuring drop out which stops once the film begins, otherwise quality is perfect. ORDER
BEAST OF MOROCCO (Aka Hand of Night 1968) This is really an oddball British film. To surreal to be a good narrative horror film, and way to stylized to be scary, this film really comes off more like a James Bond film with no James Bond or intense action sequences. What that leaves you with is anyones guess. Yet, the film is not uninteresting, it does hold your attention, it just leaves you baffled. William Sylvester leaves England for Morocco after the accidental death of his wife and son. He meets a strange, exotic wealthy woman at a party but she quickly vanishes. As he seeks her out, he quickly discovers that some things are best left uncovered. If your a vampire film completest, than this is a must to complete your collection. Nice off a Euro DVD. |ORDER|
BEHIND THE RISING SON (1943) From director Edward Dmytryk comes this piece of propaganda involving the conflict between a Japanese fella educated in America and his dad, who is very much in favor of facist Japan. The best part of these films is watching caucasin's play Orientals. Rare, and out of print. ORDER
THE BERMUDA TRIANGLE (1978) Rene Cardona Jr. strikes again in this wacky take on just what goes down in the Bermuda Triangle. Cardona suggests a killer meat eating childs doll is responsible. You heard me right. With Jogn Huston and Gloria Guido. Off a Ditch master, in English, rare stuff. ORDER
BEYOND THE DARKNESS (1979): No, my friends, it never stops. Here is the complete, uncut BURIED ALIVE, right off a Greek master and letterboxed to boot. It's all here, with that crazy taxidermist stuffing his girlfriend, eating her heart, and killing off every girl who can't fill her shoes. This film is overboard in the gross department. I thought about stuffing my ex-girlfriend, but I would not have been able to eat her heart, she never had one! You can forgive, but you never forget. In English. |ORDER|
BEYOND FEAR (1977) Excellent and super tense kidnap thriller from France. A man walks a tightrope trying to keep a group of hateful criminals from killing his wife and son when they are captured by a vengful mobster intending on kidnapping the man. Some real high end suspense coupled with Last House on the Left influenced sadism. Directed by Yannick Andrei, with Michel Bouquet and Michel Constantin. ORDER
BIGFOOT (1971) Yeah, this is a classic of it's kind. John Carradine and John Mitchum are carny's hoping to capture the elusive apeman of the mountains. The apeman in turn is hoping to capture the lovely Joi Lansing so he can start a new family. Chris Mitchum and his biker buddies intend to stop both parties from doing what they intend to be doing. An exploitation classic. All the girls in this film have huge tits. A real delight. In English with Dutch subtitles. ORDER
THE BIG RACKET (1975) Insane, violent Italian crime drama directed by action master Enzo G. Castellari has Fabio Testi as a police inspector who battles hudlums who terrorise an Italian town. Ultra violent gun battles propel this flick into Peckinpah territory. Uncut, in English, and well worth the dollars. ORDER
BIG ZAPPER (1973) British made spoof of private eye movies made all the more interesting because it's also a spoof of Kung Fu and Blacksploitation cinema. But you know the British, they can be pretty corny, so don't be pissed at me if you don't like it...but it goes perfect with 3 oclock tea! ORDER
BLACK LEMMONS (1970) Excellent mafia flick from Italy, this one has Antonio Sabato as a former mafia member who was set up and jailed by his own "family". Once he gets out, he intends to turn everything right, even if it means ecposing high level mafia kappos. Great cast includes Florinda Bolkan and Peter Carsten. ORDER
BLACK BELLY OF THE TARANTULA (Italy- 1971): A sexually sadistic giallo and considered a classic by fans of the genre. A killer administers a paralyzing shot to his victims before embarking on bloody surgery. Super nice Italian language print off Jap laser. Go for it! |ORDER|
BLACK GUN (1984) A Turkish film with English subtitles featuring the incredible Cunyet Arkin as a private detective who gives Charles Bronson a run for his money.In this film he must protect the mafia wife of a crime boss who is looking to execute his own spouse. If you know these Turkish films, they are nothing but live action cartoons featiuring outrageous violence, car chases and crases, sexual exploitation and just about some of the ugliest males you have ever seen in a motion picture. Fun stuff, but hold on to your hat! |ORDER|
THE BLACK TERRORIST (1976) This is a South African made draw dropper about three moron black nationalists who feel that robbing a white settlers ranch will help them reclaim their country(?) Ok...anyhow, the ranchers are still on the property when the robbery begins, and hence all hell breaks loose. After a ton of senseless bloodshed, they make off with the womans son, only to have her following along with a team if vigilantes. This film defies any notions of political correctness. Perfect antidote for the Obama blues. ORDER
BLOOD AND LACE (1971): Here is the classic you want, uncut off a Greek video tape, from a 35mm print, not the usual cut 16mm bootleg which has been making the rounds. This is the classic PG rated mentally ill masterpiece directed by Philip Gilbert and featuring Gloria Graham as a nut case who runs a home for wayward girls. The home receives government grants to keep it running. Gloria needs to have a certain amount of girls to stay in business, and it seems the bulk of her charges die under her great care. Anyhow, Gloria keeps them frozen and puts them back in bed whenever a government inspector comes around. All is well and good until a masked killer with a hammer shows up looking for a certain girl. Paul (The Proverbial Pimp) Richichi saw this tripping on acid in '71. He then went and ate White Castle when it was over. He will never forget the experience. Neither will you! |ORDER|
BLOOD CEREMONY (1972): Now here is a classic example of great Spanish made horror. Directed by the brilliant Jorge Grau, this is a nifty version of the Elizabeth Bathory tale involving a vain and upnoxious countess (played by former Italian model and beauty queen of 1947, Lucia Bose), and her pervert husband, who like to play vampire at the expense of the townsfolk. Grau's political attack is subtle in it's horror, but grows in intensity from scene to scene. This is the completely uncut version, not the butchered Legend of Blood Castle video you used to buy for $4.99 in K-Mart. Has all the nudity, throat slitting, and torture you've come to love and expect from a Cinefear video. |ORDER|
BLOOD DELIRIUM (1988) Here's one for the books. Basically an Italian version of H.G. Lewis's Color Me Blood Red, only with strong elements of the supernatural, this films the most insane overacting from John Phillip Law, who acts like a fucking idiot through the whole film. His henchman (Gordon Mitchell) acts equally as stupid, and when Law's wife and inspiration dies, they dig up her body, kidnap a girl that looks just like her, and proceed to bleed various other women to death in order for Law to get the right shade of red for his paintings. Idiotic nonsense loaded with useless sex and violence, but hey, who's complaining. Directed by former softcore sex film director Sergio Bergonzelli. Eat it up! In English with Greek subtitles. |ORDER|
BLOOD LINK (1982) Late entry into the Italian giallo sweepstakes involving Michael Moriarity and his psychopathic twin brother undergoing family anxieties. Cameron Mitchell has a cool supporting role as a boxer who takes a beating by Moriarity's psycho twin. ORDER
BLOOD OF THE VIRGIN (1968): From Argentina comes this gross vampire tale, directed by Emelio (The Curious Dr. Humpp) Vieyra. Naked, busty vampire woman, stabbings in the neck, blood everywhere. Plot you ask, with all this, who needs one? To be fair, there is a story, but the film is in Spanish, so I can't give particulars, but you can't afford to do with out this film. |ORDER|
BLOOD SABBATH (1973): Super fag Tony (General Hospital) Geary play a Vietnam Vet who runs in to a coven of Witches run by Diane (Ilsa) Thorne. While really a dark, exploitation fantasy film, this movie has one, or should I say, two things going for it. The tits in this film are all huge, it looks as if Russ Meyer cast it. Between Diane and her sexy gyrations, Uschi Digard and her udders, and many others whose faces I'll forget but boobs I'll remember. Try watching this in a room with your wife and faking disinterest. I know I'm going to Hell, but I gave up higher aspirations years ago. |ORDER|
BLOODBATH OF DR. JEKYLL (1981): From the long out of print British tape comes this full screen version of the Walerian Borowczyk's Dr. Jekyll Mes Et Femmes. Forget the butchered American Bloodlust, as well as the Japanese mosaic laser disc. This is the wacked out retelling of Jekyll and Hyde as only Borowczyk could do it. A sterile, authentic 19th century party being thrown for Dr. Jekyll (Udo Kier) is thrown into total chaos when an unkown assailant breaks in and begins to decimate all the stuffy blue bloods. The assassin is of course Mr. Hyde, as Dr.Jekyll likes a good joke now and again, and enjoys changing his persona to thrill his less than delighted guests. This film is really an attack on the snobby and suppressed upper class, and is jam packed with rape, ridicule and repulsion. In English. What are you waiting for! |ORDER|
BLOODY JUDGE (1969): Ok, off a Dutch master comes this Franco classic, containing most of the gore but none of the nudity from the German Hexentoter Von Blackmore tape. So why am I offering it? Well, it is in English, and you can now here the mean spirited dialogue during the Witch interrogation scenes. Also, this print is very similar to the French print I offer (of which the quality sucked) called Throne of Fire, and tries to portray Lee's Witchhunter in a more sympathetic light. Oh, those British love to pardon their own war criminals. |ORDER|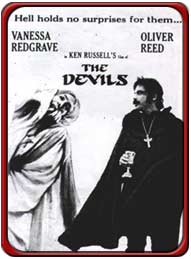 THE BLOODY PSYCHO (1987) Andrea Bianci directed this slasher flick involving a ghost, a wheel chair and some vial murders. Footage from this showed up in Fulci's A Cat In The Brain. There is also nudity for you skin freaks. Stupid but fun. In Italian. ORDER
BLOODY SECT (1982 Aka Secta Siniestra )Unltra violent remake of Rosemary's Baby co-written by Juan Bosch (who directed Paul Naschy's Exorcismo). A pregnant woman has a seriously hard time with her pregnancy. Directed by Ignacio F. Iquino, a crazed woman tries to concieve a child with the help of a doctor who is also a satanist. Needless to say, the satan doctor wants to be sure he delivers satans son. This film is very brutal, very much in the same spirit as the Italian horror films of the time. If you're a gore and nudity freak, you are going to love it...so dig in! Subtitles in English. |ORDER|
BLOOD ROSE (1969) Howard Vernon gets a chance to play another creepy doctor on the runfrom the law and being blackmailed into taking skin from healthy young ladies and grafting itonto the face of a wealthy disfigured woman. Billed in the states as the "first horror/sex film". Buy it and see for yourself. ORDER
BLOOD HUNT (1986) Now here's a very interesting variation on The Most Dangerous Game scenario. A small village is beset upon by desperate drug addicts who kill many people in the ensuing struggle. However, the village decides to take intervention to make sure it never happens again, and decides to jail future drug offenders and use them as target practice during hunting season. When a new doctor comes to town he discovers the local clinic for addicts is more like a prison. This doesn't sit well with him. But then again, he doesn't sit well with the town. You know a showdown is coming...A Spanish film with some fantastic action sequences and a unique plot. well worth it! |ORDER|
THE BLOODSTAINED LAWN (1971) Insane Italian offering has a arsticratic family literally wining, dining, dicking and finally draining the blood of hippies and transiants in order to export it as an exotic wine.Featuring the always lovely Marina Malfatti and the big titted Barbara Marzano. Insane, arty, and very, very Italian. In Italian with English subtitles. |ORDER|
BLUE EYES OF THE BROKEN DOLL (1973) Uncut Paul Naschy shocker also known as House of Psychotic Women. Very scary for those of us who have dated psychotic women. Sexual hijinks and blood abound. Can you stand it?! ORDER
EL BOSQUE DEL LOBO (1968) Based on a novel by Carlos Martinez Barbeto, and steeped heavily in Galician folktales, this impressive film from Spain tells of an epileptic peddlar who lures 11 women into the woods and murders them. The locals come to regard him as a werewolf. In Spanish. ORDER
THE BOY CRIED MURDER (1966) Here's a British/West German co-production that is similar to The Window (1949) and yet this film itself would later be remade as Sudden Terror (1970). A boy who constantly telling tale tales sees a murder and of course the only person who believes his story is the murderer himself. Has some pretty tense sequences including a nerve tingling chase over a clay tile rooftop. This film is well worth your time and again, quite rare in the states. |ORDER|
BRAZILIAN STAR WARS (1979) Now, I do truly believe this was meant to be a comedy, because it features Brazilian comedians that were popular at the time. Regardless, it's funny, but not the way it was meant to be. Chewbacca smokes cigaretts in this one. 3rd world all the way. Has to be seen to be believed. English Subtitles. ORDER
BRENNAS, ENEMY OF ROME (1963) If you're a peplum freak, you're going to love this. Gordon Mitchell excells as Brennas, a Gall barbarian who subjigates a Roman province to unspeakable cruelty. However, he meets his match when a former discredited Roman centurian decides to win his reputation back. Fun stuff, conplete with mind boggling dialog, high rolling action sequences and a crazed Gordon Mitchell acting like a real idiot. Very strong on the "Gay" undertones. A must. Off a georgeous German DVD but in English language. ORDER
BRIGADE MONDAINE (1978) French film (presented here in German language) about a vice squad detective trying to infiltrate a prostitution / sex ring headed by some high level officials. This film is real sleazy, tons of nudity, simulated sex, and sdome violent gun play. Stylistic trash. Slightly letterboxed. ORDER
THE BRIGHTON STRANGLER (1945) Fantastic, underrated film about an actor on the British stage who receives a severe head wound during the blitz on Britain and images himself to be his stage personna, a serial killer called the Brighton Strangler. John Loder is fantastic in the title role, with some excellent, expressionistic direction by the German Max Nosseck. A true rarity and well worth your time. This was also a late night channel 9 TV fixture back in the day. Nothing beats foggy old London. |ORDER|
THE BURNING COURT (1962) Here is a nice, atmospheric piece from French film director Julien Duvivier, one of the more underappreciated directors of French cinema. Here we have a cursed castle inhabited by a bunch of self serving, self centered idiots and the relative of a witch who put the curse on the castle arriving for a short vacation. I'm sure I don't have to tell you that guests start dying one by one. Edith Scob (from Eyes Without A Face) plays the relative (or reincarnation?) of the witch. At last, we finally have this film available in English, after having offered it with subtitles for so many years. Here's your chance to get the English dubbed version. Don't pass it by, especially if your an early 60's horror film freak. |ORDER|
THE BURNING (1981): Completely uncut off a Greek import cassette, this Friday The 13th rip-off had some great gore by the blow-burnt Tom Savini. Unfortunately, it was cut for the rating, and remained so on video cassette. Well, Cinefear has set this right. Here it is in all its gory glory. A bunch of snotty, blue blood scum bag summer camp kids set fire to a groundsman as a joke. He later teaches them some manners by cutting them up with his hedge trimmers. Being a Landscaper myself, I applaud his efforts. |ORDER|
EN BUYUK YUMRUK (aka Biggest Fist 1983) Turkey's version of James Bond, with the incredible CŁneyt Arkin as the James Bond character. Loads of violence and action, plus actual scenes stolen right out of James Bond films (yeah, they do this with no remorse what so ever). Kick ass, a real fun time in every way, shape and form. ORDER
LE CALDE LA DEL CARNEFICE (1974 Aka The Killer Wore Gloves) Creepy Giallo directed by Juan Bosch and starring Gillian Hills (Blow-up) as a chick who's boyfriend has disappeared and she is then forced to rent out her flat to a weird tennent who ends up dead, afterwards she is then plagued by odd phone calls from her missing boyfriend...Yes, Ms. Hill appears topless. In Italian. Ultra rare. ORDER
CALIGULA'S SLAVES (1981): Here is yet another version of the life of one of the biggest scum bags Rome has ever known. This Italian class-act focuses on Caligula, his slaves, and sex. Very rare, not released on U.S. video, and off an out of print Greek master. See what happens when power gets out of hand, and keep telling yourself, "it can't happen here, it can't happen here, it can't....." |ORDER|
A CANDLE FOR THE DEVIL (1973) From Eugenio Martin goes this gem about two sisters who run a motel and due to their religious ferver take an exception to folks who live a loose lifestyle. Gory, scary, with a cool cast including Judy Geeson and Lone Fleming. Letterboxed and in English with Dutch subtitles. ORDER
THE CANDY MAN (1969) George Sanders stars as a kidnapper who scopes out a child actress for kidnapping. The problem is that a woman who just lost her child is delusional and ends up kidnapping the girl before Sanders can get her! Hence now you have both the cops and Sanders after the kidnapped girl. Interesting stuff! Fun film shot at Churubusco Studios in Mexico, where many of the classic Mexican horror movies were made. ORDER
CAMP 708 (1978) Strange story of a former Russian (Michael Beck), who having been tortured by the Communists, joins the Israeli army with the hope he'll be able to massacre various Commie officials stationed in Sayria. Basically a story of how revenge can drive a man mad. Worth it if you want to see a young Michael Beck, F. Murry Abraham and Sigourney Weaver (pre Alien). ORDER
CANNE MOZZE (1977) When Giovanni Molet (Antonio Sabato) is put in jail for the murder of two of the Carraro family regarding a land dispute, during his incarceration, a vendetta is carried out on Molet's brother who is killed by the Carraros. As he's being transferred to another prison, Molet manages to escape and goes on the run. He hides out in a large villa owned by a newlywed couple and slowly starts to prepare for his revenge. Another grand, violent euro revenge picture featuring Antonio Sabato and John Richardson. In Italian with English subtitles. Very rare, so don't pass it up. ORDER|
CANNIBALS (1975) Here is a nice, uncut, letterboxed English language edition of Deodato's classic Last Cannibal World. Nasty going on's in the jungle. Truly sickening but lyrical at the same time. With Ivan Rassimov and Mi Mi Lay. I'm not kidding. ORDER
CANNIBAL APOCALYPSE (1981): Wacky Cannibal fun from our friends in Italy. Uncut, off a Greek master tape, this is the legendary Antonio Margheriti Vietnam Vet turns Cannibal movie that features John Saxon leading an A Team of flesh hungry morons on a rampage through Italy, Italy prentending to be Atlanta, Georgia, that is. A favorite amoung the Guinea gore crowd. Saw the trailer for this film back in the early eighties, and it blew my mind, I never, ever forgot it! You wont either, once you see it! |ORDER|
LA CASA DELL' AMORE (1976) More madness from brain damaged director Renato (Reincarnation of Isabella) Polselli. This flick has a group of archeologists witness the kidnaping of a young woman. Turns out a satanic cult is killing young girls, and the archaeologists seek proof for the police, only to become wrapped up in the perversion themselves. If you know Polselli, you know what to expect. Letterboxed, in Italian. ORDER
CASTLE OF TERROR (1964): Great ghost story involving a writer who takes a bet to stay over night in a haunted house where the ghosts reenact their past atrocities. This is a French language print that features all the missing nudity from the American prints. A Barbara Steele masterpiece. |ORDER|
CASTLE SINISTER (1948) A strange group of people converge on remote, eerie Glennye Castle which is reputedly haunted by the ghost of a monk. One of the guests is actually a Nazi spy and the real father of Lady Glennye's son. She threatens to expose him, but he is shot after the arrival of a British agent. Lady Glennye also dies and "The Glennye Phantom" - a hooded skeleton - puts in an appearance. If your a fan of dodgy British thrillers, like the 1948 Fall of the House of Usher, then you might very well like this as it does have a creepy atmosphere. Best for fans of old, groggy flicks that suffice through mood alone. With hard code editing number track to the top of the screen. ORDER
THE CATMAN OF PARIS (1946) Very rare horror flick from the 40's that substitutes a werecat for a werewolf. Buy the premis, buy the flick. For fans of 40's monsters. ORDER
CAT O' NINE TAILS (1972): Never before released in the states uncut, here is the full, completely uncut version, as saw light of day in Australia, where this tape comes from. This is the Dario Argento classic that features a blind, former news reporter (Karl Malden) investigating a theft which in turn leads to a series of grusome murders. Will Malden set sight on the killer before the killer sets his sights on Malden? You'll just have to pick this nifty thriller up and see for yourself. |ORDER|
THE CHEATERS (1945) Ok, this is an unusual offering (for Cinefear standards, anyhow), but here is a rare Hollywood movie that was very popular as a Christmas time story. An aristocrat James C. Pidgeon (Eugene Pallette) runs into money trouble, and thinks his dying uncle's fortune will save him, only to find out that it has been left to an unnamed actress. And while his lawyers search for the actress, James' daughter (Ruth Terry) convinces him to invite a destitute man, Mr. M., to Christmas dinner to appear generous. That man turns out to be a former actor (Joseph Schildkraut) who is also able to locate the mysterious actress heir, Florie Watson (Ona Munson). Not available on VHS, DVD or Blu Ray, we have it it here from a broadcast showing. So if you want it for next Christmas, then get it now! |ORDER|
CHOOSEN SURVIVORS (1972) Here is a nice quality classic that involves a group of people choosen to survive underground after a nuclear blast. What no one counted on was that bats are able to make their way into the santuary from a nearby underground cavern. Dark, nihalistic cult fave that left audiences feeling like shit. Great cast includes Jackie Cooper, Alex Cord, Richard Jaeckel, Bradford Dillman and Diana Muldaur. ORDER
LAS CINCO ADVERTENCIAS DE SATANAS (1970) A man in search of himself is confronted by Satan and offered up five challenges, the fifth of which he must find out for himself. Directed by J.L. Merino, who gave us Beyond the Living Dead. This is both scary, funny and sexy! In Spanish. ORDER
CITY IN PANIC (1985) A unique oddity, this violent slasher flick was shot on film but went directly to video tape. A psychopath murders homosexuals somewhere in the mid west during the snowy Winter months. The best scene has a deviate in a mens room sticking his wiener through a hole in the bathroom stahl, only to have the killer hack it off!!! Very bloody and interesting to boot. Long out of print. ORDER
THE COLD (1984 - Aka The Game) Directed by the usually inept Bill Rebane, this is actually one of his better films. Three millionaires gather nine people in an old mansion and give them a proposition: If they can conquer their biggest fears, they will get one million dollars in cash. Needless to say, some of the fears are bigger than money itself. The type opf fare you'd expect from a mid 80's horror flick, only it's Rebane and he has a down home flair all his own. Buy the premise, buy the flick. |ORDER|
CODE OF THE HUNTER (1983 - Aka Hunting Ground) Insane Jorge Grau classic that is a flat out attack on liberals and the liberal mindset. Spanish beauty Assumpta Serna plays a bleeding heart liberal lawyer who defends criminals and puts them back on the streets. One group of scum she sets free decides to thank her by robbing her home and killing her husband. However, when they decide to return to do in her and the kiddies, they find she's had a change of mind regarding the law... Excellent expose of the diseased mind of the politically correct. Shootings, beatings, rape, and a woman's crotch literally on fire. ORDER
COMMANDER (1988) Insane Italian rip-off of Rambo directed by Ignazio Dolce, features cruelty performed on American POW's until it all goes to far and a muscle clad Rambo clone hits the ceiling and blows the shit out of those miserable Vietnamese commies. This film is over the top violent, with tortures, beatings, and rivers of blood shed, and no, this is no exaggeration, look it up on IMBD for yourself. In English with Greek subtitles. ORDER
LA COMTESSA PERVERSE (1973) French language, hardcore version of Jess Francos all nude version of The Most Dangerous Game. Perverted folks on an island hunt people for sport, eat them, and later have sex. Only as Franco can do it. ORDER
COOL BREEZE (1972) Sort of the Blacksploitation version of Asphalt Jungle. A group of criminals hook up in LA to scout out a new bank to rob. Thalmus Rasulasa (Blacula) is the head of the gang. "He hit the man for 3 million. Right were it hurts. And baby, that's cold". ORDER
CORPSE EATERS (1974) Insane, made for the drive-in take off of Children Shouldn't Play With Dead Things has a group of kids having a party in a mausoleum being attacked by some disgruntled corpses. Really spooky moments abound in this Canadian film that has a nifty twist ending. And yes, there's gore galore. It also features two of the ugliest females in horror film history. ORDER
LA CORRUPTION DE CHRIS MILLER (1974) Ultra nasty Spanish made Giallo flick featuring Jean Seberg as a washed up celebrity who shares her house with her stepdaughter, until a hansome stranger enters the scene, and then the headgames begin. To make matters worse there is a serial killer hacking folks to death in the surrounding countryside. Nasty stabbings punctuate this truly atmoshpheric film.UPGRADE - Nice print in English . ORDER
COMMANDOS (1968) Armondo Crispino directs this very interesting tales of Italian Americans who ambush and take control of an Italian stronghold in Africa who wait out the arrival of Rommels men. Tense, violent, and bound to please. Lee Van Cleef stars. Slightly letterboxed with Dutch subtitles. ORDER
COUNTESS DRACULA (1971) Here is the copletely uncut British print of Hammer Films take on the Countess Elizabeth Bathory, who liked to bath in virgins blood in order to stay young. Has more gore and tit than the America DVD. Letterboxed, lovely, comes complete with original theatrical trailer. Ingrid Pitt's tit's are unmatched in the anals of horror cinema. ORDER
CRAZY JOE (1974) Fantastic Italian made but New York shot gangster film featuring the fantastic Peter Boyl as crazy Joe Gallo (who was immortalized on the Bob Dylan album Desire with the song Joey) a gangster who made a name for himself in NY during the 1960's. The cast of this film is fantastic, with Eli Wallach as a gang boss who literally steals the show in just about every scene he is in, Paula Prentiss, Fred Williamson, Rip Torn, Henry Winkler and more! We have a really nice copy of this unavailable film, so get it now and thank us later. This is a true gem in the Italian Gangster sweepstakes. ORDER|
CREATURES OF EVIL (1970): Directed by Gerald De Leon, this is an excellent, arty entry into the Philippine vampire film series begun with Vampire People (1965). A family is cursed by their vampire mother, in what has to be one of the best analogy of incest ever committed to the screen. Be brave and go for it. Dubbed in English. |ORDER|
CRIPPLED MASTERS (1977) Insane martial arts flick featuring two crippled guys kicking the ass of the folks that maimed them. So damn popular that it spawned two sequels, Crippled Avengers and Fighting Life, both of which we carry. ORDER
CRY FOR VENGANCE (1978) Insane vigilanty flick has a group of bad guys getting their just desserts when they end up fucking with the wrong people. Poster had a picture of a guy with a pitchfork sticking out of his chest, and the very same scene is in the film as well. At long last, truth in advertising. Brutal! Uncut, in English, flick was most likely made in Jersey, and it has Spanish subtitles (very unobtrusive). Go for it! ORDER
CRY SWEET REVENGE (1968/78) Here is the Uncle Toms Cabin as was done by the Germans in the late sixties, only Al Adamson has added some rape, nudity, violence and all around bad taste to what was already a piece of bad taste cinema. Herbert Lom is Simon Lagree in this colorful production, and this role is a forerunner for his work in Mark of the Devil. ORDER
CURUCU, THE BEAST OF THE AMAZON (1956) This is the best version of Curucu out there, bar none. This comes off a French broadcast and is in English and the Eastmancolor is stunning, it l;ooks the way this film was meant to be seen back in the 1950's. Directed by Kurt Siodmak, this film is actually more of a jungle adventure, but it does involve a group of explorers searching for a mysterious creature in the Amazon. Leads John Bromfield and Beverly Garland do their best to survive a killer parrot and head hunters. If you need to add this film to your collection, this is the version you want! |ORDER|
CURSE OF THE VAMPIRE (1971): Wacked out Spanish horror flick involving one families struggle against hereditary vampirism. This film of course features more blood and nudity than was being offered by Hammer Films at the time. There is even the obligatory Lesbian scene thrown in for the perverts (e.g.. Me and you). Features one of the ugliest vampires ever committed to celluloid. The guy looks like the lead singer for the group Spooky Tooth. Great quality and in English to boot. Go for it! |ORDER| We also carry the widescreen version of this film, in Spanish with nice large English subtitles. You can buy that here |ORDER|
CYCLONE (1976): This is a real fucked up disaster film from one of the leaders of good taste, Rene Cardona Jr. It seems that he could not get enough of the cannibalism fun he reveled in with Survive, and so he gives us this loving tale of a group of people who, while boating, survive a freak cyclone, only to end up adrift and forced to eat each other. Add a hungry group of sharks to the proceedings and you have one truly harrowing and exhausting motion picture. Stuart Whitman, Arthur Kennedy and various other double "A" favorites are on hand to add to the fun. Never released abroad, uncut off a Greek master. |ORDER|
DAGGERS OF BLOOD (1962 Aka Invasion 1700) For fans of costume pictures and swashbuckling, here is John Drew Barrymore grossly overacting as a Ukraininan nobleman supposedly fighting on the side of the Poles but actually conspiring against them and causing conflict with the Tartars. Blood flows and flows before good guy Pierre Brice stops the tide of violence. Barrymore is over the top as he chews up the scenerie making weird face and staring at people througfh his fingers, which he constantly holds up to his face. In English and wide. Great cast also includes Akim Tamiroff and Jeanne Crain. ORDER|
DAMNED IN VENICE (1978) Insane Italian made post apocalyptic horror that tries to merge Rosemary's Baby with The Omen and Holocaust 2000. A blind boy has visions of a murderer and death and destruction. Ultimately he finds that he must intervine in the birth of Satan's child. This flick features some really haunting imagery and some of the nastiest murders I've seen in quite some time. One really repugnant scene involves the murder of an infant. Haunted me for days after I first saw it, very disturbing and very well made. With Olga Karlatos (Zombie). Directed by Ugo Liberatore. In English with an additional Italian audio English subtitle option. ORDER
DANCE OF DEATH (1960) Here is a nifty Italian/French flick that is in the tradition of the Edgar Wallace Krimis. And believe it or not, this film introduces the character of Simon Templer, that;s right, the Saint. In this flick the Saint is called in to protect a man who helped lead to the death of a very psychotic criminal. Seems killers are prowling this guys eerie mansion just waiting to kill him, as well as any others who get in the way. Fun, atmospheric B/W flick in English, and very rare. With Felix Martin and Michele Mercier. ORDER
DEATH IS A WOMAN (1966) Here's a fun Euro spy flick, this one helming from England. A British agent tracking a crminal in the Virgin Islands filnd himself suspected of the criminals death when the crimminals body shows up murdered. He spends the rest of the film trying to clear his name and find the real culprits. This film is an eye opener, and I just don't mean the exotic locals. The girls in bikinis are to die for, so keep your hands where everyone can see them. With Trish Nobel, Mark Burns and Wanda Ventham. Boy it's HOt in the Virgin Islands! Ultra rare! ORDER
DEATH SMILES ON MURDER (1973) Ok, here's the completely uncut, English language print of the classic Joe D' Amato fave that is part giallo, part ghost story, all sex and violence. With Klaus Kinski and Ewa Aulin. It's never looked better than this! ORDER
DEATH KISS (1974 - Aka THE RAPE KILLER) Insane Greek entry into the Giallo sweepstakes that has a low life husband hiring an even more low life rapist killer to murder his wife. However, the wife has intentions on murdering the husband, and so does the hired killer. Extremely brutal film that makes for an excellent time filler on a rainy Sunday afternoon. ORDER
DEATHLINE (1972): Rare, letterboxed and off a Greek master tape comes this tasty little morsal, about cannibals who live in the British subway system, and periodically pop up to eat the local patronage. I know for a fact that this happens in New York, but jolly old England, who would have known. Everything seems so clean. With Christopher Lee and Donald Pleasence. Very tasty. |ORDER|
DEATH WISH II (1981) Another winner from director Michael Winner. This is the insane follow up to Deathwish, only this time the local has changed from New York to California, with Charles Bronson exterminating street scum. However, this version we offer is completely uncut, featuring all the violence and rape as well as extra dialog not seen in the version released here in the United States. This is the version to have, so if you don't already have it, get it here!In English with Greek subtitles.ORDER
DEADLY BEES (1967) British entree to the "Nature Gone Berserk" genre that has a British island suffering the rath of some nasty bees. Is the local bee keepers to blame, or have the bees been drinking too much of the local ale? Features a performance from the British Birds with a young Ron Wood on guitar. Directed by Freddie Francis. ORDER
DEMON HUNTER (1965 aka The Legend of Blood Mountain) This is the original uncut version of the film producer Donn Davison would take and turn into Macullough's Mountain. Comedian George Ellis plays an idiotic reporter who chases pretty girls while pursuing a monster in the mountains of Georgia. It has gore... ORDER
LES DEMONIAQUES (1972): The master of fun but pretentious horror is back, Jean Rollin. This flick, one of my personal favorites, is a cool period piece in volving some pirates who are haunted by two ghostly gals they fucked over years earlier. Super atmospheric and really quite scary. And as always, erotic. Off a Greek master, uncut, but in French. Still, it's a very easy film to understand, the images tell it all. |ORDER|
DER AUTO VAMPIR (1981) Strange but rare film from the Checz Republic regarding a car that runs on human blood!!!? You heard me right, a vampire car! Strange hybrid of Sci-fi Horror. In German. ORDER
EL DELITTO DEL DIAVOLO (1971) Aka Queens of Evil. Fantastic film by former producer Tonino Cervi, tells the story of old scratch himself setting up a liason between a freedom searching hippy (The young and handsome Ray Lovelock) and three ultra attractive women (Haydee Politoff, Evelyn Stewart, Silvia Monti) who may very well prove to be his undoing. Sexy and gory, this film acts more as an "Adult Fairytale" as opposed to a horror film, though there is more than enough horror to go around. A beautiful, widescreen print. In Italian. ORDER
DESERT COMMANDOS(1968) Interesting Umberto Lenzi flick tells the tale of a German Commando unit assigned to assasinate Stalin, Roosevelt and Churchill, who are having a meeting in Casablanca. Horst Frank leads the pack. Off a Greek master, in English with Greek subtitles. ORDER
DESNUDA INQUIETUD (1976 Aka Rape) A woman is possessed by the Spirit of Montuzuma. This causes her to do many unpleasent things. A man who loves her tries to help. A really interesting and unique take on demonic possession. Directed by M.I. Bonns, who directed Paul Naschy's Werewolf and the Yeti. In Spanish. ORDER
THE DEVIL AND THE ANGEL (1946) Directed by the brilliant Pierre Chenal, and featuring the incredible Eric Von Strohiem as a disfigured man who falls in love with a beautiful blind blonde who works in a circus with her knife thrower husband who is having an affair with another woman. Von Strohiem steals the beautiful blonde away, only to have her eyesite restored after surgery. I don't have to tell you that all hell breaks loose, but if you want to know the ending you have to but the DVD. In French with English subtitles. ORDER|
DEVIL FETUS (1983) Insane Asian nonsense involving a woman who is cursed after buying an ordinary household orniment that actually has a spell on it. Needles to say she becomes pregnant with the Devil Fetus, who proceeds to wreck her life and the life of those around her. Loaded with all the grotesque imagery associated with films of this ilk. Off a nice Asian DVd with very good English subtitles (as opposed to the horrid video from years back with lousy picture and unreadable subs. ORDER
DEVIL STORY (198?): A neurotic young woman is tormented by a deformed idiot in a Nazi uniform. To make matters worse, there is a ghost stallion, a mummy and a zombie, and so much cheap gore you wont believe your eyes. Delirious horror that just does not quit! A French film, could that explain it?! |ORDER|
THE DEVILS (1971): If you don't know this film, you've been asleep and it's time to wake up. Ken Russells masterpiece of Aldus Huxleys Devils of Loudun, and without a doubt the most disturbing film you will ever see. A priest suffers the curse of interfering in politics when he is accused of Witchcraft. Why am I offering this version. Well, for one, it's letterboxed, two, it's longer than any previous version available. That's why. |ORDER|
THE DEVILS HAND (1943 Aka Carnival of Sinners) French film drected by Maurice Tourner (father of Jacques) tells a Faust like tale of a struggling artist who is given a severed but living hand that gives him great fame and wealth. However, this also damns his soul for eternity. He decides to sell the hand back to satan, and that's where all hell literally breaks loose. Fantastic horror fantasy and available with a English dubbed soundtrack, off a rare and out of print British VHS. Do not pass this one up! |ORDER|
DEVILS ISLAND (1940) Intense Boris Karloff flick has Karloff as a doctor unjustly accused of treason for treating an escaped convict and sentenced to the notorious Devils Island. The sadistic commandant makes life very difficult for Karloff. Will Karloff come out shining, or not come out at all? Buy this a find out. Very rare off a 16mm print. ORDER
DEVILS 8 (1969) Goon faced Christopher George must pull together eight very talented convicts to help expose a moonshing murderer (Ralph Meeker). Fabian leads the band of bad guys turned government officials. Directed by Burt Topper and written by Willard (Messiah of Evil) Huyck. In English with Greek subtitles. ORDER
DEVIL'S FEMALE (1974 aka Magdalena - Possessed By The Devil) Here's a fantastic German made rip-off of the Exorcist in which a young gal is possessed by the spirit of a murdered man. This chick has a body to die for, and when she rips off her cloths you'll all wish possession was this much fun. She also vomits snakes. In English. ORDER
THE DEVIL WITHIN HER (1974) Here is the complete, uncut, letterboxed film known on these shores as Beyond The Door. Juliet Mills play a pregnant house wife who may or may not be carrying the Devil's child. Richard Johnson plays the man destined to deliver her child. The usual levitation, demonic voice, and vomiting ensue. For die hard's of bad Italian rip-offs. ORDER
DIARY OF THE DEAD (1976) Hitchcock inspired flick has Hector Elizondo playing cursed by "Murphy's Law", if somethings going to go wrong, it's going to happen to him. Imagine the problems that occur when he plans to murder his shrew of a mother-in-law. Geraldine Fitzgerald is great is the hateful mother-in-law, and even you'll want to murder her. Subtle and interesting. ORDER
DIRTY HEROES (197?) Had trouble finding info on this, but it has a vicious rape and murder sequence right from the start as vicious thugs torment a farmer who can't pay his rent, hence the murder his little son and rape his wife. You know vengence can't be far behind! An Asian film, in English with Dutch Subs. Buy the premise, buy the flick! ORDER
DIAS DE COMBATE (1980) Here is a rather well made, talky, but interesting detective story involving an amature slueth who literally throws his life away while trying to track down a serial killer who likes to strangle young women. One very interesting acene invloves a woman being strangled in a movie theater that is showing The World of the Vampires, which is a funny in joke in that this is a Mexican production. In Spanish. ORDER
DOG TAGS (1988) Insane fun from Romano Scavolini (who gave us Nightmares in a Daranged Brain) and taken from real life experiences as Scavolini was a combat photographer during the Vietnam war. A group of soldiers waiting to be air lifted to safety find gold and make the decision to keep the gold for themselves. Violence, grotesque amputations, nudity, all sorts of madness make this film a winner. ORDER
DO I KILL YOU? (1974) Yeah, just what you need, a German made comedy take off of the Godfather. Hey, at least it has Mark Damon! Go for it, it's fun, rare and in English (with Dutch subtitles). ORDER
A DOPPIA FACCIA (1969) Aka Double Face. This is the spicy German version of a early giallo directed by Richardo Freda. A millionaire is lead into the murder of his lesbian wife. With Klause Kinski. The U.S. video put out by Unicorn Video was heavily cut. This is not. In English with occasional spats of German. ORDER
DRACULA CONTRA FRANKENSTEIN (1972) Jess Franco's contribution to the cure of insomnia, here is the Spanish language, widescreen print, completely uncut, with nudity and gore not scene in the U.S. English release called The Screaming Dead. The quality on this is fantastic, and the fact that it is in Spanish doesn't matter insomuch as the film was shot virtually silent with odd sound effects added to the soundtrack. However, for those of you who insist it be in English, I also carry a lesser quality Japanese import version, also widescreen but with Japanese subtitles. So just specify which version you want when you order. The plot you ask? What plot I respond! Dracula, Frankenstein, and a wolfman cross paths. Howard Vernon plays the screens first Dracula with Downsyndrome. Dennis Price plays the bloated, alchoholic Dr.Frankenstein. ORDER
DRACULA SUCKS (1978) Here is the softcore version of the hardcore film known as Lust at First Bite (which we also offer). This edit features more blood than was onsight in the hardcore version, and makes for a great excuse to introduce your grandma to the works of John Holmes without her running out of the room screaming "My God!". Works very well as a straight (well, sort of) horror film, with a lovely cast including Serena, Annette Haven, Kay Parker, Seka. The males include Holmes, Jamie Gillis, John Leslie, Paul Thomas, and Reggie (Mark of the Devil) Nalder as Van Helsing (he hides under a fake name in the credits). ORDER
DOCTOR DEATH (1973) Gory horror flick about a crack pot illusionist who steals souls from one person and transplants them to others. Problem is, in order for this to work, he must kill the donor. This flick has a cameo appearence from Moe Howard playing a cabbie. ORDER
DR. JEKYLL (Argentina- 1952): Weird and contemporary telling of Jekyll & Hyde with Argentine actor/director Mario Soffici doing both acting and directing honors. Great scene has him transforming in to Hyde while running through a subway. Tape is in Spanish and quality a bit rough, but rare as can be, so don't pass it up! |ORDER|
DR. TERROR'S HOUSE OF HORRORS (1964) Now here's a fine find. A georgous letterboxed, in English, uncut Euro print of this all time favorite horror anthology classic. Peter Cushing's Dr. Schreck reads the Tarot cards for a group of weary train travelers including an uptight Christopher Lee and nervous Donald Sutherland. See it the way it was meant to be seen. ORDER
DON'T GO IN THE HOUSE (1981): This is the full, uncut, Dutch release tape, in English with Dutch subtitles. This morbid, misanthropic entry in to the American made "Slasher" sweepstakes, tells the loving story of a young man who likes to play with matches, and his girlfriends, at the same time. You will not want to barbecue for quite some time after seeing this. |ORDER|
DRUM (1976) The long lost sequal to Mandingo, and a better film to boot. Warren Oates is the slave trader who wants beefy Ken Norton for slave breeding purposes. Fiona Lewis and Rainbow Smith are the dark meat lovers. Pam Grier and her two side kicks provide the booty. Yaphet Kotto supplies the tongue. ORDER
EARLY FROST (1982) A private detective who is hired to investigate a divorce case comes up against a bunch of dead ends which ultimately lead him to a corpse. This in turn takes him to the house of two different families, one of which is covering up for a killer. This is a very weird entry in the slasher sweepstakes made in Australia and featuring actors and actresses from Australian soap opers. The film is a bit of a muddled mess but yet you can't seem to take your eyes off it. ORDER|
EMANUELLE - BLACK & WHITE (1976) Italian made garbage set on a plantation during the pre-civil war South. Has nothing to do with the Emanuelle series. A black female slave and her white female owner run into conflict when they start loving each others male lovers. Violence, sex, nudity, stupidity. See it to believe it... ORDER
EMMA, PUERTAS OSCURAS (1974) From Jose Larraz, who gave us the fantastic and violent Vampyres. After suffering a violent accident a young girl is placed in a psychiatric hospital. There she is seduced by and later leaves to live with a lesbian nurse. When the nurse decides to go back to her husband, the trauma victim goes bananas and launches out on a murder spree. Nice violent razor murders punctuate this obscure classic. In Spanish with English subtitles. ORDER
EL ENIGMA DEL ATAUD (1969 Aka The Orgies of Dr. Orloff ) Take some No Doze while watching this one. Howard Vernon is back as Dr. Orloff, but don't expect any blood and gore. Instead we get a creaky old dark house thrilled that hasn't seen the light of day since the 1930's. For completests only. B/W and in Spanish. ORDER
EL ENIGMA DEL YATE (1984) One of the last films directed by Carlos Aurad (Horror Rises From The Tomb) has two couples on a yatch playing mind games which ultimately result in murder and madness. Not his best, but a creepy claustrophobic atmospher prevails. In Spanish. ORDER
ESCAPE FROM CELL BLOCK 3 (1974 Aka Five Angry Women, Women Unchained) Five crazed women escape from a prison in California and try and make their way over to Mexico. On the way we learn why they ended up in prison. We also watch them assault others, themselves, rape men, shot folks, etc... Directed by Kent Osborne, an associate of Al Adamson. I tell you this so you know what to expect. ORDER
EUROTIKA (2000) A fantastic British TV program from the guys behind Mondo Macabro DVD. This is a two disc edition that spotlights European horror and sex films from the 60's/70's. Great interviews with folks like Jess Franco, Paul Naschy, Erica Blank, Dagmar Lassander, etc...All episodes are complete, and this is the full series. You like Euro Exploitation, well than you can't miss this! ORDER
EURO-SHOCK (1950-85) Great collection of Exploitation and horror film trailers of European films, featuring trailers from flicks like Mill of the Stone Women to City of the Walking Dead. A must if your a trailer freak! ORDER
EVIL IN THE DEEP (1974) Here's an interesting if not misguided attempt to make a family friendly deep sea action film. Upon it's release, it failed so the distriputor added gore and violence and released it as a shark film to cash in on Jaws. Shot in Todd A-O, and featuring an incredible cast including Stephen Boyd, Rosie Grier, Cheryl Ladd (here under her maiden name Stoppelmoor), David Ladd (Cheryl's then husband and son of Alan Ladd). Lots of great shots of Cheryl in her bikini, she's a true boner idol. Anyhow, the story involves Stephen Boyd (how the mighty have fallen) playing a detective hunting for gold with a treasure map that is cursed!? Anyhow, there is bad guys, killer sharks and Cheryl's knockers bouncing around in a bikini top, so how can you go wrong. This is off an out of print uncut Australian DVD. ORDER|
EVIL SPIRIT OF YAMBOUYA (1983) Outrageous Russian film about a killer bear who may be more than just a bear. A group of explorers go looking for the beast of which the locals have drawn myths about. Turns out the myths are not quite myths...Very spooky and unsettling film, looks as if it was shoot a lot earlier than '83. Arty and interesting. In English with Greek subtitles. ORDER
THE EVIL WITHIN (1970) Wow, here is the ultra rare Filipino spy/action flick that has been alluding fans for decades. Very much in the style of a James Bond film, this movie has it all, from fistfights and murders to martial arts and plot and counter plot, this film never fails to please and may be perhaps one of the rarest titrles in my catalog. A gang war involving opium is center stage, complete with federal agents played by Dev Anand and Rod Perry (that's right, Rod Perry of the SWAT tv show) using the opportunity to pit the gangs against each other. The opening of this film is unbelievable as we witness a fat, bald giant of a man on an assasination spree. This lunatic screams like a fucking idiot before he kills his intended victims. And if this isn't enough, we also have a lesbian love triangle featuring the lovely Zeenat Aman and Kieu-Chinh. And a theme song sung by Rod Perry. No, I'm not kidding...|ORDER|
EVITA (1980) Ok folks, I don't always carry Broadway shows (though God knows I should) but here is an audience shot show of Evita, which played the Broadway Theater in 1980 and featured the incredibly talented Patti LuPone and joining Patti on stage is the incredible Mandy Patinkin. Now, I have the whole show on disc. The Phantom of the Opera that I offer was better shot than this was, but it is still 100% watchable, the audio is real good and where else are you going to see this play as it was performed on stage all those years ago!? ORDER|
THE EXECUTIONER (1977) Insane gangster movie directed by the incredible Duke Mitchell. Ultrviolent rip-off of the Godfather films made on a five dollar budget. Funny, imaginative, cleaver movie has a gangster seaking revenge for his mob boss father, who has been extradited to Sicily. Don't pass this classic up. ORDER
EXORCISM (1974): Spanish director Juan Bosch gives us this flick, one of the first to rip off the Exorcist, In which the deceased father of a young girl takes possession of his daughter in order to pay back his unfaithful wife. A priest (Paul Naschy), must now exorcise the girl in order to get rid of the disruptive spirit. This is the full, uncut Dutch video release, presented for your video pleasure. In English, to boot. Knock your socks off. |ORDER|
EXORCISME (1974/81, AKA SEXORCIST): Ok folks, here is a real find. Off a Greek master, in French language, from their own Midnight Video cult label, comes the Hard-core version of the old Jess Franco favorite The Sadist of Notre Dame. Believe it or not, you actually get to see Uncle Jesus himself eat pussy and stick his short, stubby Hispanic penis in to two different woman, his wife and some other Euro slut. Am I kidding, no, I'm not, this is for real. And I have to add, he is the worst practitioner of oral sex I've ever seen. He reminded me of my teenage years, awkward, overwhelmed by the scenery, and not quite knowing how to hit the spot. The only problem being this guy was in his late thirties, early forties when these scenes were shot. If you gals want a laugh, check this out! Get it for Grandma as a present. Don't say I didn't warn you. |ORDER|
EXORCISM'S DAUGHTER (1971 - Aka Melancolicas) A new doctor comes to a madhouse in an attempt to improve the conditions of the asylum and uses hypnosis to help treat a female patient who was traumatised as a child watching her mother undergo an exorcism performed by the townspeople. An oddball period piece that really is more of an expose of insane asylums than horror film but still loaded with plenty of sex, skin and violence to remind you at every point that it's part of the wonderful world of European trash cinema. ORDER|
EYE OF THE CONDOR (1987) Crazy fillipino movie which has a bunch of bad guys trying to steal the Condor Diamond but are constantly interrupted by a family of midgets (?) working in league with the local police. You heard me right, a family of midgets fighting crime. You have to see this to believe it. In English, with Greek subtitles. ORDER
FACELESS (1986): Really fun but late entry in the mad surgeon subgenera. Jesus Franco gives us Helmut Berger, Anton Differing, Telly Savallas, and Caroline Munro in this wacky tale of plastic gone bananas. A ritch schmuck surgeon decides he use whoevers face is available in order to fix the scarred mug of his sister. This tape is uncut, in English and off a Dutch import. Very gory and well worth your time and money. |ORDER|
FACE OF FU MANCHU (1965) Christopher Lee plays the bad guy in this interesting Don Sharp directed piece which has Fu and his rotten daughter giving Neyland Smith (Nigel Green) a hard time by kidnapping a German scientist (Walter Rilla) and forcing him to create germ warfare. Off A British master. ORDER
FACE OF TERROR (1962 Aka La Cara Del Terror) Here's a very interersting take on the Dr. Orlof theme. A surgeon (Fernando Ray) tests out an experimental artificial skin on a badlyburned woman (Lisa Gaye). Turns out the woman is an escaped mental patient who rewards our doctor with a crippling blow to the head. She spends the rest of the film trying to escape the police as well as care for her rapidly deteriorating face. Forget about the current 16mm English language version, this beauty comes off a Euro DVD and it fantastic quality, and features a cool animated opening credits sequence you've never seen before. It's in Spanish but with nice English subtitles. |ORDER|
THE FALCON (1981) In 14th Century Serbia a Turkish rouge slaughters the servants and kidnaps the wife of a Serbian nobleman (Franco Nero). He tries to seduce the wife but she resists. However, her will is weakening. In the meantime, the nobleman gathers together a small army and ruthlessly goes after the offending Turk. Excellent period piece with Franco Nero stealing the show from an all Serbian cast. Excellent and violent fight sequences punctuate a romantic drama. In English. ORDER|
THE FALLING MAN (1969) Another excellent Italian police drama starring Henry Silva as a former cop who has been framed for a murder and worse yet had his child shot dead in a drive by shooting. Silva goes underground to find out who the crime leader is who mastermined Siva's own downfall. A great revenge flick complete with a super solid cast including Keenan Wynn, Beba Loncar, Carlo Palmucci, Pier-Paolo Capponi. Directed by Giallo giant Emilio Miraglia.ORDER|
THE FANTASTIC JOURNEY OF MR. BILBO BAGGINS THE HOBBIT (1985) Ok folks, this is one of those "you have to see this to believe it" moments. The Russians did their own version of The Hobbit for Soviet TV in '85, and your eyes are going to cross as you watch Bilbo (Mikhail Danilov, looking a lot like Topol) walk around in a surreal set that looks a lot like the type you'd see in a high school play. Of course he meets the Golem and Gandalf, and the best part is that it doesn't run nearly as long as current box office hit version of the film, because if it did you'd commit suicide.Wow is the only word I can use. And I'm not sure if that's good or not...In Russian with English subtitles. |ORDER|
FASCINATION (1979): Jean Rollin is back with what might be his best film. A group of upper crust female blood drinkers like to make midnight snacks of the male populace. A group of thieves fall victim to these wanton cannibals, but trouble erupts when one of the girls falls in love with one of the thieves. Brigitte Lahaie stars. Uncut, letterboxed, in French off a Greek master. |ORDER|
FEAR HAS 1,000 EYES (1970 Aka The Sensuous Soceress) Here another crazy Swedish horror flick, this one loaded in the sexuality department. A preacher and his wife (who has a nervous condition) get some unexpected "help" from a friendly lady who just happens to be in league with the devil. This lady turns the husband and wifes life topsy turvi with her demons, incantations and nasty, late night seductions. If you love sex and horror, you've really come to the right place. In Swedish with English subtitles. ORDER
FEAR IS THE KEY (1972) Excellent and tense revenge flick which stars Barry Newman as a man who family was killed in an aeroplane crash and the revenge plan he enacts to get at the folks who caused the crash. By passing himself off as a bad guy, he buddies up to a tycoon who has been tapped by the bad guys to recover the contents of the plane. Off a nice Euro DVD and long out of print on any format in this country. Great cast includes Suzy Kendall, Dolph Sweet and Ben Kingsley. ORDER
FEAST OF SATAN (1971 aka Las Amantes Del Diablo) Ultra rare Italian/Spanish co-production involving satanists and all the lovely things they do to the unsuspecting. This widescreen, English language print is a must, directed by Jose Maria Elorrieta. ORDER
THE FIFTH CORD (1971) Here is a nice letterboxed, uncut version of one of the first "Giallos" directed by Luigi Bazzoni. Franco Nero has an excellent turn as an alcoholic reporter being framed by a murderer. As usual, inventive murders abound. ORDER
LA FILLE DE DRACULA (1972) French language version of Franco's sleeper which includes an incapacitated Dracula (Howard Vernon) having to have nude women lowered on to him in his casket. He puts the bite on his niece and all hell breaks loose... ORDER
FIREBALL JUNGLE (1968). Directed by Joseph P. Mawra (Shanty Tramp) , and starring John Russell, Lon Chaney and Alan Mixon, this sleazy exploitation film has everything from bikers and race car drivers to cat fights, brutal beatings, exploding junk yards and a club called the "Grand Throne" where all the seats are toilet bowls. I shit you not! This is a trashy crime drama that reeks of Al Adamson but is actually a tad more ambitious. From a cheesy film transfer, this film is bound to please even the die hards of 60's trash cinema. So do yourself a favor and place an order, you wont regret it. ORDER|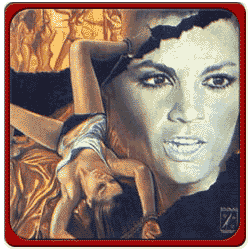 FLAVIA, THE PRIESTESS OF VIOLENCE (1974): This is the completely uncut, Italian language print of a gory epic period piece. It tells the story of a renegade female who takes advantage of the muslim invasion of Italy to revenge herself against the male populace. Nipples ripped off, people impaled on long sharp spears and heads lopped off like heads of cabbage. A perfect example of woman's inhumanity to man. This is a must, get it now!!! |ORDER|
FORBIDDEN PHOTOS OF A LADY ABOVE SUSPICION (1970): Those Giallo crazy Italians are at it again! Here is a letterboxed, in English, superb British import that has the wife of a business man being blackmailed by some pervert who insists her husband is a murderer. In order to protect her husband, she submits to degrading sexual acts. Made before political correctness ever ruined the world, this film would make a perfect gift for your favorite feminist. |ORDER|
FOREST OF FEAR (1980 Aka Toxic Zombies) Classic zombie flick involving the after effects of a CIA spraying of a toxic chemical on pot crops. The spray causes the crop growers to turn into hideous zombies who need to drink blood. Shot in PA with John (Martin) Amplas as a nasty CIA agent. The films director, Charles McCrann was killed in the September 11th attacks on the twin towers. In English with Dutch subtitles. ORDER
FOUR DEMENSIONS OF GRETA (1971): This is an extremely rare Pete Walker title that was called The Three Demensions of Greta here in the states because it was in 3-D. This version is flat, but I can't say that about the women in this film, Pete has taken care to throw some of the hugest tits that side of the atlantic right in your face. In case you care, it has to do with a British Journalists (Tristin Rogers, heartthrob to many young American girls, my wife included, due to his having been a star on General Hospital), who searches for his missing confidant Greta (Leena Skoog), who has run afoul of some British gangsters. With a girl sporting that large a chest, she wont be hard to find. Off a British master and very rare. |ORDER|
FOUR FOR ALL (1975) Insane and violent Italian/Turkish revenge flick featuring Cinefear fave Gordon Mitchell and Richard Harrison. A group of criminals seek refuge in a rich mans home. When he protests they violently rape and kill his wife, and beat him and his son within an inch of their lives. The victim then hooks up with three of his good friends and they go on a manhunt after the killers. This film is truly fucked up. In English with Greek subtitles. ORDER|
THE 44. SPECIALIST (1976) Tough, violent, insane cops vs badguys. In this one, a psycho drug lord busts his partner out of prison, only to have an undercover cop persue them to the depths of hell! If your a fan of these Italian cop films, this one is truly a treat. Directed by Stelvio Massi with a story by Dardano Sacchetti. In English with Dutch subtitles. ORDER
FRANKENSTEIN 2000 (1996) Classic Joe Damato horror has a telepath seeking revenge for her rape by reviving the corpse of a man (Donald O' Brian) who had been killed by the gang who raped her. Violent and fucked up, Damato style. Off a Euro master. ORDER
FRANKENSTEIN: UNE HISTOIRE D'AMORE (1974) Here is a real oddball adaption of Frankenstein, made for French TV, in French (but with English subtitles). This version is directed by Bob Thénault and features Gérard Berner as Frankenstein, Karin Petersen as Elizabeth and of interest throws in additional characters such as a village idiot who bears an uncanny resemblence to Leslie West, and a mountain wizard who goes at it quite a bit with the Doc. The monster and the Doc are seldom seen in the same scenes, and one wonders if the director is trying to indicate Dr. Frankenstein has gone mad and is actually imagining himself to be the monster. There is nudity, stupidity, and to be quite honest, this is a very unique take on Frankenstein. Get it! ORDER|
FRENITIS (1971 Aka Frenzy) This is a really out of whack Greek film about a woman who kills her husband, gets blackmailed, kills the blackmailer only to be told by the authorities that all of this mess is in her head?! What! Exactly...In Greek with English subtitles, yet oddly enough the film was shot in English. Go figure. that said, it has some interesting atmospher, suspense, cinematography. Very Hitchcock inspired. Just doesn't make a hell of a lot of sense. ORDER|
FRIDAY, THE 13th (1980) The one, the only, the original. This is the uncut continental version, all the Tom Savini gore intact as it was supposed to be. Betsy Palmer does in a whole group of unruly teens who she feels was responsible for the death of her son so many years ago. Widescreen presentation, complete with an interesting documentary. Go for it! ORDER
FROM EAR TO EAR (1970 Aka Love Demons, French Cousins) Another from the long line of lost films that so many of you, the Cinefear constituancy, have been asking about! This mean spirited French film involves two cousins, both of whom have the hots for any piece of beefcake which passes them bye. They also like to blow...a lot of weed, have wild parties, and slap around another family member, a young girl who was traumatized by the death of a friend and now can no longer speak or feed herself. When the crazy cousins have a party that ends in disaster, they decide to try and silence the deaf mute, who is the only witness. They attempt to frighten her to death, but as always things don't go the way they'd like it to. Originally released in the States by Jerry Gross (who gave us Lucio Fulcis Zombie), this is a psycho shocker in the tradition of Diabolique but far more savage. With Nicole deBonne, Daniel Argence, Solange Pradel. Directed by Louis Soulanes. In French, with English subtitles layed over Dutch subtitles (orginally from a Dutch VHS). Ultra rare so I wouldn't pass this up. |ORDER|
GANG WARS (aka THE DEVILS EXPRESS, 1975): Whacky Blacksploitation flick about some funky Kung-Fu instructor who does battle with a Demon in the New York City subway. Neat scenes shot in Harlem highlight this late entry in urban stupidity.Featuring German weirdo Brother Theodor. Our copy also includes a 30 second TV spot for the film under it's Devils Express title. Excellent quality, off a Dutch master in English with Dutch subtitles. |ORDER| And while your at it, check out our interview with the films PA Jane Landis.
DAS GEHEIMNIS DER GELBEN MONCHE (1966 Aka Secret of the Yellow Monks) Stewart Granger is a CIA agent out to bust up a brainwashing organization run by the evil Curd Jergens. Stylish 60's spy flick inhanced by a great cast including Adolfo Celi, Klaus Kinski and Karin Dor & Rupert Davies. Directed by Manfred R. Kohler (who wrote Daughters of Darkness and Red Lips). In German. ORDER
GENTLY BEFORE SHE DIES (1972) IN ITALIAN. Great Giallo style adaption of Edgar Allan Poe's The Black Cat, here directed by veteran Sergio Martino. A woman, long abused by her alchoholic husband, gets into a game of who will kill who first, and along the way takes time to poke out the eye of the drunkin bastards cat. Edwige Fenech is the piece of ass with murder on her mind. Also with Luigi Pistilli and Ivan Rassimov. In scope. Gory and sexy, go for it! ORDER
GETTING EVEN (1977 - Aka Deadbeat aka The Tomcats) Another insane revenge for rape film. In this flick a waitress is rape and murdered by degenerate thugs who end up beating the wrap on a technicality. The victims brother decides to go after the killers and eliminate them one by one. This is a very rare title, very underrated and well worth the purchase if you are a vigilante film fan. With Chris Mulkey and Wayne Crawford. ORDER|
GIALLO A VENENZIA (1979): Here is a late, but without a doubt, the sickest entry in the Italian Giallo sweepstakes.Directed by perv Mario (Patric Viva Ancona) Landi, this film has some nut running the gambit in Venice. Sexual mutilation, amputation and more are on hand to nauseate you and your friends. Completely uncut and in Italian, but not hard to follow. |ORDER|
THE GIRL IN ROOM 2A (1973) Here's an interesting Italian giallo directed by American exploitation veteran William Rose (The Smut Peddler, Frankensteins Castle of Freaks) and it involves chicks fresh out of prison being given shelter in a private home where by a cult of red robe wearing idiots kills them off one, by one, by one. Rosalba Neri even makes an appearence. Daniela Giordano is the main chick in peril. With Raf Vallone. Fun, colorful stuff! ORDER
LE GOLEM (1936) Finally, the Czechoslovakia version of the story, made by the French but at last featuring English subtitles. A Rabbi builds a man of clay to help protect the Jews of Prague against pogroms. Needless to say this monster later turns against his creators. Harry Baur, who played Rasputin a year later, does a great job playing the paranoid emporer in this version of the story. ORDER|
GOODBYE UNCLE TOM (1975): Without a doubt, the most hate driven mock mondo documentaries by Guinea crack pots Jacopetti and Prosperi. Modern Italian Journalist helicopter back in time to Old Dixie to learn about Slavery. What they learn not only shock them, but will fuck you up as well. Made by Italian fascists pretending to be Socialists and condemn the very thing they are exploiting. A masterpiece. Uncut. In English. |ORDER|
GORDON'S WAR (1973) Rare, odd and offbeat blacksploitation film directed by Ossie Davis. Paul Winfield plays a Vietnam vet who returns home to the jungles of Harlem only to organise a squadron of men to help take the neighborhood back from the drug pushers. Violent, but with an increased level of frustration and hopelessness. ORDER
THE GORILLA MAN (1943) This is actually a WWII film that is very elusive and no, it's not on YouTube. John Abbott plays a nasty Nazi making things very tough for shell shocked commando John Loder. If you are a fan of WWII propaganda films, then you are going to eat this up. The Nazi's are spies operating out of a hospital for wounded allie soldiers. Buy the premise, buy the flick! |ORDER|
GRIMMS FAIRY TALES FOR ADULTS (1969) In German. Here is the original uncut version of the film also known as The New Adventures of Snow White. Insane German comedy/fantasy that tells the Grimm Brothers stories they way they were meant to be told. Sex, violence, this film will blow your mind. ORDER
HACI MURAT GELIYOR (1968) Insane Andolian Western made by the Turks. Cunyet Arkin, the Turkish Tyrone Power, plays a man fighting brutal Russian landlords who are seeking to quell rebellion in Andolia. Great gunplay action, in the tradition of Sergio Leone, complete with brutal interrigation scene featuring men being set on fire, whippings and random shootings. Insane, as you would expect a Turkish film to be. In Turkish but very, very easy to understand. Can't beat this stuff. ORDER
HAND OF THE ASSASSIN (1967) Spanish film that is very rare here in an English language version. Eight people in an old lodge find themselves being picked off one by one. Why is this happening? Buy it and find out! Featuring Spaghetti Western fave Fernando Sancho as a very ugly man. |ORDER|
THE HAND THAT FEEDS THE DEAD (1974) Long lost Sergio Garrone story of a mad surgeon (Klaus Kinski) attempting to restore the scarred mug of his wife. Needless to say, he has to use unwilling victims. Ultra gory proceedings, very gothic, with strong hints of the supernatural. In Italian. Upgrade: Now with English Subtitles. ORDER
HAWK JONES (1989) This is one of those "so wierd you have to see it to believe it" type of titles. It's a made for video kids film featuring a cast completely comprised of children. The wierd thing is that it's a detective story which involves a crocked mayor, lots of bad guys and some very inapropriate (by todays standards) sexual inuendo and adult themes acted out by kids. It's also quite bad, which makes it even more humorus and surreal to sit through. Very rare, only released on video, no DVD release to speak of, worth your time if your a collector of the strange and esoteric. |ORDER|
HELL BEHIND BARS (197?): Here is an English language, Greek import of an ultra rare Sergio (SS Experiment Camp) Garrone Woman in Prison flick. Garrone is known for his good taste in films, so you have some idea of what to expect. Ajita Wilson is the black bad girl who has got to bust out of this inhuman hell of a prison. Extremely gory and degrading, featuring an anal search scene complete with a cork screw type device. |ORDER|
HELLS BLOODY DEVILS (1967) Al Adamson's rarest and first "Bad Biker" film. Nazi's and the Mafia team up with bikers to spread counterfit money in Las Vegas. Cast includes Broderick Crawford, Scott Brady, Kent Taylor and John Carradine. Gang rape, violence, and just about every extreme ever known punctuate this Adamson classic. Off a Greek master, in English with Greek Subtitles. Dig it! ORDER
HELLS GATE (1991) Insane Umberto Lenzi garbage involving geologists trapped by the ghosts of executed Monks from the 13th century. People are hit with hatchets, have their eyes poked out with spike, get chewed up by spiders, etc... Lenzi directing the same way he did in the 80's, 70's ... ORDER
HELL ON EARTH: The Desecration and Resurrection of Ken Russell's The Devils (2003) Here is a fantastic BBC documentary that focuses on Ken Russell's The Devils. The documentary explores all the censorship problems the film underwent, and shows major chunks of footage that were removed, as well as the whole "Rape of Christ" sequence that is the stuff of legends. Russell and several of the films stars are interviewed. Would make for a perfect companion piece to my British edition of the Devils, which was less cut than the American version. Go for it! ORDER
HELL RAIDERS (1985) Insane, two hour blood and guts epic from Indonesia and featuring their answer to Sylvester Stallone, Barry Prima. The film details the struggle of Indonesia to break their ties with the Dutch and stand on their own two feet. Very brutal war footage, fighting, killing, more killing and tons of action to make even Bruce Willis wince. Don't leave this gem out of your collection! ORDER
HEROS IN HELL (1973) Joe D'Amato directed this WWII flick featuring Klaus Kinski in a special appearence. A group of American GI's escape a prisoner of war camp and kidnap a German general in the process. If your formiliar with D'Amato's work, you'll know what you are getting into. In English with Greek subtitles. ORDER
HEUBODENGEFLUSTER (1967 Aka Whispering in the Hayloft) Another really silly Bavarian sex comedy, this one is quite tame because of year, but all the nonesense you expect from German sex comedies is here. In German. ORDER
HITLERS MADMEN (1942) Without a doubt the best preformance John Carradine has ever given. He plays the infamouse Heydrick, tormenting intellectuals in some small Eastern European village. When he's assasinated, all hell breaks lose. Best part is when carradine shoots a priest and than shines his boots with the priests frock. Designed to get you angry! ORDER
HOLLYWOOD HORROR HOUSE (1969 Aka Savage Intruder) Mariam Hopkins plays a Baby Jane like booze soaked actress who's house is invaded by psycho John David Garfield (yes, the son of John Garfield). He turns the place into the films title. This flick has gore galore, silly psychedelic flashbacks and even Joe Besser in a cameo role. You've also got Gail Sondergaard looking cool and wrinkly. Uncut and off a 35mm print. ORDER
EL HOMBRE Y LA BESTIA (1973 - Man and the Beast) Here's another take on the Robert Louis Stevenson tale Jekyll & Hyde, keeping the original period setting intact. Jekyll becomes Hyde, and seems to be sporting the same make-up used in La Loba. While sleazy in it's execution, this story is tame by the standards of other Mexican films at the time. Fun if your a Jekyll & Hyde completist.Directed by Julian Solar, who gave us Satan of All Horrors. In Spanish. ORDER
HOUSE AT THE EDGE OF THE PARK (1981): Uncut, letterboxed, in English, Dutch release of this notorious Ruggerio Deodato humiliation fest that plays on the sensitive subject of class relations, pits the Psychotic garage mechanic (David Last House on the Left Hess in a brilliant performance) against some obnoxious socialites, but then again things are not what they seem! Hess rapes, slashes, urinates on the various unfortunates, and Deodato again proves he is one of the sickest filmmakers around. Ruggerio can't seem to quell those fascist tendencies, I guess it is not easy letting go of the past. |ORDER|
HOUSE OF SHADOWS (1976) If Andy Milligan and Doris Wishman joined forces and shot a film in Argentina, this would have been the result. That said, the strory is intriguing and actually quite a good murder mystery about a ghost leaving clues to an unsolved murder. But the weird way this film is shot will have you laughing out loud at certain points. The cast includes Yvonne DeCarlo and John Gavin, both of whome are quite good. There is also some fairly gory murders on display as well. Odd but amusing. ORDER|
A HOUSE IS NOT A HOME (1964)Here's a rare golden oldie that is not available on DVD or Blu Ray. The film stars Shelley Winters and is based on Polly Adler's best-selling autobiography about her life in the Roaring Twenties as a legendary Madam. Cast includes Robert Taylor, Ceasar Romero, Broderick Crawford and Raquel Welch. ORDER|
HOUSE OF THE DAMNED (1974) Insane Spanish made hybride of horror film and arthouse picture, this flick involved an ex-convict returning to the house of a former partner he killed in order to find a gold statue that's worth a fortune. Turns out the daughter of the dead partner knows where the statue is but she's in an insane asylum and wont talk. They break her out and bring her home in hopes she'll reveal the statue. A lot worse happens. Great cast includes Donald Pleasence and Michael Dunn. In English. ORDER
HOUSE ON SKULL MOUNTAIN (1972) Wild movie about the gathering of a group of folk after the death of a voodoo priestess. But death to a voodoo priestess is not permanent. Very scary film that is long out of print in this country. With Victor French. ORDER
HUMAN EXPERIMENTS (1979): Totally uncut, off a Dutch, English language master, is an under appreciated, American made, horror movie version of Jackson County Jail (1976), in which a crazed doctor in a southern prison conducts unorthadox experiments on prisoners in order to deprogram their criminal personalities. Aldo Ray makes an appearence as a backwoods moron. Ellen Travolta, John Travolta's little sister, even shows up in this one. How can you go wrong knowing that! |ORDER|
HRABE DRACULA (1971) Incredible atmospheric adaption of the Bram Stoker classic done for Czechoslovakian TV, this is a must if you're a Dracula/vampire flick freak. And the best part is this version has English subtitles. It's directed by a woman, Anna Procházková, and features Ilja Racek as Drakula, who bears an uncanny resemblence to Vlad Tepes. Treat yourself to something really unique, and this film is that something. ORDER|
HYDRA - MONSTER FROM THE DEEP (1985): Here is one of the funniest monster movies you will ever see. My wife and I laughed from start to finish without a breather. Directed by the surreal Armondo De Ossorio under the moniker of Gregory Greens, this out of place classic features the careerless Timothy Bottoms as an ex-alcoholic sea boat captain who's merchant vessel is sank by a monster (That looks like a Sid & Marty Kroft puppet). In my whole life, I have never seen such a stupid looking monster. In fact, at times I believe this film is meant to be a joke, but with De Ossorio in charge, who knows. Anyhow, the cast also includes Jared Martin, Ray Milland as a grouchy old fuck scientist, Jack (El Conde Dracula) Taylor as an assassin, and Leon (El Hombre Lobo films director) Klimovsky as a grating Jew doctor who's ass you just want to kick! Off a nice, uncut Australian tape. Go for this, you will not regret it! |ORDER|
HYENA IN A SAFE (1968 - Aka Una Jena in Cassaforte)This is a fantastic film directed by Cesar Canevari, who gave us Last Orgy of the Third Reich. Similar to Five Dolls For An August Moon, but actually far better than that film. A group of criminals meet at an estate to divide up there loot. Unfortunately a killer is picking each one off, one by one. This has nudity and violence but better than that is the timing and pacing, which keeps the film moving at quite a clip and makes it very engaging. In Italian with English subtitles, this is a very rare title and very much worth your time. ORDER
HYPNOSIS (1962) A very cool Krimi that is a Spanish/German co-production directed by the talented Eugenio Martin. A love triangle involving a hypnotist, his assistant, his wife and a ventriloquists dummy lead to murder, cover ups, and various other nafarious deeds in what is one very intreguing thriller. Great cast includes Jean Sorel, Massimo Serrato, Eleanora Rossi Drago. Great atmosphere, fantastic B/W photography, what's not to like about this film....plus a great killing very much in the tradition of Psycho. In Spanish with English subtitles. You can't beat it...ORDER|
THE HYSTERICAL SADIST (1961): Franco's first horror story presented here in a french language version. Crisp b/w who's the killer chiller is reminiscent of later classics such as Awful Dr. Orlof. Really proves at one time Franco was a talent to be reckoned with. |ORDER|
(more videos on next page)