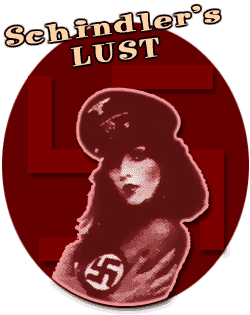 Foreword by Patricia Breen*
For all practical purposes, Nazi sex/torture flicks are a thing of the past. Once a sadistic curiosity, now deemed unconscionable by modern standards of political correctness, the genre's demise is especially mysterious in this day and age when historical tragedies such as the bombing of Pearl Harbor and the sinking of The Titanic are exploited as a love stories by mainstream Hollywood. A day and age when Spielberg's Schindler's List, which contains more nudity than any "Hell Camp" entry, airs on primetime network television uncut and uncensored.
The genre earned widespread attention through the release of Ilsa: She-Wolf of the SS in 1974. A cruel yet fascinating effort loosely based on the alleged wartime shenanigans of Ilse Koch, the film set a sadistic standard for S&M torture films. (Of course, Ilsa: She-Wolf of the SS was shot on the sets used for Hogan's Heroes, a television series that did more to dishonor victims of WW II than all of the Nazi torture flicks combined.) Ilsa spawned two official sequels, one quasi-sequel, and a dozen or so imitators including SS Extermination Camp and SS Hell Camp.
The Nazi legacy is a natural breeding ground for horror archetypes, yet to explore it as such, especially in a romantic or sexual light, is culturally taboo. Some of the greatest horror characters and themes are rooted in historical tragedies. Where would the horror genre be today without Vlad the Impaler's wartime antics? Or the Spanish Inquisition? Or hundreds of years of witch hunting? Or even the bombing of Hiroshima?
Thank Yahweh there's filmmaker Keith Crocker to put us back on track! In the late nineties, Keith and his faithful flock of film fanatics began Schindler's Lust. Like Andy Milligan, Keith Crocker embarked on a period piece with no budget to speak of. The film (sadly) remains unfinished. The existing footage was edited into a thoroughly enjoyable ten-minute trailer that Keith tacked onto his Bloody Ape feature. The lack of budget is apparent, yet it lends a surreal, oddly effective minimalist feel to the final product. Crudely formed, crooked Swastikas represent Nazi flags (is that duct tape?). A modern basement fuse box controls an Auschwitz death chamber. The out-of-synch sound almost makes the film seem as if it was shot in German, then later dubbed in English. Grainy film stock gives the impression that this footage was drudged up from some forgotten wartime archive.
Most importantly, Keith's depraved sense of humor shines through the exploitative subject matter (of course, when I say 'exploitative,' I don't mean that as a bad thing). So does it work? You bet it does. See for yourself. Below is a five-minute edited version of the original Schindler's Lust trailer. You can watch a rather large 15 MB MPEG, or a smaller, low-quality 1 MB REAL Media file. I, for one, would love to see this film finished. The late great Donn Davison agreed with me. Keith's always looking for a few good men (and women) to lend a hand ... or lend money. If you qualify, please see the next page for more details.
---
A Few Nazi Hell Camp Flicks Carried By Cinefear ($15 each)
ESCAPE FROM SOBIBOR (Aired on 4/12/87) Intense escape from a concentration camp story that has Rutger Hauer as a Russian POW and Alan Arkin as a Jew leading an escape of all captives in the camp. Brutal stuff. Full 143 minute version. Notable for featuring Kurt (Tenderness of the Wolves) Rabb as a Nazi. With the lovely Joanna Pacula. Made for TV, but that doesn't not make it exploitation. ORDER
THE EXECUTION (Aired on NBC 1/14/85) Paul Wendkos strikes again in this tale of five woman who stalk and plan to execute a restaurant owner who was a former Nazi camp guard who tortured the women during their internment. Kick ass cast includes Rip Torn as the former tormentor, and Lorretta Swit, Jessica Walter, Barbara Barrie, Sandy Dennis and Valerie Harper as the execution squad. Made for TV, but that doesn't not make it exploitation. ORDER
THE FIFTH COMMANDMENT (1974) Interesting "Nazi-exploitation" piece directed by Duccio Tessari. A troubled youth finds a role in life when he joins the Nazi party in the 1920's. Cast includes Helmet Berger, Peter Hooten and Udo Keir. More art than horror, but rare and worth the purchase. IN FRENCH. ORDER
FORBIDDEN (Aired on HBO 3/24/85) Tense melodrama has Jacqueline Bisset as a rich German Countess who hides an Intellectual Jew from the Nazi's during WWII. Jurgen Prochnow plays the Jew. Made for TV, but that doesn't not make it exploitation. ORDER
FRAULEIN DEVIL (1977) This is another one of those Eurocine productions, which usually have you begging for mercy. This one is actually a tad amusing, as Frau Elsa (Malisa Longo) runs a bordello train with the intent of rolling the whores out to the battle fronts in order to provide sexual relief for officers. However, she also intends on spying and finding out whose loyal to Hitler and who's not. When she finds traitors out she stops the train and has them shot. Buy the premise, buy the flick. ORDER
HELLTRAIN (1977) Since those clowns at Eurocine had access to this 1940's style train, they decided to bang out two films, one was Fraulein Devil (see above) and the other was this, which is basically the same deal, only the Frau in charge this time is Monica Swinn. Lots of Hineys getting smacked. Funny dialog dubbed on this, Fraulein Devil has that same type of funny talk, so these two actually make a great double feature. In English with Dutch subtitles. ORDER
HOLOCAUST II (1976) Italian flick that has a bunch of concentration camp survivors going after their tormentors years after the war. One SS guy is tied up and tickled to death by having a goat lick his foot. Alright, not the best of the lot but fun on a rainy Sunday afternoon. ORDER
INSIDE THE THIRD REICH (Aired on ABC 5/9-10/82) The story of Albert Speer and the rise of the Third Reich. Rutger Hauer plays Speer. John Gielgud is his father. An all star cast and this is the complete, uncut four plus hour version, hence 20. Made for TV, but that doesn't not make it exploitation. ORDER
KOMANTANT MARIA (1987) Ultra sleazy sex spoof of World War II starring some Greek sex symbol as an "Ilsa" type who makes men drool... shot on video and weird as all Hell! In Greek, but this chicks so hot you wont care! ORDER
LAST ORGY OF THE THIRD REICH (1976) Great hell camp atrocities film! Extremely gruesome, but much more fun than Salon Kitty. Nazi commandant who looks like Jim Backus developes a sado sexual relationship with a female inmate. In between the romance people are burned alive, feed to rats, and a group of Nazi's eat a baby. Adults only. |ORDER|
LOVE CAMP 7 (1967): Wacky Nazi fun from the Bob Cresse, R.L Frost school of skin. U.S. WACKS are caught spying in Germany and forced to under go humiliation and degradation from Bob Cresse himself, who in real life fancied himself a Nazi. Watch him live out a fantasy and enjoy himself. Dave Friedman and a bunch of other Jews play SS men. I hope these guys are not in line for Holocaust reparations! |ORDER|
NATHALIE - ESCAPE FROM HELL (1978) As if you haven't had enough of this Eurocine shit. Russian girl is used for the sexual pleasure of Nazi's until she decides to liberate herself and other reluctant house guests. With the incredible Jack Taylor as a sympathetic Nazi. In English with Dutch subtitles. ORDER
NAZI HUNTER: THE BEATE KLARSFELD STORY (Aired on ABC 11/23/86) Farrah Fawcett earns Hollywood brownie points by acting in this real life story of Beate Klarsfeld, a German housewife who became an acclaimed Nazi war criminal hunter. Tense thriller has Farrah facing torture, jail, assasination attempts, etc... Cast includes Geraldine Page and Catherine Allegret (daughter of Simone Signoret & Yves Allegret). Off a Greek master in English with Greek Subtittles. Made for TV, but that doesn't not make it exploitation. ORDER
NAZI LOVE CAMP #27 (1975): Serious variation on the Nazi sex camp angle which has the lovely Sirpa Lane plays a young rich Jewish woman turned into a whore for the Nazis. Does she get revenge? Damn right she does! Includes odd hard-core shots. Adults only. |ORDER|
OVERRUN (1970) Excellent Italian made war picture has Ivan Rassimov leading a team of Brits over Rommel's desert territories hoping they can reach the British occupied territories with out being bombed by the Germans. This is an uncut presentation off a Dutch master, in English with Dutch subtitles. Directed by Mario Siciliano. Rare and excellent example of Euro war picture. ORDER
RED NIGHTS OF THE GESTAPO (1977): Various intellectuals are gathered by the SS for a night of sex and fun, but really it's to find out if they are loyal to old Adolph! In Italian, but uncut and rare as hell! Go for it. |ORDER|
SALON KITTY (1973): Uncut 127 minute version. Also known as Madam Kitty. Directed by Tinto Brass and starring Helmut Berger. Sleaze disguised as an art Nazi film. SS sets up brothel to try and root out traders. Things backfire just as you'd expect it to. |ORDER|
SHE DEVILS OF THE SS (1973, AKA Cutthroat Commandos): American made nonsense involving G.I.s fighting Nazis on their own turf. Best scene of the film involves Uschi (from the Russ Meyer films) Digard as an SS She Wolf who does a take your breath away striptease for a bunch of drunk Germans. How do I get there from here? With Michael (Grave of the Vampire) Pataki. |ORDER|
SHE DEVILS OF THE SS (1976): Not to confuse you, but here is a Swiss take on fun loving Frauleins by Jess Francos favorite producer, Erwin C. Dietrich. This film has so many naked blondes running around that you will quickly understand why I say it's German girls or nothing! Not much of a plot, but some really great action. |ORDER|
7 RED BERETS (1969) Another war classic from Mario Sicilano, this one a rip-off of Dark of the Sun. Ivan Rassimov is back on hand as a mercenary in Africa out to stop a rebel army. He has a nasty Nazi on his team who likes to kill people. It's hot in Africa. Violent stuff. Off a Greek master, in English with Greek subtitles, uncut, and very rare! ORDER
SS EXPERIMENT CAMP (1976) More fun from Italy as nutty Nazi doctors do some weird experiments, including a "Balls" transplant that has the donner demanding his nards back! Turns out some Russian bitch bit them off during some strange coutus interuptus. ORDER
SS EXTERMINATION CAMP (1976): Another nasty hell camp film, this one has an idiot named Kurtt who likes to pinch tits. Dirtected by Bruno Mattei, one of his better jobs, has an obviosly Italian commandant not giving a fuck on who he does what to. The poison bullet shot into an inmate is particulary nasty. Adults only. |ORDER|
SS GIRLS (1975): A guy who looks like Jerry Lewis' son stars in this outrageous tale of Nazis and chicks having a ball. Not really a Hell Camp flick, but just as tasteless.This is actuially a rip-off of Salon Kitty and is actually more fun. Silly crap with a ton of nudity, violence, and jaw. Mattei directing again, so make sure you adjust your mood with some booze. |ORDER|
SS HELL CAMP (1977): Aka Horrifying Experiments of the SS Last Days. The most outrageous Nazi concentration camp film has Sal Lugosi up to no good. Vile and nasty.Horrible Female Doctor dones nasty experiments on inmates, including castrating men, which is unforgivable. This is the letterboxed, uncut version of a Dutch master tape, in English with Dutch subtitles. Runs longer than the current edition released on DVD. Adults only. |ORDER|
SS HELL CAMP #5: WOMANS HELL (1976): Really sick and twisted Garrone follow up to SS EXPERIMENT CAMP, only much more violent, with rape, tongues torn out, people burned alive, etc...Totally uncut, off a Greek master, in English with Greek subtitles. |ORDER|
SS SPECIAL SECTION WOMEN (1977): Directed by the mental case who gave us WEREWOLF WOMAN, Rino Di Silvestro subjects us to the usual round of indignities: Stripping, shaving and rabid attacks from assorted lesbians (sounds a lot like my day job). The highlight of this film occurs when a young, aristocratic woman, who is hotly pursued by the camps campy commandant, puts a razor blade in a cork and conceals it inside her vagina. Needless to say, our commandant gets his salami sliced thin! Real classy stuff. |ORDER|
LE VIEUX FUSIL (aka The Old Gun 1977) Here is a revenge masterpiece directed by the brilliant Robert (Occurance at Owl Creek Bridge) Enrico. A French doctor seeks revenge against a group of Nazi occupiers who shot his daughter and raped and burned his wife. Combo of Deathwish and an Italian SS Deathcamp film, this film is none stop cinematic magic from beggining to end. With Romy Schnider. This version is in French but is also letterboxed. ORDER Upgrade - Now in English . We have a full screen English language version available as well. ORDER
---
(* Patricia Breen runs William Girdler.com. The first 'Hell Camp' picture she ever saw was the original Ilsa. She was 15. Her best friend in the entire world -- a Jew -- rented it. He enjoyed it much more than she did at the time.)
---