MILLIGAN'S THESBIAN
An Interview With Actor Peter Barcia
Stage actor Peter Barcia is one of a small group of actors who worked for Andy Milligan both on stage and screen and has lived to tell the tale. He appeared as "John" in Milligan's Legacy of Horror, as well as acting in Milligan's unfinished masterpiece House of the Seven Belles. Peter was kind enough to contact me concerning Legacy of Horror, and what developed from this communication is the interview you are about to read...
Cinefear: Peter, tell us a bit about your self and how you got involved in acting...
PETER : I AM FROM BROOKLYN, N.Y. AND AFTER 25 YEARS, RETIRED FROM THE BELL SYSTEM AND LUCENT TECHNOLOGIES. ACTING HAS ALWAYS BEEN MY AVOCATION. I HAVE DONE COMMUNITY THEATRE IN B'KLYN AND HERE IN FLORIDA , WHICH IS WHERE I CURRENTLY HANG MY HAT. I HAVE WORKED WITH MANY THEATRE GROUPS BUT NEVER HAD THE TIME TO PURSUE ACTING PROFESSIONALLY. IN 1965 WE MOVED TO STATEN ISLAND TO PROVIDE A MORE SUBURBAN LIFE STYLE FOR OUR CHILDREN, AND I GOT INVOLVED WITH ACTING.
Cinefear: Could you tell us just how you became aquainted with Andy, as well as becomming involved in Legacy of Horror...

PETER : I WORKED WITH SEVERAL S.I. THEATRE GROUPS. AND IN THE LATE 70s ANDY SHOWED UP ON THE SCENE . NOBODY KNEW HIM BUT WHEN HE SAID HE WAS TO BE DOING SUMMER THEATRE AT ST. STEPHENS CHURCH IN TOTTENVILLE (STATEN ISLAND IS DIVIDED INTO LITTLE NEIGHBORHOODS OR VILLAGES SUCH AS TOTTENVILLE,NEW DORP,GREAT KILLS,ETC.) ALL OF US S.I. ACTORS WERE DELIGHTED . ALL OF THE ACTORS EXCEPT FOR A FEW MANHATTEN ACTORS ANDY PICKED WERE FROM HIS SUMMER THEATRE GROUP FOR LEGACY.
Cinefear: Could you tell us a bit about Milligan's personality, some claim he was manic, did you ever happen to witness this so called "Manic" side of him....

PETER : ANDY WAS A VERY LIKEABLE PERSON . I CONSIDERED HIM TO BE A LITTLE ON THE GENIOUS SIDE . WITH ANDY EVERYTHING WAS RUSH,RUSH. HE WAS NOT MUCH OF A THEATRE DIRECTOR, HE WAS ALWAYS GETTING READY FOR THE NEXT PLAY BEFORE YOU EVEN FINISHED THE ONE HE WAS DOING. I CAN REMEMBER TRYING TO LEARN LINES FOR THE NEXT PLAY BEFORE I HAD THE LINES DOWN PAT FOR THE PLAY WE WERE DOING. BUT YA HAD TA LOVE THE GUY .
ANDY HAD HIS CRABBY DAYS BUT I ONLY SAW HIM "LOSE IT " ONCE.
WE WERE REHEARSING "MRS. WARRENS PROFESSION" AND A LOCAL ACTOR, BUT NOT ONE ANY OF US LIKED, KEPT INTERRUPTING WITH "WHATS MY MOTIVATION"... ANDY WAS PATIENT FOR A WHILE THEN THE ACTOR ASKED WHAT HIS MOTIVATION WAS ,ONE TOO MANY TIMES . ANDY FACE TURNED BEET RED AND HE SCREAMED "I DONT GIVE A FUCK WHAT YOUR MOTIVATION IS JUST DO IT ! OR GET THE THE FUCK OUT... " DURING THE FILMING OF LEGACY HE WAS A PUSSY CAT. ONE MORE PERSONAL FACT ABOUT ANDY . YOU WANTED TO STAY AS FAR FROM HIS FACE AS POSSIBLE WHEN SPEAKING TO HIM AS HE HAD A BAD SINUS CONDITION AND HIS NOSE USED TO RUN INTO HIS WALRUS MUSTACH LEAVING HIM WITH A PRETTY BAD ODOR.
Cinefear: Could you tell us a bit about your co-stars in Legacy of Horror ( Elaine Boies, Marilee Troncone, Chris Broderick ).

PETER : ELAINE, JACK, JASON AND LISA BOISE WERE ALL IN THE FILM . WE HAD BECOME FRIENDS. ELAINE WAS A JOURNALIST AND THEATRE CRITIC FOR THE STATEN ISLAND ADVANCE THE LOCAL NEWS PAPER. SHE DIED IN 2002 FROM LEUKEMIA. HER HUSBAND JACK -- THE PATCH EYED SAILOR IN THE GRAVE YARD WAS AN ENGLISH LIT. COLLEGE PROFESSOR AT S.I. WAGNER COLLEGE. HE DIED FROM PROSTATE CANCER IN THE LATE 80's.

LOUISE GALLANDA"JENNIFER" AN EX-STATEN ISLANDER NOW LIVES WITH HER HUSBAND JOHN SCHIUMO A NON-ACTOR WHO ANDY RECRUITED TO PLAY "ITO"THE HOUSE BOY AND PROBABLY TURNED IN THE BEST PERFORMANCE OF US ALL.

DALE HANSON "REGINA" MOVED TO L.A. AND WAS IN A CLAUDE VAN DAMM "CYBORG" MOVIE.

STANLY SCHWARTZ "ROBERT" WAS A HIGH SCHOOL TEACHER. HE TRIED ACTING WITH SOME NYC GROUPS AND WE LOST TOUCH.

JOE DOWNING "JAMES" WAS ONE OF ANDY'S GAY FRIENDS FROM NYC
CHRIS BRODERICK "CARL" WAS A KID WHO CAME TO CONGRATULATE ME AFTER A PERFORMANCE OF "ONE FLEW OVER THE CUCKOOS NEST" AND TOLD ME HE WANTED TO BE AN ACTOR. DURING ANDYS SUMMER THEATRE RUN HE WANTED ME TO DO "THE IMPORTANCE OF BEING EARNEST" BUT I WAS TOO EXHAUSTED.SO I RECOMENDED CHRIS. THATS HOW HE GOT IN THE FILM .
ALTHOUGH HE WAS NOT TO HAPPY HAVING TO WEAR THOSE DIME STORE FANGS ANDY MADE HIM WEAR.HE WAS EVEN LESS HAPPY WHEN HE FOUND OUT ANDY WAS GOING TO SET HIM ABLAZE IN THE FINAL SCENE. WHAT CAN I TELL YOU CHRIS ,YOU WANT TO BE AN ACTOR YOU HAVE TO PAY YOUR DUES.

ANDY ALWAYS DID PLAYS THAT WERE PUBLIC DOMAIN SO HE WOULDNT HAVE TO PAY A ROYALTY. WE ALL LIKED ANDY.
Cinefear: Could you tell us abit about where the film was shot, and how long the shoot took?

PETER : THE OPENING SCENE IN THE LAW OFFICE WAS SHOT IN A OFFICE IN MANHATTEN CHOSEN FOR ITS OLD FASHIONED FURNITURE (ANDY FELT DOING A MOVIE IN A PERIOD WOULDNT DATE IT ), SOME WAS SHOT ON THE STREETS OF TOTTENVILLE, ALWAYS BEING CAREFUL NOT TO GET A MODERN AUTO IN THE SHOT. BUT MOST WAS FILMED IN AN ERRIE OLD MANSION ANDY HAD PURCHASED AT THE LAST STOP OF THE S.I. RAIL ROAD ,TOTTENVILLE. IT WAS PARTIALLY ON THE BAY AND NEEDED A LOT OF WORK BUT IT WAS LIVEABLE. I DONT KNOW HOW LONG IT TOOK TO FILM . ANDY USED TO BUY "ENDS" OF FILM HE EXPLAINED TO ME THAT THE PROFESSIONL FILM COMPANIES STOP FILMING LONG BEFORE THEY'D RUN OUT OF FILM AND ANDY USED TO BUY THE LEFT OVERS OR ENDS CHEAPLY. WHAT A GUY! CONDITIONS WERE PLEASANT AND ANDY PROVIDED LUNCH. HERE'S AN INTERESTING TID BIT, IN LEGACY I THINK ITS JAMES AND REGINA WHO RECEIVE A TELEGRAM, THE MAN DELIVERING THE TELEGRAM IS ANDY MILLIGAN ALA HITCHCOCK. ON THE WAY OUT HE STEALS A LITTLE TRINKET.
Cinefear: We had always suspected that Legacy of Horror was actually a very gory film, very much like Milligan's early work I had long beklieved that the film was heavily cut to accomodate an "R" rating. Do you have any recollections of the film being bloodier than it ultimately appeared on video?

PETER : YOU ARE RIGHT, IT WAS GORIER. FOR INSTANCE WHEN "ROBERT" GETS DIS- EMBOWELD IN THE CELLAR, ANDY HAD A CLOSE UP OF SOME ONE TEARING OUT SOME CHICKEN GUTS AND CHOPPED MEAT FROM A PLASTIC DOLL....
ANDY CUT A THONG OUT OF THE PITCH FORK THAT PIERCED MY THROAT TO MAKE IT LOOK AS IF IT HAD GONE THROUGH. I SPIT AND DRIBBLED CHERRY JUICE ALL OVER THE PLACE AS MY HAND HAD BEEN NAILED TO THE WALL..... CUT,CUT,CUT.
Cinefear: Was the films title always Legacy of Horror, or had it been called something else? Also, was Milligan spontanious, or was everything tightly planned?

PETER : AS FAR AS I KNOW THE TITLE WAS LEGACY OF HORROR BUT I WAS TOLD IT PLAYED IN THE TIMES SQUARE AREA AS LEGACY OF BLOOD.
WE GOT SCRIPTS DAY TO DAY AND MEMORIZED ON LOCATION. NO SPONTANEITY.
Cinefear: Overall, do you have good memories of working on the film, and did you save any momentos from the shooting?

PETER : GOOD MEMORIES, NO MEMENTOS, EXCEPT COVER JACKET PHOTO FROM VIDEO BOX AND OF COURSE THE MOVIE ITSELF.
Cinefear: Did you have any continued communication with Andy after Legacy of Horror?

PETER : I DID ANOTHER MOVIE AND A HALF WITH ANDY, "HOUSE OF THE SEVEN BELLES", WHICH HE ABANDONED HALF WAY THROUGH, AND A MOVIE ANDY MADE FOR WALTER KANE ,ONE OF HIS GAY FRIENDS, AND IT WAS CALLED "JUNGLE BUST". I NEVER SAW THE FINISHED FILM . MY PART CONSISTED OF NECKING WITH A GIRL IN A MOVIE THEATRE.
ANDY CALLED A FEW WEEKS AFTER THE SHOOT OF LEGACY AND ASKED ME TO MEET HIM AT A STUDIO IN NYC WHERE I HAD TO VOICE DUB SOME OF MY DIALOG THE CAMERA SOUND DID NOT PICK UP.IT WAS SO INTERESTING, AS THEY ALSO ADDED THE MUSIC,THE SOUNDS OF DRIPPING WATER FOR THE CELLAR SCENES, THE FERRY BOAT WHISTLE, THE TICKING CLOCK. ANDY KNEW SO MUCH ABOUT FILM MAKING.
AFTER HE LEFT S.I. HE BOUGHT A HOUSE ON 8TH AVE AND ABOUT 36TH-37TH OR 38TH ST. IN MANHATTEN, IT WAS A 2 STORY OVER A PIZZA STORE. HE TOLD ME HE PAID $38,000. IN BACK TAX OWED TO THE CITY BY THE PRIVIOUS OWNER.
HE RENTED AN OLD FACTORY LOFT TYPE OF BUILDING AROUND THE CORNER ON 9TH AVE AND DID PLAYS THERE . I INSTALLED AN INTERCOM SYSTEM FOR HIM THERE. AND SAW A PLAY THAT DALE HANSON WAS IN. THE TOTAL AUDIENCE GATE WAS 3 PEOPLE, ME, MY WIFE AND ONE OTHER PERSON. ANDY COULD CARE LESS. HE WAS DOING SOMETHING HE LOVED.
Cinefear: What does Peter Barcia do these days in terms of acting?

PETER : IAM ACTIVE WITH "VENICE LITTLE THEATRE" HERE IN SARSAOTA AND WON BEST SUPPORTING ACTOR AWARD AT A DINNER GIVEN BY SARASOTA MAGAZINES THEATRE ARTS AWARDS 2003. I WAS NOMINATED IN 2002 FOR A "HANDY" AWARD FOR MY ROLE AS LT.COL JESSUP (THE JACK NICHOLSON PART ) IN "A FEW GOOD MEN"), I HAVE GROWN A BEARD AND WILL AUDITION FOR THE ROLE OF TEVYE IN "FIDDLER ON THE ROOF" IN NOV. 2004.
Cinefear: Any plans for acting in more films?

PETER : THINK I'LL STAY AWAY FROM FILM . THERE IS NOTHING LIKE A REAL AUDIENCE.
Cinefear : What does the future hold for Peter Barcia?

PETER : I'LL KEEP SHARPENING MY SKILLS AND BE READY FOR WHAT EVER MIGHT COME.
Andy Milligans LEGACY OF HORROR is available via Cinefear Video. Just click on the title and be sure to have plenty of booze on hand once the film arrives.
Here is a photo gallery supplied by Peter Barcia detailing the shooting of Milligan's unfinished film, HOUSE OF THE 7 BELLES (1979). These photos are from his personal collection, and have never been seen by the outside world before. Enjoy!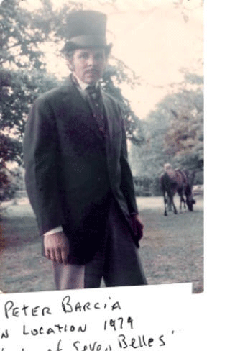 PETER BARCIA ON LOCATION 1979 "HOUSE OF THE SEVEN BELLES"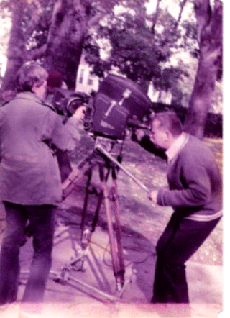 HERE'S ANDY MILLIGAN LOOKING THROUGH HIS TRUSTY CAMERA 1979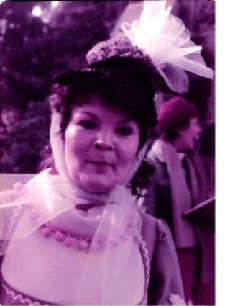 MY WIFE DOLORES AS ONE OF THE SEVEN BELLES 1979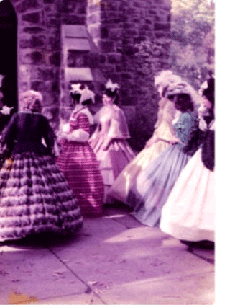 ANDY MADE ALL OF THESE GOWNS. Peter Barcia say's " ANDY MADE ALL THE BEAUTIFUL SOUTHERN LADIES DRESS WITH HOOPS,
HE WAS A WHIZ ON A SEWING MACHINE ".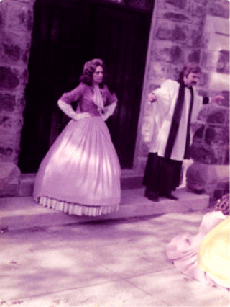 HERE'S ELAINE BOISE AT THE ENTRANCE TO CHRIST EPISCOPAL CHURCH S.I. 1979 REHEARSING A SCENE FOR HOUSE OF THE SEVEN BELLES.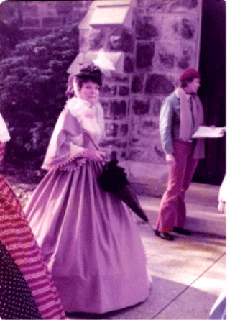 DOLORES BARCIA AND SCRIPT GIRL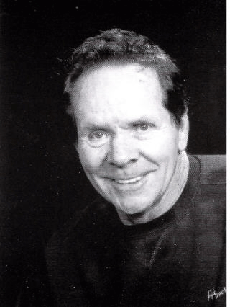 PETER BARCIA: EXCELLENT AWARD WINNING CHARACTOR ACTOR ,DOES DIALECTS, CONTACT AT DABARSH@aol.com