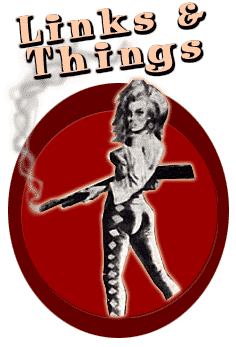 Ok folks, here is a page of interesting contacts in the same field of interest that unites us all under the banner of Fandom. I will only list truly unique and interesting sites and addresses for the folks I feel contribute to the genre, not bastardize it. All sites listed will be direct links, so hop in and check them out. All others that do not have a web site (or at least not that I know of) will be supplied with an address to "write to" for more info. I really do like the folks I have listed here, if I didn't, they wouldn't be up here. The reason for the promotion is simple, either what they offer is beyond great, or they have hearts of gold and should be made aware to everyone.
---
PUBLICATIONS
Rob Hausechild and VEX Magazine - I can't say enough about this gentleman and his slick and unique magazine. Rob's zine is the best around, covering cinema from the genre classics we love, to kids films and well, you name it, he covers it, and in the minutest of details. He has a reliable group of friends who work with him on the mag (I wish I could say the same, all my friends turned out to be bums and assholes), including Exploitation Journal contributor Joe Worynzniak. He recently erected one of the best web sites I have ever seen, and you can hop into it at www.vexmag.com. He's a good friend and I cannot recommend him enough.

SLEAZOID EXPRESS and METASEX - There is no substitute for experience, and these two magazines are the brain child of two of the most experienced writers around, of course I mean Bill Landis and Michelle Clifford. Landis, a legend in the zine world, is back with a bolder and bigger version of his amazing newsletter of the early eighties known as SLEAZOID EXPRESS. For info on exploitation cinema you CANNOT get anywhere else, this is your final stop. His connections to the New York underground cinema scene is second to none. His wife, Michelle, does the companion piece METASEX, dedicated to sexuality of all vices. They both have about three issues out currently. $10.00 apiece for the best read of your life. Send your scheckles to: Bill or Michelle at : P.O. Box 620, Old Chelsea Station, New York, NY 10011.

Patty Breen and William Girdler- Here's a real treat, Ms. Breen is a William Girdler fanatic and has erected one of the best sites I've ever seen dedicated to the work of one filmmaker, William (ABBY) Girdler. This site is a magazine on the web, a great concept that will save the author the horror of printing costs. She has interviews with Girdler associates (such as Lee Jones) and pictures from Girdler's home town and office of operations. This is a real fan who goes the whole nine yards to draw you into the wonderful world of William. The other best part is that this is the work of a woman, an opinion you never get in this cramped fanboy world of chronic masturbates. I hope more lovely young ladies like this one pop up and post sites and publish mags. Check her out at www.williamgirdler.com. It does not get any better than this.

Al Adamson.com - And we have another biographical winner. This site, by Neil T. Wiger is a loving dedication to the late Al Adamson, exploitation extrodinaire who met an untimely end (he was murdered), yet died befittingly for a horror film director (I should be so lucky!) The site not only gives us insight into AL, but great photos of both Al and his late wife Regina Carrol. Indulge your passions by indulging this webmasters passion, check it out at Al Adamson.com.
---
VIDEOS
There are lots of really good independent video companies out there, and the best of which I will post in the near future, I'm only posting two fairly well known ones this time out. Again, this is not a promotional gimmick, I only will post what my heart tells me to:

CULT CUTS- Here is a fine reference site dedicated to both the big (Anchor Bay) and small (Cinefear) distributors of exploitation cinema. Editor Mark Engle reviews product from all the available video distributors out there and posts the reviews on his site. He includes digital photos pulled off the video highlighting a films best scenes. This is a great site to go to in order to enhance your focus. Check it out at http://www.icehouse.net/cultcuts

TRASH COMPACTOR- Very similar to Cult Cuts, Trash Compactor allows various companies to register with there site and they act as a promotional outlet for the various different sources of video distribution out there. Again, this is a useful guide to anyone willing to take the time and browse the internet for video providers. Give them a peak at www.trashcompactor.de.

SINISTER CINEMA- My personal favorite and the grand daddy of us all. Greg Luce has provided us with the rarest genre titles and some of the best film to tape transfers around. His prices cannot be beat, he's an archivalist in the best sense of the word. Check him out at www.sinistercinema.com, or write for a catalog to P.O. Box 4369, Medford, OR 97501-0168.

SOMETHING WEIRD VIDEO- To be honest, I'm not crazy about the personnel behind this outfit, or their expansionist anti-competition attitude, but what they do as a service to vintage exploitation cinema is invaluable, and their intentions are damn good. Also, their catalog is forever expanding, so send $5.00 for a catalog to: P.O. Box 33664, Seattle, WA 98133.

I know that these two companies are fairly well known, and in the case of SOMETHING WEIRD actually quite commercial as compared to independent, but they are reliable sources for someone to start a collection. I will post some real good private companies as they come to my attention, so keep your eyes peeled.