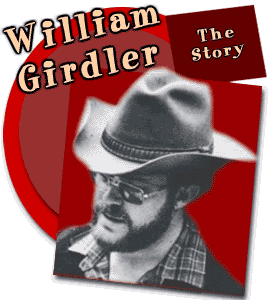 The Story of a Filmmaker Possessed
(Note: This article originally appeared in Horror-Wood. The author, Patricia Breen, runs the award-winning William Girdler website. She also designed this here Cinefear website.)
"Destiny has two ways of crushing us: by refusing our wishes and by fulfilling them."
-- Henri Frederic Amiel
William Girdler made movies like no one else. It was purely unintentional, though. A Girdler film might briefly remind you of a Bill Friedkin movie. Or of a Stephen Spielberg effort. Or even a Hitchcock classic. That's what a Girdler film is designed to do. However, any flickers of familiar cinematic greatness invariably yield to the trademark quirky style that came straight from this rare filmmaker's heart.
He directed an astounding nine movies in six years. Four achieved noteworthy box office success. All were molded from super-lean budgets. His most famous entry, Grizzly, ranked as the highest grossing independent film of 1976. Abby, a 1974 blaxploitation version of The Exorcist, was such a smash among moviegoers that Warner Brothers filed a lawsuit against Girdler. By 1978 the big studios couldn't help but notice the hits he'd scored in a remarkably short time. Just as the Hollywood money began to roll in, a helicopter accident ended Girdler's life at the age of 30. Those who knew and worked with the young filmmaker were stunned by the tragedy. Girdler, on the other hand, saw it coming all along.
William Brent Girdler was born in Louisville, Kentucky on October 22, 1947. His father, who died when Bill was 13, owned and managed a profitable chemical company in Louisville. Because his father passed away at 40 and his grandfather died at 50, Bill forecasted to close friends that he'd enter the pearly gates when he turned 30. He didn't want to follow in his father's corporate footsteps. He wanted to make movies. And if his grim hunch was correct, he was in a race against destiny to fulfill his dreams.
All throughout his teen years, Bill obsessed about movies. He preferred Hitchcock to homework. He couldn't waste valuable time attending film school to learn his desired trade. So he married his high-school sweetheart and joined the Airforce when he turned 18. He eagerly accepted odd jobs around the sets of the TV show Wild Wild West while stationed in California. When he returned to Louisville several years later, he brought with him an ounce of Hollywood savvy that would soon flood his hometown with a tidal wave of movie fever.
Girdler formed a small production company named Studio One with close friend and brother-in-law J. Patrick Kelly III. After making a string of local commercials, the 24-year-old film enthusiast gathered a group of local media talent, theater owners, and personal friends to support his first feature, Asylum of Satan, in 1972. Soap opera starlet Carla Borelli landed the principle role of a concert pianist who's kidnapped by a Satanic shrink. Dr. Specter (played by Louisville horror host Charles Kissinger) plots to sacrifice the sweet maiden so he can gain immortality. Borelli's boyfriend tries to outwit her captors by blinding them with his plaid polyester suits, but their evil remains strong. He then turns to a local police inspector for help. Meanwhile, Carla's sanity is stretched to its limit as she faces fake rubber spiders, zombies wearing tablecloths, and a ghoul whose cheesy plastic teeth fall out when he groans. Everything crescendos to a din of gender-bending, mistaken virginity, and too much dry ice. Satan himself shows up to set things straight once and for all. Though how can anyone expect Satan to salvage this mess when he looks like he's wearing a rubber ape suit topped off with a mask straight out of a Don Post scrap heap?
Asylum of Satan is an extremely fun B-flick for all its tackiness. Girdler's script and direction borrow from a hundred different horror movies, yet the final product is uniquely riveting. While time can peel away layers of cheapness to reveal a low-budget gem, Asylum was deemed anything but sparkling by critics in 1972. Distribution was slim, leaving investors with little to show for their $60-70,000.
Undaunted, Girdler immediately announced plans to shoot his next script, Three on a Meathook. The Asylum investors had learned their lesson, so this time Bill sought funding from friends. He came up with the rest of the money by way of his inheritance. With $30, 000 and a dedicated team of local actors, Three on a Meathook took shape over the course of several weeks. The Psycho-inspired exploitation classic stars the late James Pickett as a young man who believes he's a vile, uncontrollable woman-killer. So rotten, in fact, he even killed women as a young boy. At least that's what his father (Charles Kissinger) tells him ...
An insane twist ending, cannibalism, the repetitive five-note soundtrack composed by Girdler, supremely amateur acting, and first rate gore effects by Pat Patterson all add up to a true slasher genre anomaly that pre-dates Texas Chainsaw Massacre. Girdler didn't see any fruits from his labor, though. Not at first. Meathook sank even faster than Asylum, appearing in only a handful of drive-ins upon release. Financially broke and creatively disheartened, Bill took a job at a car dealership in an attempt to get his feet on the ground. It didn't last long. Soon, Bill was hatching up yet another movie scheme. This time it would pay off.
He brought Meathook to Hollywood and showed the film to a few studios in 1973. He hoped he could impress someone with how much he'd produced on a small budget. He also wanted to show that it was easy to shoot a film in Louisville. The plan worked. In the end, he attracted the attention of David Sheldon and Samuel Arkoff of AIP. Both cheapie film luminaries were steeped in the exploding blaxploitation genre, and they welcomed the Louisville talent into their fold.
It's interesting to note that the two directors from Kentucky best known for racially topical movies are D.W. Griffith and William Girdler. The former is now widely considered the most bigoted filmmaker of all time. In contrast, Girdler is responsible for two of the most successful Black cast films ever made. His first blaxploitation offering, The Zebra Killer, didn't fare a whole lot better than his first two films, though. The cop thriller features Austin Stoker as a Louisville detective on the trail of a Black serial killer. It turns out that the maniac is actually James Pickett wearing blackface makeup. One by one, Pickett picks off jury members who sentenced his father, and it's up to Stoker and his white partner to bring him in.
Girdler's next film would catapult him to a new level of filmmaking success ... and this wasn't necessarily a good thing. In 1974, he co-wrote, directed, and co-produced Abby, the infamous blaxploitation Exorcist rip-off starring William Marshall (Blacula) and Carol Speed (The Mack). The thoroughly-watchable schlock masterpiece stands as one of the most entertaining Black cast films of its era, with ace performances from the main cast. Marshall plays a minister and world traveler who accidentally releases an ancient African sex demon. The malevolent spirit possesses Marshall's daughter-in-law Abby, which causes her to vomit yogurt, tell small penis jokes, and rape her husband.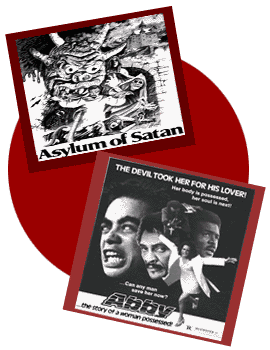 Abby brought in over $4 million during its first month of release despite its skimpy budget. The film earned more money via domestic rentals than Blacula. These impressive figures did not go unnoticed. Warner Brothers, producers of The Exorcist, filed a lawsuit against AIP and William Girdler claiming copyright infringement. Abby was subsequently yanked from theaters. The suit remained in legal limbo for over three years, and any profits Girdler would have realized were frozen. A court ruled in Girdler's favor in 1978. He died before he received the overdue money. Abby remains officially unavailable on video to this very day, although Cinefear has proven to be this film's savior, as Keith sells videos culled from 16-mm prints.
Before the lawsuit reached critical mass, Girdler co-wrote and directed one last AIP blaxploitation film titled Sheba Baby. The immensely popular Pam Grier stars as a detective who returns to Louisville to save her father's loan company from a Black mob. It's a somewhat dull effort when compared to Girdler's previous films, but fun nevertheless. Sheba Baby producer David Sheldon co-wrote the script, which was penned and sold to Sam Arkoff on the same day. As with Girdler's other Louisville films, local businesses and friends stepped in to offer supplies and assistance. Sheba Baby is likely the only movie with which Girdler made money, although he once deemed it his least favorite picture. It played in theaters for several years.
The Abby lawsuit kicked into high gear by the time Sheba wrapped. Eager to avoid additional legal complications, Girdler drifted away from AIP. But he did not intend to quit while he was ahead. With help from writer David Sheldon, Girdler directed a political thriller in 1975 called Project Kill. Leslie Nielsen plays a government hit man enhanced by experimental drugs. Tired of being a vicious puppet junkie for the military, he goes AWOL and flees to the Philippines. The feds send Nielsen's best student (Gary Lockwood) to track him down. The body count escalates from there.
A tight yet somewhat droning effort, Project Kill was not immune to Girdler's bad luck. It was originally slated to appear in hundreds of theaters worldwide, however the distributor was murdered shortly before the film's scheduled release. It became part of an estate dispute and did not reach a mass audience until 1980.
By late 1975, Girdler yearned to move his operations westward. He still dreamed of making Louisville the next Hollywood, but he rightly thought his opportunities could blossom in California. This desire to relocate coupled with the up-and-down nature of his career caused his marriage to dissolve. He had another problem brewing, too: How on earth would he be able to raise enough money to ride the coattails of Spielberg's colossal horror hit Jaws before anyone else did?
Girdler's good friend and fellow filmmaker Lee Jones provided the answer. Jones, responsible for the cult favorite Invasion of the Girl Snatchers, introduced Bill to Film Ventures kingpin Edward Montoro. Montoro put up roughly $750, 000 for Bill's next cinematic endeavor, Grizzly. Written by David Sheldon and Harvey Flaxman, Grizzly was a patent knockoff of Jaws. Only instead of a fish, it featured a giant 18-foot bear blinded by bloodlust. The bear goes on a rampage in a national park, cheerily chomping on big-breasted campers and know-it-all rangers. Christopher George and Andrew Prine devote themselves to taking down the fuzzy menace. Will they be able to find a government-issue rocket launcher before the bear claims another victim?
Filmed in Clayton Georgia (the same location used for Deliverance), Grizzly took box offices by storm upon release in 1976. It generated over $30 million in revenues by year's end. Unfortunately, Montoro squirreled away the profits for himself with no intention of giving Girdler his share. So between a pricey divorce and his depleted family funds, Girdler was positively broke. He managed to realize his dream of relocating to California, but he couldn't afford proper housing. He moved into Leslie Nielsen's guest quarters until things straightened out.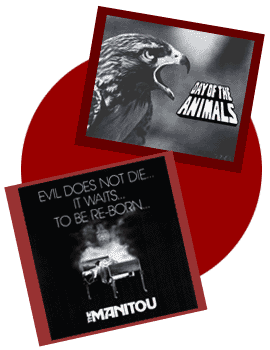 Meanwhile, Bill dove into another similarly themed Montoro project titled Day of the Animals in 1977. With an ensemble cast including Michael Ansara, Christopher George, and Linda Day among others, the plot concerns a hole in the ozone layer that drives wildlife in Northern California to violence. A group of vacationing hikers is trapped in the mountains with a host of bloodthirsty critters. Leslie Nielsen steals the show as a racist ad executive who's driven mad by the wilderness. The murderous animals include cougars, hawks, rats, snakes, bears, and lots of dogs. While Grizzly somewhat wallowed in its own derivativeness, Day Of boasts its own brand of campy charm thanks entirely to Gidler's direction. That charm failed to sell tickets, though. Day of the Animals did not enjoy the box office windfall Grizzly had. Tension between Girdler and Montoro reached fever pitch as Day of the Animals wrapped. Girdler and others eventually filed a lawsuit against Montoro to salvage their share of the Grizzly profits. While flying to London to oversee the final scoring for Day of the Animals, Bill bought a copy of Graham Masterton's bestseller The Manitou at the airport. He read the book during his flight and instantly fell in love with the story. Within 24 hours, he phoned Graham Masterton and asked to option the book. He secured the rights for $50, 000, then immediately began shopping the project around to different studios.
Avco Embassy Pictures quickly expressed interest in The Manitou. Only they wanted to read a script before committing to the film. Girdler fibbed and told them he had a rough script already prepared. He then spent the next three days writing a screenplay with the help of a few associates. The studio ate it up, and pre-production launched three months later. Girdler didn't have a lot of money to play with, but he certainly had more cash on hand than ever before. Like a kid in a candy store, he picked out every flavor of special effects he could afford. Some ultimately work, others REALLY don't, though none are easily forgotten.
Tony Curtis is Harry Erskine, a fraudulent tarot reader living in San Fran-Disco. He's worried about his old girlfriend Karen (Susan Stasberg), who suffers from a rapidly growing tumor on her neck that has doctors stumped. The tumor consumes half of her body and eventually gives life to an ancient Indian medicine man bent on murder. Michael Ansara co-stars as a modern medicine man who combats the Native American gremlin at Harry's urging. The plot might have been terrifying as presented by horror writer Masterton. At the mercy of Girdler's script, however, it comes off as immensely silly. The over-acting and ludicrous dialogue are through-and-through hilarious, but the ending is the true piece de resistance. Trust me, you cannot say you've led a full life if you haven't seen a topless woman shoot cartoon laser beams at an Indian midget!
Although it's every bit as cheeky and campy as Asylum of Satan, Manitou would have marked a huge leap forward for Bill's career. Things were undoubtedly looking rosy for Girdler on all fronts that year. His personal triumphs included a new marriage to a long-time friend in 1977. As Manitou wound down, he began negotiations with Masterton to bring the novel The Djinn to the big screen. He planned a Louisville film titled Kentucky Wild for late 1978. But most exciting of all was his newest project The Overlords, an effort designed to capitalize on the Star Wars craze. He died before he could fully enjoy this streak of good fortune. The helicopter accident that claimed his life occurred in January of 1978 while he scouted locations for Overlords in Manila.
William Girdler loved the film medium with every fiber of his being. So much so, he devoted (some might say sacrificed) his life to the craft. He knew all along that his movies weren't the best in the world. He wasn't trying to make award-winning pictures. He just wanted to make pictures. He wanted to make as many as humanly possible. He made them fast and cheap, but he made them. Moviegoers paid to see them. And people enjoy his efforts to this very day. Girdler left this world in 1978, yet his films still thrive in the digital age. They will surely live on to thrill and entertain many future generations of film fans.
"I love making movies so much that hard work doesn't bother me. I work 12 hours a day, seven days a week. Some days, I'm so excited about what we're doing I can't wait to get out of bed the next morning and start again. If I were an attorney or running a factory, I'd probably die or spend all my time on a golf course. I would have been miserable and ended up an alcoholic by the time I was 30." (William Girdler, The Louisville Times, 1977)