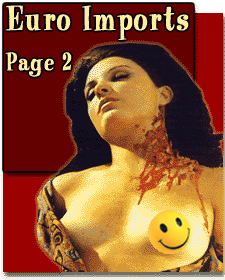 IDI AMIN- THE SLAUGHTER (1981): Super violent recreation of the career of Idi Amin, dictator of Uganda, who is said to have slaughtered over half a million people during his reign in the early seventies. This strange African production was a big deal back when I was in High School, I still remember the commercials for it. Supposedly, it was released uncut in theatres, but was butchered upon video release (go figure). Anyhow, here is the uncut Dutch release, in English. Go Big Daddy, go! |ORDER|
I DRINK YOUR BLOOD (1971) This is an upgrade of the previous version we offered, which was initially a compilation of a good "cut" print and a lesser quality uncut print. This version is the official release from Australia, and is completely, 100% uncut, and the quality is fantastic. Fantastic story of a young fellow who infects a group of hippies with rabies via putting rabid dogs blood into some meat pies. Well, the hippies get crazy and infect the entire town. Gore galore! ORDER
I ESCAPED FROM DEVILS ISLAND (1973) From the Corman brothers comes this quickie made to cash in on and released before Papillon, this flick takes place in 1908 Guiana and has two men (Christopher George and Ron Ely) as two political prisoners daring to escape Devils Island when no one else has ever done it before. The ending leaves room for a sequel that was never made. Lots of torture and brutality. In English with Dutch Subtitles. ORDER
IGUANA WITH A TONGUE OF FIRE(1971) Insane giallo directed Riccardo Freda under a fake a name. Berserk killer likes to throw acid in the faces of victims before slitting their throats. An old lady has her head slammed into a sink a few times, and a half naked young girl is assaulted and has her face pushed into a heat lamp. Anton Differing hangs around giving ambience to the proceedings. With out a doubt one of the most tasteless giallo's I've ever scene, and I've seen too many of these fucking things. Uncut, fullscreen in English off a Greek master. ORDER
IMMORTAL (1982) starring the Lion Man himself, Cuneyt Arkin. He plays a former soldier who is framed for a crime buy the syndicate. He ends up in jail, his kids end up on the streets. Years later, upon his release, he seeks out to find his kids and get revenge on the men that framed him. This film is brutal, depressing and nihilistic and downright entertaining from start to finish. Grab it up. ORDER|
THE INVISIBLE TERROR (1963) Here's an interesting take on The Invisible Man Returns (1940), made in Germany during the hight of the Krimi films. It incorporates elements of those while telling the story of a missing scientist who invented a formula for invisibility. In the meantime, an invisible assasin is whiping out people left and right, and of course the crimes are being blamed on the missing scientist. Will the brother discover in time who the bad guy or gal really is? Well, you need to buy this and fight out. Cast includes Hans von Borsody, Ellen Schwiers, Ivan Desny. Also of interest, it was directed by Raphael Nussbaum, who directed some later American made exploitation films of which Pets (1974) stands out. |ORDER|
IZBAVITELJ (1976 Aka The Rat Savior) A writer discovers that a certain species of rat has come together and are in the process of supplanting human beings and setting them out among the population for nefarious intentions. This is real weird Sci-Fi right up there in the vein of films like Phase IV or Invasion of the Body Snatchers. This is a Slovic film in Croation but with English subtitles. This film's story is based on a book by the Soviet writer Alexander Greene. Strong critism of Soviet policy in Europe, but done through cleaver Sci-Fi cover. Unique and very rare! |ORDER|
I KILLED RASPUTIN (1967) This is for collectors and completests only, because this film is a sleep inducer, I cannot lie. Gert Frobe is good as Rasputin, but the director must have been in a coma while making this. In English with Greek Suntitles. ORDER
ILLUSTRIOUS CORPSES (1976) A beautiful, georgeous film to watch, incredible cinematography by Pasqualino De Santis, this Giallo with a political twist focuses on the Murder of Supreme Court Justices in Italy. A detective (Lino Ventura) finds out the hard way what's going on. Cast includes Max Von Sydow and Fernando Rey. In Italian with English Subtitles. ORDER
IMMAGINI DI UN CONVENTO (1976): Weird film about nuns who look more like exotic dancers! With Donald O'Brian as a priest who tries to beat the devil out of them but winds up succumbing to a blowjob instead. This is an uncut Italian language Joe D'Amato favorite. |ORDER|
IN THE FOLDS OF THE FLESH (1970): You just can't get enough of these Italians! Here we go again with a beautiful, letterboxed, English language British import that tells of a wacky families way of handling blackmailers and perverts. This film features some wonderful decapitations, and there is no greater joy than watching someone loss there head, literally! |ORDER|
INFERNO IN DIRETTA (1985): Uncut Italian language print of Deodatto's CUT AND RUN, telling the tale of the kidnapping of a wealthy mans son but a Manson like cult that expedites drugs in South America. Very gruesome with a scene including a guy being torn in half slowly. Super rare. |ORDER|
INFERNO IN PARADISE (1974) You'd swear this film was made for TV, but it's not. Most likely an example of trying to make a quickie disaster movie hot on the heals of Towering Inferno, this flick has Jim Davis and Richard Young as a fire marshall's in Honolulu trying to capture a deadly arsonist who is burning up the island. Betty Ann Carr is hot walking around in a bikini. If your a fire movie fan you might get a kick out of the real life stock footage intercut with some on set effects. Off a British master. ORDER
EL INQUISIDOR (1974) Insane Argentine horror flick about a group of modern day (for 1970's) witch hunters who kidnap young girls they suspect of witchcraft and torture them to death. They make a serious mistake when they fuck with a real witch who teaches them a lesson the hard way. Good, rare stuff! In Spanish. ORDER
INTIMATE RELATIONS (1979) Greek Giallo with some heavy duty softcore sex scenes and everything else you'd expect from our Greek Exploitation Boys. As always, we have an investigator (played by real life weirdo Kostas Prekas) the robbery of jewels from a rich woman who's servent was killed during the robbery. Turns out the said woman (Jennifer Mason) lives quite an open sexual lifestyle which is revealed through the detectives investigation. In Greek with English subtitles, and sleazy as all Hell. Go for it! ORDER
INVINCIBLE MASKED RIDER (1963) Umberto Lenzi directed this interesting version of the zorro story, only his zorro is even more of a phantom, an undefinable black spector that comes and goes like a ghost, hence making the film even more haunting. This is a sumptuous production loaded with fantastic sets and costumes, and this version comes off a widescreen German DVD and features English subtitles. You can't beat that! ORDER|
ISLAND OF PERVERSION (1973): Extremely rare and perverted Last House on the Left rip-off made in Greece by the whacked out Nicholas Mastorakis. This is the uncut 100 minute version and I have yet to watch it. As I've gotten older, I find it difficult to watch such nasty hate driven films such as this, though by all means they are the true definition of what a horror film should be. A guy and gal pervert fuck a sheep and then go on a murder spree. they mutilate, crucify, pour paint thinner down some poor jerks throat, an all around fun couple to hang with. I knew folks like this, so I guess I'm scared. |ORDER|
I WOKE UP EARLY THE DAY I DIED (1998): From a beautiful original German master comes Ed Wood's unmade masterwork, lovingly rendered with an inspired all-star 90's cast (Billy Zane, Christina Ricci, Ron Perlman et al) and a kickass soundtrack. As the story goes, the American company charged with distributing this gem went bankrupt after the mini-masterpiece was unfairly panned by mongoloid critics and the movie hasn't seen the light of day on these shores since. Possibly one of the most interesting film efforts to emerge from the 90's; no surprise it was the brainchild of a filmmaker untainted by the heartless decade. With goofy German subtitles that just make it a little more psychedelic. All the Wood staples are here: violence, cross dressing, graveyards, Vampira, bumbling cops, sex, booze, chain smoking, and more. Trippy, flippy, and just a little dippy, this is a must-see for Wood fans. |ORDER|
JACK THE RIPPER (1958) Here is the French language, letterboxed edition of British film directed by Berman and Baker. This is also the continental version, which features all the nudity not shown in the British or American prints. The scenes set in the caberet dressing room features more tits than you can shake a stick at. Yes... ORDER
JABERWALK (1970): This is an insane Mondo style documentary that attempts to explore the changing climate of the 1960's. We'll explore pornography, drugs, suicide, stupidity and various other things that pass themselves off as culture. |ORDER|
JOURNEY AMONG WOMEN (1977) Very warped Australian film about a bunch of women in an Australian penal colony who under go major indignities at the hands of the all male guards. The women make a break for it, with nothing but their birthday suites on. Strong feminest message made all the more bazarre by the violence and nudity. Directed by Tom Cowan. In English, with Greek subtitles. ORDER
JUSTINE DeSADE (1972) Directed by Claude Pierson, this lovely, letterboxed masterpiece tells the story of that poor orphan girl, who, despite her desire to stay chaste and pure, finds herself at misfortunes hands in every good deed she does. Insane S&M horror show as only the Europeans can do it. Uncut, ultra rare... ORDER
KATHARINA DIE NACKTE ZARIN (1982) Insane version of the life of Katharin The Great, complete with horse screwing, torturing and slaughtering of peasents, and tons of sex. Excellent production values in this German take off on Caligula. Made by the same clowns who made Rasputin, which featured XXX action and can be found in our European Collection section. In German with Greek subtitles. ORDER
KARATE GIRL (1974) In this take on Death Wish, a young death mute girl who sells flowers for her horticulturist father is assaulted and her father killed by a group of escaped lunatics. The shocking event restores he ability to speak, and she hooks up with an uncover cop who teaches her karate and how to use a gun. All hell breaks out when she decides to hunt down her assailants. This film, along with Lion Man (1975), are perhaps the best examples of Turkish cinema you are ever going to see. ORDER|
KILL BARBARA WITH PANIC (1974) Here is an Indonesian rip-off of The Exorcist only this one involves a woman who commits suicide because she believes her husband is cheating on her with her sister. First she takes possesion of her daughters doll, then she gradually takes possesion of the daughter. The result? Total halarity punctuated with long moments of boredom and bluster. Some fun moments, not as good as most Indonesian horror efforts but it does have it's morbid moments. ORDER
KILL OR BE KILLED (1976 - Aka Karate Killer) which features an embittered ex-Nazi and his Dwarf side kick (?) getting back at their ex axis Japanese friend who's martial arts team beat their martial arts team during the war. The crazy Kraut enlists a group of men whom he turns into fierce fighters. One of the fighters (James Ryan) decides he wants out of this madness and does so by kicking everyone's ass, both one at a time and in groups. Watching South African films is like having a fever. They are delirious, but I can't quite pin point why. You'll know what I mean once you buy it and watch it! |ORDER|
KILL AND KILL AGAIN (1981) Again, star James Ryan repeats his role from the first film. In this film he fights a super genius madman who has kidnapped a scientist who is being forced to create a race of super martial arts fighters that are going to kick the earths ass!!! More South African made madness that demands to be seen. |ORDER|
KNIFE OF ICE (1972) More giallo from Umberto Lenzi.Carrol Baker play a sever trauma victim who cannot speak. Upon her return to her ancestrial home, a series of strange murders occur in the area, causing Carrol to go through even more trauma than she imagined. Real nice, uncut, English language version, letterboxed, off a Jap laser. ORDER
KNIGHTS OF TERROR (1963) A group of undead horse riding terrorists seek revenge on a village who ambushed them long, long ago. However, this ghostly attack could actually be an inside job set up by a bad nobel with hopes of taking over the town. Lucky for the town a gallant nobelman comes to the front and offers his help in exposing the bad guys for who they really are! This is another really fun Italian costume melodrama that is quite rare and loaded with action, intrigue and violence. Includes obligatory torture chamber scenes as well as busty maidens. In English with Dutch subtitles. ORDER|
KOMANTANT MARIA (1987) Ultra sleazy sex spoof of World War II starring some Greeksex symbol as an "Ilsa" type who makes men drool... shot on video and weird as all Hell! In Greek, but this chicks so hot you wont care! ORDER
KILINK IN ISTANBUL (1967) This is the first film that introduces super criminal Kilink who wears a skeleton costum and raises all sorts of Hell in Turkey. Of interest, this character is from an Italian comic book, and how the Turks came to adapt him I'll never know. That said, these films are wickedly entertaining, and feature sexual violence, car chases, action and more stupidity than you can shake a stick at. In Turkish with English subtitles. ORDER
KILINK VS THE FLYING MAN (1967) Sequal to the first film featuring lots of reused stock footage and more stupidity than you can shake a kabob at. The Samson inspired super hero who faught Kilink in the first film is back and he continues to let Kilink make a fool of him. Despite being a bad guy, you root for Kilink because the so called hero is a moron. In Turkish with English subs. ORDER
KILINK VS MANDRAKE (1967) Kilink vs Mandrake the Magician. You'll laugh so hard your sides will split and your heart will go pitter pat....ORDER
KILINK: STRIP AND KILL (1967)This time Kilink fights two rival gangs and actually pits them against each other. Since Kilink isn't always too bright himself, you could imagine how stupid these rival gangs are. God save us! ORDER
KILLER CROCODILE (1989) Fantastic, fun, stupid entry in the Italian take-off sweepstakes, this one directed by producer Fabrizio De Angelis and written by Fulci screenplay man Dardano Sacchetti. A radioactive Croc tears up the populace of a small South American village. A group of activists lead by Anthony Crenna try to stop the beast, but are blocked by homosexual sheriff Van Johnson. You have to see this to believe it. Uncut off a Greek master, in English with Greek subtitles. ORDER
KILLER GOLD (1979) And what a scuzzy little classic this film is, and it's rare as Hell to! A safecracker (Robert Widmark) steals jewels on behalf of a mob boss (the inbreed Victor Israel, in what is one of his sleaziest roles ever) only to have the mob boss pull a fast one on him. After the mob boss roughs him up a bit, the tables are turned and the safecracker takes off with the money and the jewels only to be chased by the syndicate. Directed by Sergio Garrone, who gave us SS Experiment Camp, this film is just as lurid as people are tortured, shot, frozen, burned and Vic Israel is seen half naked walking around and trying to fondle the lovely Daniela Giordano. In English. ORDER|
KILLING BIRDS (1987): Joe D'Amato strikes again with this late entry into the Zombie sweepstakes. You get wacky birds, killer zombies as well as a madman in this work of art. Off a Greek master and in English, this is one you can't pass up. D'Amato will be sadly missed, he delivered on just about every level, with the possible exception of intelligence. But don't worry, you don't need a brain to enjoy this film, just bloodlust! |ORDER|
THE KILLER RESERVES 9 SEATS (1974): Crude Giallo that draws from Ten Little Indians for it's inspiration, but the Marquis De Sade for it's presentation. Tons of female nudity, lesbian gropings and brutal murders that include crotch stabbing and crucifixion are proudly on display. This is a must have. Off a Greek master. In English. |ORDER|
KURSAISON UN DIRNDLHOSCHEN (1981) Bavarian mountain sex comedy directed by the master himself, Alois Brummer (Erotic Adventures of Heidi, There's No Sex Like Snow Sex) featuring tuns of big titted farm girls showing off there udders. In German. ORDER
EL LADRONE DE CADAVERES (1956): Aka The Body Snatcher.You may remember the photo of the ugly monster in this film from the back of Famous Monsters of Filmland. Super rare French language print of a lost Mexican monster classic, the one that started the wrestlers meets monsters genre. Mad doctor robs dead wrestlers bodies for experiments in reviving the dead. Atmospheric and great b/w photography. A must. |ORDER|
THE LADY IN RED KILLS 7 TIMES (1974): Barbara Bouchet and Sybil Danning star in this Giallo classic which recounts the tale of the "Red Queen", an evil entity who kills seven victims every 100 years. In a castle in Germany, 1972, a red cloaked figure stalks, is it the "Red Queen" or just some crazy bitch playing a game? You'll have to buy this tape and find out. Off a Greek master. In English. |ORDER|
LADY DYNAMITE (1973) When Donna Costanza (Lidia Alfonsi) marries a mafia boss, he is brutally shot down during their wedding. When she seeks the help of another godfather (Anthony Steffan) and he ends up slaughted (his severed hand is delivered to her stuffed inside a cake, talk about a birthday surprise) she goes on a rampage of revenge and slaughter toward the offending crime family. Great, violent rip off of the Godfather with a female protagonist. Uncut, in English with Dutch subtitles. Not the best quality wise, but not the worst either. ORDER|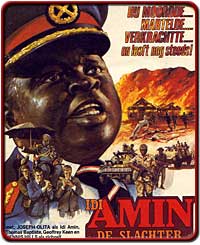 LADY WHIRLWIND (1972) Angela Mao is one tough chick, searching out the asshole who left her sister which in turn caused her sister to commit suicide. Turns out the guy cut out because the Chinese mob was after him, and he needs Angela's help to get them off his back. Fun kung fu flick with cool fight scenes. Slight letterbox, in English with Dutch subtitles. ORDER
LADY FRANKENSTEIN (1971) A classic from director Mel Wells, with Joseph Cotton as the doctor, Sarah Bey (Rosalba Neri) as the doctors perverted daughter, and a great supporting cast including Mickey Haggerty as a detective, Herbert Fuchs as a grave robber, and Paul Muller as the doctors assistant who's in love with Neri. Now, why am I offering this public domain title, which is available on every cheap DVD out there? Well, because my version is the longest version available, that includes the recent Shout Factory release which was a composite and considered one of the most complete prints, but my version is off a German TV showing and it's made even more complete by having scenes restored from a Swedish Video casette. And no, Shout Factory didn't include those...so here you go, pick up this tits and gore classic and get the longest version imaginable. ORDER|
LANA - KONIGIN DER AMAZON (1964) A jungle story with plenty of female flesh on view, tells the tale of Lana, Queen of the Amazon, and her attempts to save Amazon treasure from greedy white hunters looking to track it down. A German film, In German, but quite a rare title. If your an Explotation fan eat it up. With Anton Diffring, Catherine Schell, Dieter Eppler. ORDER
LAND OF DEATH (2003) From Bruno Mattei, the man behind Hell of the Living Dead, this tale of a search for a woman lost in the Eastern wilderness by a crew of Rambo wanna be's has to be seen to be believed. To Mattei, it's still 1983, he's churning them out faster then he ever did, and as if time hasn't changed. His films are much needed relief from the idiot fan boys who are trying to crank out Guinea gore from their own backyards on video. Very gory, lots of nudity, bad acting, stupid dialogue, every you have come to expect of Mattei. ORDER
LATITUDE ZERO (1968) Insane Toho fantasy involving Joseph Cotten and Ceasar Romero as arch enemies in an underwater city, Cotten the good guy, Romero the bad. Romero likes to turn folks into monsters, and Cotten wants to put a stop to it. Excellent collaboration between Honda and Tsuburaya, the director/special effects unit of the original Godzilla. Ultra rare. In English with Greek subtitles. ORDER
LAZER KILLER (1969): This tape is only fair to decent quality. Uncut Euro version of Corruption, which I offer in a beautiful American print in the Cinefear Collection section. This tape has the nudity and extreme gore that the American print lacked. A sick film in either version, especially in that it stars the classy Peter Cushing. For completests only. |ORDER|
LEONOR (1975) Directed by Juan Bunuel, son of Luis, this flick features Liv Ullmann as a plague carrying vampire braught to life via the Devil by request of her bareaved husband. Slow, but beautifully made. In Italian. ORDER
LEMORA- LADY DRACULA (1973): Uncut, off a Greek tape, this surreal masterpiece about a nice Christian girl who wants to find her gangster father who is in hiding in some hole-in-the-wall town. To her regret, the town of full of nasty vampires who are just lusting for some virgin meat. Great Psychological horror flick which creeps into the very heart of suppressed Christian sexuality! Stylishly directed by Richard Blackburn, this is a must for fans of vampire films, best of its type. |ORDER|
LIONMAN (1975) Excellent action, adventure and pure violence flick from Turkey. Combo swashbuckler, combo peplum, this cool flick has the Muslims under Solomon overthrowing the Christians in Turkey. Soloman has an affair with a high ranking Christian's wife and produces two sons. When the Christians kill off the Muslims, one son is stashed in the jungle and raised by lions. Hence he becomes lionman. Pure anti-christian propaganda will have you laughing as the intolerant Muslims switch traits with the Christians and paint them out to be the good guys. Slightly letterboxed, in English with Dutch subtitles. ORDER
THE LONELY VIOLENT BEACH (1971) Intense house invasion flick in the "Last House on the Left" tradition, this one has a couple with sever martial problems having their usual disfunctional life style interrupted by a group of bikers who like to humilate the husband and rape the wife. All Hell breaks loose once one of the bikers falls in love with the wife. A very unusual entry in the sadism sweepstakes that is oddly captivating. In English with Dutch subtitles. ORDER
LOVE-SLAVES OF THE AMAZON (1957) Directed and written by the reliable Curt Siodmac, this ultra rare film features a group of explorers investigating the Amazon and getting captured by a group of Amazon women warriors who intend to use the captured party as love slaves. This is a fun piece of 1950's cheescake that has been so long out of circulation that it's very difficult to find. Please bare in mind this comes off a TV broadcast from the 1980's, and it has serious issues, incuding picture flagging and a couple of black outs. That said, try finding this somewhere else. Great cast includes Don Taylor, Gianna Segale and Eduardo Ciannelli. ORDER|
L' ORRIBILE SEGRETO DEL DR HITCHCOCK (1962) Completely uncut Italian language version of the Riccardo Freda classic The Horrible Dr. Hitchcock. It's about a sicko doctor (Robert Flyming) who has a passion for Necrophilia. It's a same his new wife (Barbara Steele) doesn't share his interest. Simply put, this film is a masterwork. In Italian language with nice English subtitles, letterboxed. ORDER
LIVE LIKE A COP, DIE LIKE A MAN (1976) Ultra violent cop flick directed by that misanthropic facist psycho Ruggerio Deodato. Two psycho cops give the mob a run for their money. In this film the good guys are bad guys. ORDER
LIVING SKELETON (1967): Fair to decent quality only. Extremely rare Japanese Ghost story that is letterboxed, but in Japanese language with English subtitles. Very scary imagery is used in depicting the tale of a ghost ship who's slaughtered inhabitants want justice. You may have seen the picture from this film in the Dennis Gifford History of Horror Movies book. Now see the whole film itself. Gory, in nightmarish black and white. |ORDER|
LIZARD IN A WOMAN'S SKIN (1971): Lucio Fulci shows the world that he is on fire with this slick and disturbing piece of Giallo that no one can get a decent quality copy of. Well relax, here is the most complete version available, and it will knock your socks off. This Psycho drama features the usual over the top Fulci violence and sex, and gives us some of the most haunting images ever committed to film. Pick it up now!!! |ORDER|
THE LIVING DEAD (1981): Aka Revenge of the Living Dead Girls. Another nutcase film about a living dead woman who sports the best set of tits in town, but a face that could make you cring, strolling the countryside killing locals and yokels. Gory and sexy at the same time, I find myself actually attracted to this corpse. Someone once told me that I would fuck just about anything, and feeling the way I do about the dead gal in this film, I'm beginning to think they might have been right. In English off a Dutch master. Why do I do this for you folks, because I love you, that's why! |ORDER|
LONG LASTING DAYS (1973) An Italian version of The Most Dangerous Game. this one involves a poor sailor and his sick wife who participate in a "Hunting Game" where by if they survive they win enough money to pay for the surgery she needs to stay alive. Crazy and sleazy film made all the more watchable by the lovely Ewa Auline. Directed by Ferdinando Baldi, hence a strong Giallo tone to the film. In Italian with English subtitles. ORDER|
LOST SOULS (1959 Aka Vite Perdute) THREE GIRLS - The Prey of Desperate Killers! That's the tag line of this early Italian thriller, which tells the tale of a younf man and three young girls held hostage by a group of five escaped prisoners who want the hostages to help them off the island. Great cast includes Virna Lisi, Sandra Milo and Gabriele Tinti. Directed by Adelchi Bianchi, who also gave us The Winchester Does Not Forgive (1967). In Italian with English subtitles. ORDER|
LOVE BRIDES OF THE BLOOD MUMMY (1973) Here it is, the Eurocine missing classic you've all been looking for. A scientist revives an Egyptian High Priest via a blood transfusion. The High Priest decides he likes to sup on fresh blood and starts snacking on women he has chained up in a castle. Back in the drive-in days this played on a double bill with Sex Life of the Invisible Man (aka Orloff and the Invisible Man). This print comes off a Spanish video but features English subtitles. This film is a very sombre experience, slow in pacing but loaded with atmospher and menace. So much better than the other Eurocine product, a real surprise in it being as good as it is. Ultra rare title, so go for it! ORDER|
LAS LUCHADORAS CONTRA EL ROBOT ASESINO (Mexico- 1969): Now here's a real rare treat. Rene Cardonas Wrestling Women Vs. The Murdering Robot, only this is the Italian language print with all the nudity missing from ALL OTHER PRINTS! You heard me right... the apeman rapes a nurse... the robot strangle a woman with her bra... Note: Quality is quite rough on this one, so perfectionists beware, die hard collectors rejoice! |ORDER|
LUNA DE SANGRE (1980's) Insane revenge flick from the Last House on the Left school, has a husband and wife's car breaking down on a side road and two monsterous mechanics knocking out the husband, locking him in the trunk while taking turns raping the wife. The leave the husband for dead and abduct the wife, but it turns out that the husband isn't quite dead.... Shot on film and actually quite good! In Spainish. ORDER
DIE LUST (198?): Here is an odd, beautifully shot, German language softcore sex film directed by Joe D'Amato. It involves this rich bozo who has a whacked out affair with a sophisticated hooker. Laura Gemser even shows up as the madam of an opium den. Two great scenes involve some jerk having an epileptic fit that can only be cured when our hooker friend sticks her tit in his mouth. With all that white spit spilling out of his mouth, plus her tit in his mouth, it almost looks like he's drinking breast milk. Really perverted. I'm sorry. |ORDER|
LUST FOR REVENGE (1976 Aka Kaftes Diakopes) A group of jerk offs decide to play a game inspired by a popular book. The game involves the kidnapping of a minor. The father agrees to pay the kidnappers but the money he raises turns out to be counterfeit. This leads to much complication as well as a massacre of unexpected fury. Another interesting Greek film that has English subtitles. Very sleazy, loaded with nudity and violence. ORDER|
THE LUSTFUL AMAZONS (1974) Another classic from the incredible Jess Franco. This one tells the tale of Maciste who is turned into a sex slave for a group of Amazons located in Antigua. This was actually a set up by Pygar, an asshole who is looking to steal gold from the Amazons. Can you guess the outcome? Lets just say that no good deed goes unpunished. This is one of Franco's French language naked films, boobs, bush and balls flash a plenty. The story is surprisingly coherent, and to help it along this version has English subtitles. ORDER|
MACISTE AGAINST THE VAMPIRE (1961- Aka Samson Vs. The Vampires) Here it is, utter fucking nonesense from screenwriter Sergio Corbucci and Duccio Tessari involving Maciste (Gordon Scott) fighting a nasty vampire who rules a town with a iron fist and a bad disposition. Very violent for the time, with slit throats, arrow through the eye, whippings, etc... Off a Greek master, in English with Greek subtitles. ORDER
MADHOUSE MANSION (1972) Directed in oddball fashion by Stephen Weeks, this gothic ghost story features a strung out Marianne Faithful in flashback sequences as a young girl wrongfully incarcerated in an insane asylum. Her tits are as huge then as they are now. ORDER
MAD FOXES (1981) Here is one truly insane film. A Spanish/Swiss co-production, this flick chimes in on the vigilante films that were very popular in the late 70's early 80's. When a rich, bored playboy leaves a club after getting his girlfriend drunk (it's her 18th birthday and she's promised him her virginity) he gets into an altercation with bikers, one of whom is killed in the scuffle. The gang gets revenge and beats him and rapes his girlfriend. The playboy in turn gets revenge by having his Kung Fu group beat the gang and castrate their leader. The gang then in turn slaughters his family. And so on, and so on...really, this film is inane but so insane that despite it's miniscule budget and true lack of talent the film actually does manage to shock and offend. This is a rare, uncut copy, off a Euro DVD hence the quality is out of this world. If you are an exploitation fiend, this film is a must. The scene involving an old woman in a wheel chair being shot through the head and both she and the wheel chair flying backwards is an unitentional comedy classic. |ORDER|
THE MAD GENIUS (1931) This was Warner Brothers follow up to Svengali (1931) which also featured John Barrymore and Marian Marsh. Barrymore plays a crippled puppet master who saves a young boy from an abusive father (Boris Karloff) and turns him into a ballet star. When the young man falls for a female dancer, Barrymore tries to separate them in order to maintain control over the young mans career. ORDER
MAD KILLER (1980's) Chinese made rip-off of Rambo that has to be seen to be belived. Ultra violent revenge flick with so much blood you'll be seeing red for years to come. Nobody does it like the Orientals. ORDER
THE MAD ROOM (1969) Stella Stevens and Shelley Winters have a ball in the psycho retelling of the 1941 classic Ladies in Retirement, which has Stella bringing her brother and sister, both straight out of the insane asylum for having killed their parents, to live with a knuckle head widow played by Shelley Winters (who happens to be Stellas employer). Fun and very rare film with excellent quality. With Beverly Garland. ORDER
MADELINE, STUDY OF A NIGHTMARE (1974) Insane Italian psycho-drama starring Camille Keaton as a woman who has suffered a miscarraige and drifts off into a psycho sexual fantasy involving many lovers, cuckoldRoberto Mauris and murder. Delerious film with fantastic imagery, not so much a horror film though it does play out like one. Camille Keaton is at the top of her game in this film, sensual yet very dangerous. Directed by Roberto Mauri, who gave us King of Kong Island and The Porno Killers. Rare as all hell, in Italian with English subtitles.An erotic thriller with so much nudity you'll have your hand on your gear shift the whole show. |ORDER|
MAGNUM SPECIAL PER TONY SAITTA (1976 - AKA BLAZING MAGNUM) Directed by Alberto De Martino, this ultra violent cop drama stars Stuart Whitman as detective Tony Saitta, a no nonsense brut who blasts away any badguy who gets in his way. Martin Landau plays a creep doctor (what else), and John Saxon, Gayle Hunnicutt and Tisa Farrow stand around and eat up scenerie. Upgrade- In English! ORDER
MALABIMBA (1979) Insane film from Andrea Bianchi, has a young lady possesed by the spirit of her dead mother. Under this possesion, our little harlet kills her grandfather by giving him a blowjob, she constantly assaults the resident nun with sexual promiscuity, offers sex to her dad, and watches a big titted harlot fuck. Yeah, you heard me right. Uncut, with hardcore inserts, letterboxed and in Italian. ORDER
THE MAN WHO FINALLY DIED (1963) Here we have a tale of espionage and double espionage as Stanley Baker finds himself called to Europe in search of his father who was believed to be dead for 20 years. Needless to say, all is not what it was believed to be. Peter Cushing co-stars in this British post war thriller which is actually quite rare here in the states. Additional greats in the cast include Niall MacGinnis, and Nigel Green. |ORDER|
THE MANHUNT (1975) A violent crime drama directed by the incredible Umberto Lenzi. Henry Silva plays a father who's daughter has been killed by a stray bullet during a shoot out. Needless to say, he decides to even the score by hooking up with several vigilantes who help him eradicate the bad guys. If you're a Silva fan, you better damn well know that you need this title in your collection. If you like your films violent, thayt why don't you have this film in your collection? ORDER|
MANIA (1974) Now here is a truly fucked up film. Directed by mental case Renato Polselli , this flick tells the story of a woman who was having an affair with her husbands brother. Her husand, an asshole scientist who can stop bees in mid flight that to radiop waves (?), has been killed in a lab fire that left his brother the adulterer crippled. The wife returns to this house of horrors under advice from her therapist (?) Then the fun starts when the dead husband returns from the grave to start tormenting his wife. Renato Polselli makes films that represent the fact that this man suffered from a life long nervous breakdown. He reminds me of 80's era Ken Russell, the film is frantic with little reprieve from the madness. Tons of nudity and violence, this is an exploitation fans dream. Off a 35mm film print and bearing English subtitles. Ultra rare, so get it now! ORDER
MAN HUNT (1976) Insane Fernando Di Leo crime thriller known in the U.S.A. as Black Godfather. Woody Strode and Henry Silva are two wiseguys out to kill a small time pimp over a miscommunication. Little do they know that the small time pimp knows how to take care of himself, bigtime. Uncut Euro print. ORDER
MAN WITH THE ICY EYES (1972) Great Giallo featuring Antonio Sabata, Barbara Bouchet, Faith Domergue, Victor Buono, Keenan Wynn, in a story involving blackmail, murder, revenge. This title is very hard to find in an English language version, which we have here with Greek subtitles. ORDER
MANHANDLERS (1973) Ultra rare Lee (Hells Angels '69) Madden directed nonesense involving a chick inheriting a massage parlor business from her late uncle, who was rubbed out by the mob.When she starts to turn heavy profits from her inheritance, the mob decides she must go as well... except she feels it's the mob who should go. Fun, violent action from the 70's. Produced by Gil Lasky, who also produced and wrote Blood and Lace. ORDER
MANIAC KILLERS (1987) Insane film from Andrea (Buriel Ground) Bianchi that has the dream cast of Chuck Connors, Bo Svenson, and Robert (Exterminator) Ginty. Ginty plays a religious nut who tortures prostitutes in his basement. Needless to say not only do the pimps get pissed off, but Bo Svenson goes bananas when is old lady is captured by Ginty. Berserk flick in English. Produced by Eurocine, Jess Franco's backers. ORDER
MANCHAS SE SANGRE EN UN COCHE NUEVO (1975) Excellent, scary story about a man who could of saved two lives in a very serious roadside accident, doesn't, and later on suffers the consequences of his actions. Supernatural indictment of apathy. In Spanish. ORDER
MANSION OF THE LIVING DEAD (1981): Spanish language version. This is Jesus Franco's take on the Blind Dead. Watch as a bunch of guys in Don Post skeleton masks and robes gang bang the various chicks they abduct before eating them up, yum yum style. |ORDER|
MANTIS FISTS AND TIGER CLAWS OF SHAOLIN (1977) This flick is one crazy mix of Kung Fu and The Fly. A town corrupted by rotten men has a stranger come in who has every intention of straightening the town out. Unbeknownst to him, he is being aided by a monster mantis who also intends to straighten out the currupt town it's own way. This film is pure entertainment from start to finish, if you like marshal arts and monsters, than you are going to love this! Cast includes chop faves John Cheung, Chu-Chuan Sai and Lik Cheung. ORDER
MARK OF THE DEVIL PART II (1972 aka The Witches) Here is the uncut euro version of the infamouse follow up to the infamouse original. The American edition of this film trimmed down all the sex and violence, the scenes go on a lot longer in this version, which comes off a Dutch master. ORDER
MASSACRE (1987) Crazy, late entry slasher film from the pervert who gave us Buriel Ground. Endless violence and nudity plaque a group of actors working on a low budget film. Lucio Fulci produced this cute little entry in Italian sleaze ball antics. In Italian. ORDER
MASSACRE AT CENTRAL HIGH (1976): Classic revenge melodrama about a new kid on the block who meets with much rejection from his classmates, and pays back there cruelty with his own justice, DEATH. Andrew Stevens and Robert Carradine star. Also, keep your eyes peeled for boner idol Cheryl "Rainbow" Smith. |ORDER|
MASTER OF THE WORLD (1983) Insane Italian made rip-off of Quest for Fire has all the violence you'd come to expect for their cannibal films (in this one a tribe likes to eat the brains of it's victims), as well as the hidden facist messages that make these pasta pics the hoot that they are! Off a nice English language Greek master tape, letterboxed. ORDER
THE MIGHTY CRUSADERS (1958) "...The battle axes of the knights shook the earth of the holy land!" Or so the tagline says! Actually this is a fun Peplum involving the battle between Christian Crusaders and Muslim tribes battle it out (actually very contemporary of todays events). The underhanded Muslims send in their sexy women (Sylva Koscina and Gianna Maria Canale) to seduce and weaken our Christian heroes (Francisco Rabal and Rik Battaglia) but the Holy men are too smart for them! In English. The chicks are hot in this. Plus there's a sexy dance. How can you beat that. ORDER|
MISSION PHANTOM (1967) Here's a caper/euro-spy comedy involving a jewell hiest in Soviet Russia. Great cast includes Fernando Sancho and Eduardo Fajardo, two heroes of the Spaghetti Western genre. Despite this being a comedy, the hiest end of the film is actually very, very clever. Also included in the cast is Ingrid Schöeller, Francesco Mulé and Pietro Martellanza (aka Peter Martell) ORDER|
MELINDA (1972) Rare piece of blacksploitation, this one featuring a narcissistic DJ (Calvin Lockhart) who is lead into a dangerous situation when one of his groupies (Vonetta McGee) is murdered in his apartment. This film was produced by former football star Pervis Atkins, and directed by Hugh A. Robertson, who had edited Midnight Cowboy. Off a 16mm print. ORDER
MEN BEHIND THE SUN (1987) Classic gross out film that tells the story of Japanese war crimes against the Chinese. Very powerful film, excellent commentary on the brutality of war, shame the sequal (MEN BEHIND THE SUN II) turned out to be crass exploitation. In Mandarin Lauguage. ORDER
MIDNIGHT BLUE (1979) Leave it to the Italians to continue being the leaders in the "Good Taste" department. Here is another variant on the "I Spit on Your Grave" sweepstakes in which three young girls enjoying an idyllic vacation on the beach are assaulted by three rapists who have their way with the girls. Needless to say, the girls don't take this lying down, and the revenge is swift and bloody. Ultra rare in English with Greek Subtitles. ORDER|
MILANO TREMA LA POLIZIA VOULE GIUSTIZIA (1973) Directed by Sergio Martino, this psychotic variation on Dirty Harry has Luc Merenda as a low tolerence cop who goes under cover to find out who murdered the police commisioner. What he finds out will shock both you and him. The opening seen of two escaped convics murdering a father and daughter will leave you enraged and screaming for blood. Ultra violent and in Italian. Warning, has nasty 90 second glitch in middle of film. ORDER
EL MONJE LOCO (1984) Fucking crazed, shot on video remake of a flick from 1940. A monk, lusting after a woman, accidently kills her and is forever cursed, turned into an idiot who cackles like a moron, with a hard boiled egg sticking out of his left eye socket. The story then turns into a version of the Monkey's Paw, complete with a corpse bearing a melted face. You will be laughing so fucking hard when you see the scene with the priest and the girl singing Ave Maria, it's dubbed and the two actors can't lip synch to save their lives. Plus the scene of the priest having a nightmare that he is being tempted by a topless woman in a skull mask is worthy of the price of purchase. ORDER
MONDO CANNIBAL (2003) Like I said, to Mattei, it's still 1983. Here, as above, he rips off Cannibal Holocaust, but oh, he does it so very well. Unbelivable bloody, hateful excuse for a film about a group of evil journalists who incite hatred among the underbelly of civilization. When these cannibals hit back, well, watch your intestines. This film does for journalists what Judd Suss did for Jews. IN ITALIAN. ORDER
THE MONSTER AND THE VIRGIN (1978 - Aka Panna A Netvor) Here is another fantastic treat for the eyes. A Czechoslovakian version of Beauty and the Beast, this version is more macabre and loaded with sensual imagery, hence restoring it to it's status as an adult fairy tale. Directed by Juraj Herz, and starring the beautiful Zdena Studenková as Julie, the beast is portrayed as a bird like monster who swoops on prey, both human and animal. Julies love melts the beasts heart. Very imaginative, beautifully shot, this one is a true keeper. With English subtitles. ORDER|
...IL MOSTRO DI FIRENZE (1985) This film is based on real life killings that occured in Italy from the late sixties until the early eighties. A journalist and her boyfriend attempt to uncover the identity of a killer who murders couples in the act of illicit sex in open areas. At times gruesome, but mostly psychological drama. Letterboxed, in Italian. ORDER
MURDER AT THE METRO (1966) written by the same folks who gave us Hand of the Assassin. Rare in an English language version, this Spanish film tells the story of a boxer in trouble with the law because the boxers friend was knifed in a bus station. Could this be a frame up? It's up to you to find out. |ORDER|
THE MURDER CLINIC (1967) Fantasic, gothic, early Giallo has a disfigured killer slashing people to death with a straight edged razor in a very dark and spooky castle. This is a nice, wide and English language version that you have not seen, up to now! This had some showings on channel 9 (WOR TV) in the late 70's but it is often forgotten about and vastly underappreciated. This was part of a triple feature in the early 70's called Orgy of the Living Dead and was know under the title Revenge of the Living Dead. This triple feature also included Mario Bava's Kill Baby Kill as Curse of the Living Dead and Armond De Ossori's Malenka, Lady Vampire here called Fangs of the Living Dead. |ORDER|
THE MURDER GANG (1974): Uncut, off a Greek master. Here is a rare Al Adamson classic featuring Timothy Brown and Russ Tamblyn. It is one of Al's Blaxploitation films that was also known under the title of Black Heat and Girl's Motel. Tim Brown has some run in with gangsters. Features an excruciating scene of some poor shit head having a car back over him a few times. Does that hurt? You tell me! Al Adamson was a really nice fellow but he committed some of the most mean spirited scenes to film ever. |ORDER|
THE MURDER SECRET (1988) Lucio Fulci produced it, Mario (Fast Hand Is Still My Name) Bianchi directed it, and now you must watch it! Poor you... ultra gory flick has members of a family being wiped out in grusome fashion by an unknown assailent. Best part has a noxious youngster having his head chainsawed off. ORDER
MUTINY IN OUTER SPACE (1965) Now here's a long lost treat, an American Sci-Fi treasure fresh from a German DVD, in English and looking damn good. A group of guy and gal astronauts on a space station encounter a nasty space fungus which grows over anything and everything and destroys whatever it consumes. To make matters worse the ships captain is suffering from outer space jitters and has become equally as dangerous as the space fungus. Will our frumpy heros beat down the beastly fungus and equally creepy captain...well, you'll have to buy this to find out! With William Leslie, Dolores Faith, Richard Garland and Harold Lloyd Jr. ORDER|
MY DEAR KILLER (1975): The masterpiece of Giallo films, in which the suave George Hilton plays a detective out to solve the gruesome decapitation murder of a private Dick. Child murder, circular saw death, and other assorted nastiness keep this film way ahead of the other tired shit this genre produced. Uncut, letterboxed, in English off a British master tape. Really, the best of it's type. |ORDER|
EL MYSTERIO DE CYNTHIA BAIRD (1985) Ok folks, hear me out on this, because this one has to be seen to be believed. If Woody Allen ever made a vampire film, this sure as Hell would have been it. This flick is very hard to explain. A couple who stare at a painting by Goya come to believe they are vampires and engage in a series of intellectual discussions about their current condition. And boy do they talk, and talk, and talk. Just like in a Woody Allen film. But at least Woody Allen is funny. This film is funny to, but it isn't trying to be. Now, while this sounds like a disaster, and believe me it is, the last 20 minutes have to be seen to be believed. Not only do you get the most idiotic denouncement ever committed to celluloid, but you get sudden burst of outrageous violence including a girl with fangs being decapitated in one of the phoniest decapitation scenes since The Bloody Ape. Now, this film actually has a decent cast, including Simón Andreu (Night of the Sorcerers) and Susan Taff (Hunchback of the Morgue). I think the problem was with the director, José María Zabalza. This guy was the alcoholic behind Paul Naschy's Fury of the Wolfman. Hence, there should be no further explaination needed. Obviously shot in the 70's but not released until the 80's, your biggest question will be "should this have been released at all?" |ORDER|
THE MYSTERIOUS SWORDSMAN (1956) An Italian period piece costume drama complete with swordplay, torture chambers and all sorts of skullduggery. When an Italian could makes an allience with Spanish forces the Counts right hand man rebels but is ambushed and left for dead. But he survives and decides to pick off the Count and his new Spanish buddies one by one. Fun and very rare picture off a Greek master tape in English with Greek subs. ORDER
NAPOLI SERENATA CALIBRO 9 (1978) A mafia Don (Mario Merola looking like John Goodman) witnesses the death of his wife and son at the hands of a rival gang during the sons Holy Communion party. From that point on he becomes a revenge machine intent on whiping out the thugs that killed his son. Brutal revenge flick that will have you on the edge of your seat. In Italian with English subtitles. ORDER|
NAKED MASSACRE (1977) Insane film set in Ireland during some nasty IRA bombings. A crazed Vietnam vet decides to pull a Richard Speck and rape and murder a group of nurses lodging together in an apartment complex. Extremely unpleasent film that you wont see the likes of ever again. Long out of print on video, and fetching outragious amounts on Ebay, get your clean, crisp copy right here. ORDER
A NAME FOR EVIL (1973): Robert Culp and Samantha Eggar play a married couple experiencing some serious stress as they attempt to restore the mansion of one of Culps dead relatives. Extremely surreal, I swore someone dropped something funny in my drink when I watched this, I had no clue what I was in store for... orgy scenes with plentiful male and female nudity, people having sex underwater, and Culp looking and acting like some whacked out femme on acid, this is one of the best films I've seen in years... go for it! |ORDER|
NATHALIE - ESCAPE FROM HELL (1978) Russian girl is used for the sexual pleasure of Nazi's until she decides to liberate herself and other reluctant house guests. With the incredible Jack Taylor as a sympathetic Nazi. In English with Dutch subtitles. ORDER
NEST OF THE CUCKOO BIRDS (1965) An agent for the liquor control department of the good ol' U.S. of A. finds himself stuck in a nightmare when investigates a group of moonshiners operating out of the remote Cuckoo Bird Inn. To make matters worse, there is a killer on the roam and our hero must unmask this killer or forever end up in the Nest of the Cuckoo Birds. This is a weird backwoods horror that is very much in the tradition of S.F. Brownrigg. ORDER|
THE NEW ADVENTURES OF SNOW WHITE (1969) English language edition of Grimms Fairy Tales For Adults. While still somewhat cut, this flick has enough sex and violence to blow your mind. I saw it on the cable station Escapade when I was a kid and it changed my view on cinema forever. Those wicked stepsisters cutting off their toes to fit their feet in the glass slipper has to be seen to be believed. ORDER
NIGHT AFTER NIGHT, AFTER NIGHT... (1969): Unusually sleazy entry in to British sexploitation as a psycho judge dresses in leather and slices up girls he deems naughty. One scene has him putting on lipstick and a wig, which has to be seen to be believed. Really gets to the heart of the British male, and helps you understand the whole glam thing. One great scene involves an English police woman putting on a pair of Garter belts. If I seem like a pervert, don't be confused, I really am. Uncut off a Greek master. |ORDER|
NIGHT OF A THOUSAND CATS (1972) Rene Cardona Jr. classic has Hugo Stiglitz as a rich idiot who rides around in a helecopter looking for big titted woman to seduce and later behead. He feeds their remains to his cats. Here is an uncut version in English with Dutch subtitles. I also have an uncut version in Spanish on my Mexican page. ORDER
NIGHT OF THE GREAT ATTACK (1955) When a house of Royals is under besige from the Borgias, an exiled nobleman arrives with his band of merry men to help drive back the Borgias from where they came. Excellent costume melodrama featuring the always charming Sergio Fantoni as Marco, the hero who gives the Borgias something to think about. Lots of betrayal and plot and counter plot. If you are a fan of Italian costume pictures, than this one is for you. With Fausto Tozzi and Giacomo Rossi Stuart. ORDER|
NIGHT OF THE SORCERERS (1974) Now, we formally (and still do) offer the less cut, better quality Spanish language version, but here is the completely uncut, English language version off a Dutch master, the only problem being that the night scenes are transferred a tad too dark, otherwise the rest of the films quality is just fine. Loaded with reems of violence and nudity. The old Unicorn tape used a 16mm TV print. This is the one you were looking for. ORDER
NIGHT OF VIOLENCE (1965) What a great little find this baby is. Crazed Italian entree in to what genre I'm not quite sure, but this great flick involves women being picked off one by one by some mask wearing weirdo in a park. The first victim is a prostitute who as it turns out was actually being blackmailed into prostitution. This in turn leads to an investigation with one of the most unlikely and unexpected conclusions in a horror film from this period. One of those "What the fuck moments". Lurid subject matter against a backdrop of sleaze complete with a monster, what more do you want! With the incredible Alberto Lupo (of Atom Age Vampire). Great B/W photography is the cherry on top of this fantastic ice cream sunday. In Italian with English subtitles. |ORDER|
NIGHT THEY KILLED RASPUTIN (1961) Fantastic and very sexy telling of the exploits of Rasputin and his galfriend the Czarina. Edmund Purdom is a gem as Rasputin. Gina Maria Canale is the hot Czarina. Early sixties tittlation. With John Drew Barrymore. ORDER Shot in Eastmancolor, the only prints available to the America's were 16mm B/W TV prints. However, I also carry a German language Eastmancolor version that is ultra rare, you can get this right HERE!
NIGHTMARE CASTLE (1965): This rare, uncut B/W beauty comes from a Greek tape off their Midnight Video cult label. This tape is in French, but well worth the purchase as it is the complete, 100 minute version, featuring all the torture, sexual innuendo, that was cut from the American prints.This is Barbara Steeles most haunting picture, and features her in a dual role. She is the intended victim of a mad doctor, as well as the ghost of a previous victim. I still say this is her scariest film. |ORDER|
NO ALLA VIOLENZA (1977) Aka Death Hunt. Insane cop vs. crooks film has the badguys accidently killing the child of an innocent stranger. He goes after the crooks with more violence than the cops do. Nudity, torture, rape, this is one of the most nialistic hate films I've ever scene.You'll love to hate it. In Italian. ORDER
NO BLADE OF GRASS (1970) Cornel Wilde takes a crack at directing this tale of how pollution and a terrible virus has just about wiped out mankind and how a few survivors cope with a bad situation. Add a decadent motocycle gang to the proceedings and you know you've got a whopper of a film. With Nigel Davenport and Lynn Frederick. ORDER
NOSFERATU IN VENEDIG (AKA NOSFERATU IN VENICE 1988): Stylish film made in Italy but presented here in its German language version. Directed by Agusto Caminito, this sort of sequel to the Herzog Nosferatu has Kinski as a glam vampire with long hair, dressed to the nines and putting the bite on many lovelies. I also have it in English language, but the quality is not as good as this. Not a hard film to follow, so pick it up. |ORDER|
LA NOTTE DEL DIAVOLI (1972) Directed by Giorgio (Mill of the Stone Women) Ferroni, this brutal telling of Tolstoy's The Wurdalak has Gianni Garko on the run from a family of vampires. The usual Italian nastiness abounds. In English, uncut, upgrade!. ORDER
NUDE IN A WHITE CAR (1958-Aka Night is Not for Sleep) A man is accosted by a beautiful young woman after she gives herself to him sexually. The assault failsand the man tracks down her license plate number, which in turn takes him to a housse of two twin sisters. One is a cripple. She can't possibly be the one who attacked him, or is she...you'll need to see this to finsd out. Another masterpiece from Robert Hossein (who gave us The Vampire of Dusseldorf). In French with English subtitles. This film is a gem! With Robert Hossein, Marina Vlady. ORDER|
THE NUN AND THE TORTURE (1983) Brazilian made exploitation flick involving a cop of upstanding principals arresting and interrigating a supposed political prisoner only to find out she was once a nun. Kind of in the Night Porter tradition. In Portuguese, no English or subtitles in English, you're on your own with this one. ORDER
OBRAS MAESTRAS DEL TERROR (1961): This is the uncut, Spanish language version of The Master of Horror, which showman Jack Harris released here in '63, missing a segment as well as some great footage! Directed with flair by the underrated Enrique Carreras and starring the Spanish Vincent Price, Narcisco Ibanez Menta, who is brilliant, playing lead in all three stories, M. Valdemar, Cask of Amontillado, and Tell Tale Heart. Its rarity makes it a must! |ORDER|
OASIS OF THE ZOMBIES (1981): Retarded Jesus Franco entry into the Zombie genre, this tape coming from Spain, it is in Spanish, but the image is dandy and the moldy zombies look great! A group of ambushed Nazi zombies protect hidden treasure in a desert oasis. Girls in short shorts disrupt the tranquility. You know what ensues. Have fun! |ORDER|
L' OCCHIO NEL LABIRINTO (1971) Aka Blood. A fantastic giallo, directed by Mario Caiano, has a woman plaqued by nightmares in which she witnesses her lover being slain by a knife wielding maniac. She enlists the aid of a gangster and his group of dregs but the help she receives producers worse results. This beautifully shot film is presented in widescreen format and the quality is fantastic. In Italian. ORDER
OFF BALANCE (1981): Excellent, uncut Greek master, in English, of Ruggerio Deodatos PHANTOM OF DEATH. This is a stylish yet truly disturbing film, as pianist Micheal York begins to age prematurely from a disease with no cure. In order to keep his dilemma private, he is forced to kill all those who know. Will detective Donald Pleasance catch him in time? Check it out and find out! |ORDER|
THE ONE ARMED EXECUTIONER (1983) From the Philippines and their pride and joy Bobby Suarez comes this tale of a former detective who has his arm hacked off and is forced to watch his bride being slaughtered by IBM thugs. Needless to say, he gets his act together and becomes the one armed executioner, slicing and dicing bad guys left and right. Great, no budget action film that will leave you draw dropped. In English with Dutch subtitles. ORDER
ONE EYED SOLDIERS (1966) Real fun spy antics involving an American reporter (Dale Robertson) teaming up with a woman (Luciana Palluzi) and a fat criminal (Guy Deghy acting like Sydney Greenstreet) to find out the secret hiding place of a treasure under some religeous monuments. A horrible killer drawf (Mile Avramovic) gums up the works. This is an Italian, Yugoslavian and British co-production. Off a British master and letterboxed. ORDER
OPEN SEASON (1972) Great, fucked up, anti-American horror produced in Spain, directed by an Englishman (Peter Collinson), and starring Peter Fonda, Richard Lynch and John Phillip Law as three crazed Vietnam vets who like to hunt people down in the woods. William Holden gets to even the score in this one. The three vets are played as rich boys who already commited atrocities in college and went into Vietnam just to improve their killing skills. I have no clue why thoughts of the Bush family kept running through my mind while I was watching this. In English with Greek Subtitles. Don't pass this up! ORDER
ORGASMO NERO (1979 aka Sex and Black Magic, Vodoo Baby) Joe D' Amato stricking again with anothert of his Carribian shot excursions into sex and violence. This tale of local vodoo has looks of innard chewing and cock sucking, can you go wrong? Widescreen, in German with English Subtitles. With Richard Harrison. ORDER
L' OSSESSA (1974) Another in a long line of Italian made rip-offs of the Exorcist. A woman studying ancient Italian religeous artifacts is raped when the statue of a demon comes to life. There after she exhibits all the usual signs of demonic possession. This version comes off a German cassette which actually contains over two minutes of additional footage not found in the public domain DVD know as The Erie Midnight Horror Show. This print is also letterboxed. Well worth your time. ORDER|
PANIC CITY (1975): This may very well be William Girdlers best film. A crazy man in black face commits horrendous murders in Kentucky. Kind of like an angry Al Jolson on acid. Has to be seen to be believed. |ORDER|
THE PARALLEL CORPSE (1982) This is a fantastic Danish made thriller available here in English with Spanish subtitles. A man murders his mistresss, who was actually his current wifes daughter from a previous marriage. He hides her corpse in a coffin in a mortuary, only to have the man who cremates the corpses discover her body. But rather than turn the killer over to the police, he in turn decides to blackmail the killer, which in turn has disasterous results. There is no honor among theives. ORDER|
PASSPORT FOR A CORPSE (1962) This little gem is brilliant. A combo crime/caper film combined with a horror element (lifted from Edgar Allan Poe) and shot in stunning B/Wwith all the feel of a classic film noir. A criminal pulls a caper and learns the hard way that crossing a boarder to get away with theft can be very difficult. Alberto Lupo excells as the theif who has to hide in a coffin in order to get across the boarder while his girlfriend waits for him on the other side. Directed by Mario Gariazzo, who gave us The Eerie Midnight Horror Show (1974) as well as countless other explitation and spaghetti western films. This film does a better job at capturing the essence of Edgar Allan Poe than modst films that actually adapt his work. In English with one small section in Italian with English subs. |ORDER|
PATRICK VIVA ANCORA (1980): This is an extreemly ugly movie by the Italian master of good taste, Mario (Giallo A' Venenzia) Landi. This fucked up remake of the Australian film Patrick (1978), has our bedridden telepath causing vile sexual distruction in a clinic for mental disorders. One lovely scene features horror heroin fave Maria Angela Giordan (Buriel Ground) having a fire place poker shoved through her vagina untill it emerges through her mouth! All this in full view of the camera. You'll think very differently about penetrating pussy after you see this. Featuring lots of nude Italian chicks, who are built to kill! After watching this, if you don't agree that the Italians are the masters of the horror film, you must be dead! In Italian. |ORDER|
PENDULUM (1969) Here is an excellent and tense mystery film featuring George Peppard as a detective trying to put away a psycho who's been put back on the streets by a liberal lawyer. When Peppards wife (Jean Seberg) is killed along with her lover, Peppard is accused of the crime and finds himself in the position of having to hire the very same lawyer who set his psycho prisoner loose. This film is top notch in just about every department, and the fantastic cast includes Richard Kiley as the liberal lawyer as well as Robert Lyons as the psycho and Madeleine Sherwood as his mother. ORDER|
PERFUME OF THE LADY IN BLACK (1974) Brilliant Italian giallo, very much in the vein of Polanski's The Tenant. Mimsy Farmer is brilliant as the girl who may or may not be mad as a hatter, because if she isn't mad her neighbors are certainly the most sinister group of cultists since the Manson family. Great, gory, surreal, and very disturbing. In English, and letterboxed. ORDER
PETS (1973): Psychosexual madness from director Ralph Nussbaum which features Candice Rialson as a hot piece of ass who lives out some fun and horrific experiences while thumbing on the sunset strip. The piece de resistance involves some psycho who keeps gals locked up like caged animals in his basement. |ORDER|
PHANTOM OF THE OPERA (1990) Ok, here is a complete DVD of Andrew Loyd Webbers play Phantom of the Opera.It features Michael Crawford as the Phantom, and it's from a 1990 version of the play preformed in LA California. I don't have to tell you that as far as the stage version goes, Michael Crawford was and still is the ONLY Phantom. This version also featured Steve Barton as Raoul and Dale Kristien as Christine. This is an audience shot on the fly video, not bad by those standards, and is well worth watching. This is very rare, so snap it up quick! Enjoy! ORDER|
PHOBIA (1980) Ultra rare excursion into horror from director John Huston. Victims at a phobia crises center and being killed in ways they fear the most. Who's the Killer? Perhabs it's psychiatrist Paul Michael Glaser, then again maybe it's not! Off a rare Euro master. ORDER
PLAISIR A TROIS (1973) Jesus Franco strikes again, this time with a story of a husband and wife team who like to embalm young women and leave them like trophies in their basement. However, one of our lovely couple gets the tables turned on them, buy this flick and find out. A ultra rare Franco excursion into breasts and blood. With Alice Arno and Robert Woods. In French. ORDER
PLEASE DON'T TOUCH ME (1963) From the crazy minds of June and Ron Ormond come this exorcise in sexual frigidity. Ruth Blair plays Vicki, a young lady who cannot have sex with her husband(former Western star Lash LaRue). He sends her to all sorts of doctors who trie to cure her using all sorts of crackpot contraptions. The film takes the time to explore the history of fridgidity through the ages and we get all sorts of historical recreations and various other horseshit. The leading lady has a huge set of watermelons and for her alone this film is well worth watching. One of the Ormonds more accomplised efforts. ORDER|
PLANETS AGAINST US (1962) A very surreal Italian sci-fi that used to scare me when I was a kid watching it on TV. Michael Lemoine plays a man killed by aliens who use his body to make replica robots. This robiots have the power to reduce people to skeletons just by touching them. Arty and unique, this flick is very rare and comes off a beatuful European DVD complete with an English dialog track. Very much worth it if your a sci-fi fan who can appreciate the films artistic ambitions. ORDER|
PLAY MOTEL (1975) Ultra rare giallo that features Ray Lovelock in a tale of a Motel that has a playroom designed for more interesting sexual liasons. The place also makes a habit of photographing the sexual encounters and blackmailing the parties involved. Add to this a black gloved killer and some hardcore inserts and you have one of the weirdest giallos your ever going to see. Letterboxed, in Italian. ORDER
PLOT OF FEAR (1976) Excellent Giallo from the Giallo fave Paolo (Black Belly of the Tarantula) Cavara, this gem has Eli Wallach as a private detective who keeps running into trouble with an inspector over who is killing off a bunch of rich people who had ties to an Animal Protection organization. This film is lots of fun, grand Giallo with some cool inventive murders. Cast includes Michele Placido, John Steiner and Tom Skerrit. ORDER
POLICE PYTHON 357 (1976) The police superintendent Ferrot (Yves Montand) is a cop with unconventional methods who usually works all alone. He makes the acquaintance of a young woman Sylvia Léopardi (Stefania Sandrelli) and becomes her lover while ignoring that she has another lover: his superior Ganay (François Périer). When the latter learns it, he kills her in a fit of anger. Ferrot has to investigate the murder and all the clues are inexorably against him...Fantastic French cop drama featuring a top notch cast in English. ORDER
POLIZIA SELVAGGIA (1977 - Aka Cani) Insane home invasion Turkish/Italian co-production. A psycopathic nut job breaks loose from prison and decides to hold out at the house of a blind man who lives with his daughter and niece. The nut job puts them through all sorts of torture until inspector Murat shows up and he's intent to take this nut in by any means possible. This is a completely uncut version of this film, with violence and nudity intact, and English subtitles to boot. Can't beat that. With Tarik Ahan, Karin Well. ORDER
PRISON GIRLS (1972) Despite the title, most of the action in this film takes place outside a prison, not in it. The flimsy plot involves six inmates given a weekend reprieve. Naturally, the bulk of the plot follows their sexual adventures once they get out from behuind the bars. The treat with this digitally enhanced version is you get to see the pultritude of Uschi (Vixen) Digard, Annik(Werewolf Woman) Borel and Marsha (Count Yorga) Jordan coming right at ya! Now how can you beat that? This is a flat (no pun intended) version though I also have a 3-D version on the 3-D page. ORDER
PRISONER IN THE IRON MASK (1961) which tells of a creepy count who poisons a lord and makes a mockery of the kingdom. The lords son ends up in the iron mask, but it wont be long before some of his buddies come to save him. In the meantime there's plenty of torture and rotten behavior. From a French TV showing but with English subtitles. Of course an Italian production. Dig it! ORDER|
PSYCHEDELIC FEVER (1967): Here is an interesting nudie flick which tries to pass itself off as an exploration of the 60's drug culture. You'll learn more about big tits than the effects of drugs. |ORDER|
THE PYJAMA GIRL CASE (1978): More crazy Giallo nonsense from those wacky Guineas over in Italy. This work of art features Ray Milland as a real gruff detective who delights in being a wise guy and humiliating suspects. The case involves a young girls dead body, identifiable only because of her yellow pyjamas, as her face has been torn off. Will Milland solve the case, well, buy this film and find out. Uncut and letterboxed, off a lovely British master. |ORDER|
QUEEN KONG (1976): Long surpressed by Dino DeLaurentiis, this Italian spoof of King Kong starring British clown Robin Askwith is ultra rare, in English, and comes off a faded but nice print. Directed by Frank Agrama, who gave us the amusing Dawn of the Mummy. |ORDER|
QUEEN OF THE ZOMBIES (1979): Now, it does not get any better than this. Here is the hard-core, totally uncut version of Joe D'Amato's classic Zombie and sex opus, EROTIC NIGHTS OF THE LIVING DEAD. Now you can watch cocks get sucked and necks get ripped open in the same arena. Us Italians are real weird, we miss the hedonistic days of the Roman Coliseums, and since public bloodletting is no longer allowed, we subliment by making films like this. George Eastman battles the sultry Laura Gemser who, as the Queen of the Zombies, leads a pack of cloth wrapped zombies against some sex loving folks who come to her island. She even bites off some poor schmucks wang while playing his flute! Does that hurt? You tell me! Available exclusively from me, come and get it. Runs a whopping 106 minutes. (In German). |ORDER|
RAGE (1966) Bit by a rabid dog in Mexico, a doctor (Glenn Ford) goes overland with a prostitute (Stella Stevens) to get treated in time. Along the way he runs into every road block from hell, including a bridge ready to fall apart, a jeep that keeps overheating, and even a school bus full of horrible school children who make loud noises at him, further increasing his on coming madness. This is a very suspenseful American/Mexican co-production that features a ton of charactor actors from the Mexican horror films including Armando Silvestre, Ariadne Welter, José Elías Moreno and more. Plus you got Stella Stevens, who is so hot in this film that you'll be foaming at the mouth.Also, check out our made for TV version of this story called A Cry in the Wilderness on page two of the TV movie section |ORDER|
THE RAPE AFTER (1986) A semi sequel to Devil Fetus telling a similar story of how a playboy takes off with a grotesque idol that ends up raping his girlfriend and making her pregnant. You oughta see what happens when she goes to get an abortion. Grotesque beyond beliefe, completely uncut and with English subtitles you can read. If you're a fan of this asian stuff don't pass it over. ORDER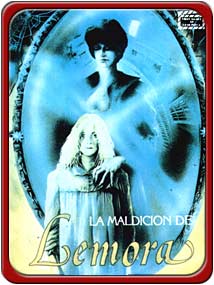 RAPE OF THE VAMPIRE (1967): Jean Rollin's first vampire flick, shot in eerie Black & White, presented here from its beautiful British master, in French with English subtitles. Brilliant surreal nonsense from the pretentious French, this flick has a scientist desperately seeking a cure for vampirism before the Queen of the Vampires can enslave the world (or at least France). Very rare but well worth the wait. If you like Requiem, then check this out. |ORDER|
RAPE SQUAD(1974 Aka Act of Vengence) Crazy movie directed by Count Yorga, Vampire director Bob Kelljin. A group of women, raped by the same idiot in a hockey mask (yes folks, this beats out the Friday the 13th films in it's depiction of a masked assailent.)., form a Rape Squad, a short of defence group designed to protect women from rape. Unfortunatly, the rapest is one step a head of then a plans a rather nasty trap for them. Excellent, sleazy entry to the "Rape and Revenge" genre started by Last House on the Left. This piece of trash had originally been released by AIP (American International Pictures). It's long out of print on video and never came to DVD. Get it here, get it now. ORDER
RAPIST OF VIRGIN GIRLS (1983) Ok, I've topped myself with this piece of shit. This is a Brazillian film involving a syndicate who kidnaps virgin girls to pimp off to hideous old fart clients with lots of money. This film is in Potuguese with English subtitles. Basically it's a cop film with the good guys trying to topple this ring of perverts, but it's loaded with excessive nudity and violence. Any Cinefear fan is gonna love this. ORDER
RASPOUTINE (1954) Fascinating French film shot in color with Pierre Brasseur as Rasputin. Strange film that is sort of lighthearted and whimsical, with musical numbers. Very surreal, and worthy of having iof your a Rasputin nut. In French with Greek Subtitles. ORDER
RASPUTIN AND THE EMPRESS (1932) Long out of print classic from Hollywoods golden days has all three Barrymore's, Lionel, Ethel and John telling the story of Rasputin and his effect on the Royal Russian Court. Fun Hollywood stuff made all the more lively by Lionel as Rasputin. ORDER
RASPUTIN - DAMON DER FRAUEN (1932) Kick ass version of the Rasputin story with Conrad Veidt in the role of the bearded Holy Man. Interesting German take on Rasputin that is strong in sympathy to the downed mink. Fantastic German filmmaking, and rare as Hell. In German. ORDER
RASPUTIN - DARK SERVENT OF DESTINY (1996) Perhaps the best adaption of the Rasputin story, with Alan Rickman really giving an outstanding performance as the conflicted monk. Grand production that is both lavish and grusome. ORDER
RASPUTIN - LA TRAGEDIE IMPERIALE (1938) Another fantastic telling of the Rasputin story, featuring some effective violence and gore. Henry Baur plays Rasputin turning in a performance worthy of the best of them. Beautiful filmmaking. Rare. A French film dubbed into Italian. ORDER
RASPUTIN - ORGIEN AM ZARENHOF (1983): A XXX rated version of the life of Cinefears hero Rasputin, a fun loving monk who toppled the monarchy of Russia only to allow a new army of thieves to run it. This film follows this fun loving man of God as he fucks the living shit out of the nobles wives and survives death attempts at every turn. Violence and hard-core sex, how can you go wrong. A rip-off of Caligula only using a different historical character. A German film dubbed in English and letterboxed. |ORDER|
RAVAGERS (1979) Really, this film is quite awful, but it's sytill fun viewing to watch stars like Richard Harris, Ernest Borgnine, Art Carney and Ann Turkel walk around like folks with blindfolds on trying to find a plot in this silly sci-fi end of the world flick that just doesn't cut it. ORDER
THE REBEL (1980) Incredible Euro crime thriller featuring the magnificant Maurizio Merli as a bodyguard for hire who is employed to protect a German industrialist. When the German is killed, Merli is forced to impersinate one of the hitmen in an effort to infiltrate a society of international killers. Another great action filled Italian spectacular, this title is actually quite rare. From a Japanese laser disc in English with Japanese subtitles. ORDER|
REDNECK (1972) Ultra insane Italian gangster flick has Franco Nero and Telly Savallas as two jerks who hold up a Jewlry store and kill the proprietor in the process. They attempt to run for it kidnapping a little rich kid in the process. If you think you've seen Savallas overact before, you ain't seen nothing yet. He is so over the top in this role as an out of place Southerner, that the performance translates into outright comedy. Add to this Franco Nero's odd relationship with the kidnapped Mark Lester (one scene has Nero in the buff while the kid watches him in awe), and this film is no doubt one of the most degenerate Italy has ever released. Off a nice Dutch master. ORDER
RED HOT SHOT (1970) Considered by many to be psychedelic noir, this Italian police flick is part noir, giallo and pure 100% madness. I promise you you're head will throbe when this one is over. The head of a pharmaceutical company, suspected of dealing in drugs, is murdered before he can go on trial. there after, several other 'bad guys"manage to die in various ways. Is someone doing the polices work for them? I sweart on Gods good name, I carry some of the weirdest films ever made. this one simply blew my brain right out of my head. Sometimes I think these films were made by our enemies to scramble our brains. That's this film. ORDER|
RED LIGHT GIRLS (1977) Ok trash fanatics, here is truly a treat. This is a composite, you have the violent crime drama/Giallo Prostituzione complete with additional hardcore/softcore added footage for the pervert set. The murder of a prostitute leads to an investigation which in turn leads us to a ton of red herrings all of whom could easily be the killer. During the investigation, we get to see prostitutes and their johns doing their thing. Some of thse activities are very kinky. This is the type of movie that you really need to take a shower after you watch it. In Italian with English subtitles. Quality varies from scene to scene but this is the most complete print you will ever see. ORDER|
REPORT TO THE COMISSIONER (1975) Excellent film starring Michael Moriarity, Tony King, Yaphet Kotto, Susan Blakely, Bob Balaban, William Devane, Richard Gere, Vic Tayback. Idiot idealistic cop ends up botching an assignment and killing a police woman who is undercover. Fantastic action drama that is tense, gritty and truly captivating. Long out of print on video and not available on DVD. ORDER
REPTILICUS (1962) Here is the original, Danish language/cut of thefilm, and believe me, it's a completely different version from the American cut. This one also features a musical number or two. No, we are not kidding. You have to see it to believe it. ORDER
REQUIEM FOR A VAMPIRE (1970): Jean Rollin classic, uncut and in English, off a Dutch import. One of Rollin's best films and a true treat on the eyes. When some petty gangsters get wiped out in a shoot out, the two remaining molls seek shelter in a deserted chateau, unaware that it is inhabited by a cult of vampires. There are more lovely naked bodies on view in this film than you can shake a stick at! Initially we offered this full uncut version off a beat up french master, in French, but this find is a real treat, so scoff it up! |ORDER|
RETURN OF A STRANGER (1961) A kind of small scale version of Cape Fear (1962) only made a year before it. This is a British production produced by the Danzigers, who gave us The Tell Tale Heart in 1960. Wriiten by Brian Clemens, this short fast thriller involves a man (John Ireland) who's wife is being tormented by a former lover. Things turn deadly when the crazed former lover decides to eliminate whoever stands in his way. |ORDER|
REVOLT IN THE HOUSE OF USHER (1983) This is the spanish language cut of Franco's which is actually very different from the French cut known as Revenge in the House of Usher. This cut makes for a much more interesting story plus features more gore and sex, while the French cut had footage not directed by Franco plus snippets from Awful Dr. Orloff. Stay with this version instead. With English subtitles. ORDER|
RING AROUND THE WORLD (1966) Richard Harrisson plays an insurance investigator who is investigating what might be a seriers of murders that might be committed by an assasin (Giacomo Rossi-Stuart ) who just might be shooting the said victims with bullets made of ice (!) This is a fun Euro spy combo krimi featuring a great cast plus a plane-and-parachute stunt that would be ripped off in the James Bond film Moonraker. Fun stuff written by Ernesto Gastaldi. ORDER|
RING OF DARKNESS (1979) In Italy in the late 70's they did a series of truly weird films that attempted to rip off Omen, but they'd also add elements of Exorcist and Rosemary's Baby to the stew, resulting in films like this. Anne Heyward plays the mother of a daughter who is possesed by evil. Turns out Heyward and her co-horts were Pagans who accidently made a deal with the Devil and now have to accept the fact that their kids were part of the deal. Highlights include a nude Anne having a battle of the will with her nude daughter (I kid you not). In fact, there's lots of nudity, violence and stupidity to keep you glued to your seat. Get this one while you still have a sense of humor! Oddly enough this film includes a stellar cast with Frank Findlay, John Phillip Law, Ian Bannen and Marisa Mell. ORDER|
ROAD TO SALINA (1970) Here's a rather interesting giallo styled thtiller with a largly American cast (Rita Hayworth, Robert Walker Jr, Ed Begley and a nude Mimsy Farmer) put in a French setting. Long since out of print on VHS tape, and no DVD release in sight, so get it here! ORDER
SALDIRGANLER (1979) Turkish version of I Spit on Your Grave. That's all I should have to say, other than it also features nudity and violence galore! The chick is hot, to say the least. And the action is cheesy and skeezy. No English subs but you don't need then, the film is very easy to figure out. Fun stuff. ORDER
SALT IN THE WOUND (1971) Fantastic WWII picture starring Klaus Kinski and George Hilton as Americans fighting in Europe enduring an ambush by Nazi's and having to take refuge in a small Italian villiage. Kinski is fantastic as a U.S. soldier who likes to steal but is still morally sound than Hilton, who plays a psychotic West Point commander who decisions cause more grief and death than the whole war combined. Violent, suspensful, and loaded with action. ORDER
SAMSON AGAINST THE PIRATES (1963) Samson, ship wrecked on an island, comes to the aid of a beautiful woman who has been left as crocodile bait by a band of ruthless pirates who kidnap women and sell them as slaves. Samson doesn't take this lying down and goes up face to face with the pirates, kicking some serious pirate ass! Grand style fun, a weird mix of the peplum and pirate genre bound to please the die hards. With Kirk Morris and Margaret Lee. In English and widescreen. ORDER|
SATANIK (1968) Here is a lovely copy of an age old favorite, this one coming off a Euro DVD but with the English track laid over it. Magda Kanopka excels as an ugly scientist who kills her mentor over a beauty serum. Once she takes it, she turns into a ravishing beauty who becomes a big time international thief. However, INTERPOL is after here and every country she goes running too, they show up. Will they finally catch this criminal mastermind? Will her beauty potion hold up or will she turn into the withered old hag she was? You'll find out by buying this DVD. This version is complete and uncut, featuring the nudity usually removed from the 16mm prints. ORDER|
SATANAS DE TODOS LOS HORRORES (1972 - Satan of All Horrors) A version of Poes Fall of the House of Usher only director julian solar tosses in devil worship, cardboard sets that crack and crumble, and silly monster masks that make you laugh out loud. Lots of fun!!! In Spanish. ORDER
SATAN'S SLAVE (1976): Whacked out Norman J. Warren flick featuring the hateful Michael Gough as a Satanist who's nice is next in line for sacrifice. Warren, who claimed that my Bloody Ape film was offensive, treats us to such classy images as some poor joker getting a spike in his eye, as well as a knife trailing across some woman's nipples, and makes me wonder what came first, the apple or the tree? Off a Euro import, great quality but suffering from a minor tracking problem at the bottom of the screen for the first few minutes. To add to the fun we include a documentary on Warren called All You Need is Blood. Worth selling your soul for. |ORDER|
SCALPEL (1977-Aka False Face) This is a surprisingly good film. a combo of the "mad Surgeon" genre mixed in with a "caper" film, Robert Lansing outdoes himself as surgeon with little or no morals, who kills his wife, her brother, and when his daughter goes missing takes a beat up topless dancer and restores her features to resemble his daughter so that she can claim an inheritence. Problems develope when the real daughter shows back up. Great cast includes Judith Chapman as both daughter/dancer, and Arlen Dean Snyder as the uncle. Don't miss this. ORDER|
THE SCARLET BLADE (1964 - Aka The Crimson Blade) Now here's a rare swashbuckler put out by Hammer films in 1964. Tells of a loyalist soldier (Jack Hedley) who must save King Charles the 1st from the evil Col. Judd (Lionel Jeffries) and his assistant Sylvester (Oliver Reed) who are taking him to be executed by Cromwells Roundheads. Fun action film, long out of circulation due to no VHS or DVD releases finally sees the light of day on a georgeous Euro DVD. If you're an Oliver Reed fan, this is a must. ORDER
SCHOOLGIRLS IN CHAINS (1972) Backwoods potboiler about a bunch of BOF type characters who kidnap young ladies for adult party games to be conducted in the basement. A classic of it's type. ORDER
THE SCORPION WITH TWO TAILS (1982): Originally known as Murder in the Etruscan Cemetery, this is a very hard to find Giallo from Italy, now available from a Greek master straight to you and your family, with best wishes from me! Maggots, bats and other indignities assault our Italian friends in this convoluted murder mystery. Type of film you will feel like DIGGING out once and again. Ok, I'll give it a break. |ORDER|
SECRET AGENT FIREBALL (1965- Aka The Spy Killers) Here is perhaps one of the best Euro spy films ever produced. Starring Richard Harrison, who would go on to do a slew of Spaghetti Westerns there after. Here he plays a James Bond inspired spy who is out to locate a missing soviet scientist before the soviets themselves find him. Plot and counter plot, this film has twists and turns that will keep you glued to your seat. Great supporting cast including Wandisa Guida and Alan Collins as a live action Boris and Natascha. And Dominique Boschero as the women in trouble who is also Harrisons love interest. Off a georgeous euro DVD complete with English soundtrack. Can you ask for anything more? |ORDER|
THE SECRET OF DORIAN GREY (1970) Excellent, homo erotic version of the Oscar Wilde story of the dangers of being gay. Helmut Berger is excellent as Dorian, loving them and leaving them (both men and women), and causing all sorts of misery with his rotten self indulgence. Herbert Lom is the ellitest pig who corrupts him. The footage of Lom soaping up Helmuts back in the shower has to be seen to be believed. Lom is a class act, having played the Witchhunter in Mark of the Devil, Simon LeGree in Uncle Toms Cabin and now this panzie. Only in the sixties could you do exploitation films and family fare like The Pink Panther. Uncut off a Greek master in English with Greek subs. ORDER
SENSITIVITA (1979- Aka House By The Edge of The Lake) Here is a very rare erotic thrilled directed by Enzo Castellari. A You woman returns to the town that her mother had drowned in many years before. Whenever this young lady has sex with one of the towns people, they end up dead a short time later. Is she killing them, or is it her mother returning from the grave. Well, by the end of the film you may not know anymore than I do, but along the way you'll be treated to a top notch visual treat complete with a great cast including Vincent Gardenia, Leonora Fani, Wolfango Soldati, and Patricia Adriani. Lots of nudity, simulated sex, and violence will hold your attention. In Italian with English subtitles. |ORDER|
SEX, DEMONS AND DEATH (1975) Strange mish mash of Giallo and the supernatural, this flick has Magda Konopka's daughter Franca Gonella exhibiting some very strange behavior after an encouter with a demon. Gabriele Tinti has to come to blows with the psycho/possesed teen. All the sex, violence and nudity you come to expect from Italian cinema. In Italian with English subtitles. ORDER
SEXO SANGRIENTO (1981) This is another erotic and brutal piece of delirium. A psychic and her two lesbian friends end up at the house of a psychotic female painter and her equally disturbed son. Before you can say "stabbed in the crotch", the crazed painter has begun seducing and murdering her house guests. This movie is exploitation from start to finish, loaded with nudity and violence. How can you go wrong with that?! With Spanish horror fave Mirta Miller. In Spanish with English subtitles. ORDER|
I SETTE GLADIATORI (196?) Richard Harrison stars as a gladiator fighting for life and love in blood strewn Rome. Directed by Mario Corbucci, a master in the genre. A must of you're a completest. In Italian. ORDER
SETTE DONNI PER ONE MACGREGOR (1967 Aka 7 Women for One Macgragor) Funny, beautifully shot Spaghetti Western with outragious fights, stunts, and the usual heavy body count. The Macgregors chase off a hideous Mexican bandit who's been terrorizing the community. Ennio Morricone did the music. Letterboxed, but in Italian! ORDER
7 GOLDEN WOMEN AGAINST TWO 07 (1966) Time for some fun with this spy spoof featuring the incredibly idiotic Mickey Hargitay overacting like a lunatic in his role as Two 07, a spy sent to find the location of art hidden underwater by the Nazis. Turns out the clue to the hiding spot is in a Goya painting that already has several duplicates. Tough case, you bet, but Mickey can swim with the best of them. Featuring some lovely young ladies such as Maria Vincent, Luciana Paoli (42" bust line), Patricia Méndez and many, many more! Buy the premise, buy the flick! ORDER|
THE SEVENTH GRAVE (1965) A family travels to an ancestrial castle for the reading of a will. When they conjure up the patriarcs ghost in order to find a hidden treasure, he displays his displeasure by haunting their nightmares. To make things worth, additional dead bodies have been found in the castle and they have been drained of blood. Sounds like faul play to me! Another in the series of gothic thrillers that Italy was churning out at the time. This is certainly one of the rarer ones. In Italian with Englisg subtitles. Featuring Gianni Dei of "Giallo a Venezia". Fun stuff! ORDER|
SEXY CAT (1973) Spanish made giallo has the cast and crew of a movie being stalked by a serial killer. The movie they are supposed to be making is about a comic strip hero called Sexy Cat, and the killer wears the Sexy Cat outfit when it kills...Directed by Julio Tebenero. Letterboxed, In English with Turkish subtitles. ORDER
SEXY JEANS (1976 Aka Massacre at Central High) Ok folks, here it is. This is the uncut version of Massacre at Central High that was released in italy with hardcore sex scenes inserted. For those in the know Massacre at Central High is a revenge against school bullies fantasy that has becaome a cult classic as the years have moved on since it was made. During the era of porno chic the Italians (as well as the French) felt the need to insert hardcore porn scenes into non porn films. Hence you get a film like this. What makes this even more of a treat is that it's in English, the universal language of love. So grab it up before Cinefear pulls the plug. Great cast includes Andrew Stevens and Robert Carradine. |ORDER|
SEYTAN (1975): *UPGRADE* Here is a Turkish, scene by scene remake of the Exorcist that has to be seen to be believed. And the biggest joke is that ABBY was sued for plagerism, what would have happened if Warner Brothers saw this!? The great thing about this film is that it was made on less than half the budget of the Exorcist, so the scenes of horror are so unintentionally hysterical, your stomach will spasm with laughter. In Turkish, with English subtitles, if you know the original Exorcist, you'll know this one as well. |ORDER|
SEVEN (1979) Another super rare and long lost Andy Sadaris film. And here's the catch. We happen to have a super hybrid version here, taken from an HD broadcast and made complete by re-insewrting censored scenes from a European video cassette. Hence you get the outrageous sex and violence missing from the American version. And folks, I'm not talking about seconds, I'm talking about minutes. Similar in plot structure to The Magnificant Seven, this flick features Biker fave William Smith as a government agent brought out of retirement to set up a crack team of seven men who will whipe out seven super badguys who are planning to take over the island of Hawaii by bankrupting it! During the preparation needed to fight these bad guys, we get treated to huge tits courtesy of Sandra Bernadou, Susan Kiger, Barbara Leigh. Great supporting cast includes Reggie Nalder, Martin Kove, and John Alderman. Do not pass this up if you are an action and big tit fan.
|ORDER|
79 AD (1962) Another classic Italian peplum detailing all the intrigue at the Roman Emperor's court prior to its destruction by Vesuvius. Brad Harris plays Marco Tiberiowho comes to Herculano to help straighten the provence out. He becomes the protector of Christians who are being persecuted by the evil ruler named Tilteo (Jacques Berthier) who governs tyrannically the city. But Mt. Vesuvius has it's own ideas about how to shake things up. Again, this is one of those films that has been available in lousy pan and scan cut versions. This one is uncut in all it's glory and features an English soundtrack. You can't beat that. ORDER|
SFIDA AL DIAVOLO (1963) Ultra rare Christopher Lee Italian made horror now available for the first time with English subtitles. Christopher Lee plays three roles in this film; the victim of a senseless road rage crime, a mysterious old man who lives in a deserted castle. And last but not least the Devil himself. The film is a morality tale about a group of violent youths who learn the lessons of their ways when they commit a very serious crime and seek refuge in a castle. Completely unique in it's story telling, this is a movie that might have went over well in Italy but would have confounded many here in the States. If you are a Christopher Lee fan, you must not pass this by...|ORDER|
SHADOW OF ILLUSIONS (1970) Directed by Mario Caino, who gave us Nightmare Castle. This flick has a hot chick (Daniela Giordano) kidnapped ans set to be sacrificed by a group of asshole devil worshippers (led by William Berger). At one point they force her into a lesbian encounter in order to bring out the God Isis??? With Krista Nell, a hot Austrian actress who's career was cut short in a car accident. In English with Jap subtitles. ORDER
SHARK'S CAVE (1978): Here is an interesting rip off of JAWS, coupled with the Bermuda Triangle theme that was so popular at the time. This flick is Italian, but comes off a German tape, so it's in German. Fear not, the story is easy to follow, and the film is quite entertaining. A deep sea diver discovers a lost city and an underwater cave guarded by possesed sharks. You heard me right. The drunken Arthur Kennedy plays a crooked American who sets the plot into motion. Get it here and know, perfect for your Summer pool party. |ORDER|
THE SHARK HUNTER (1979) Here is a cool little action film directed by the reliable Enzo Castellari. Long available in a public domain pan and scan version, this beauty comes off an Italian TV broadcast with the English language track laied over it. It's letterboxed, and has never looked better. Franco Nero, looking just like he did in Keoma (1975, also directed by Castellari) plays a treasure hunter who has a sceam for lifting a safe with $100,000 dollars in it off the sea floor where it's been sitting ever since a plane carrying the cash crashed in the water. Seems a bunch of bad guys also want the money, and will stop at nothing to get it. The bad guys include Werner Pochath and Eduardo Fajardo (a Django reunion of sorts for both him and Franco Nero). Cast also includes Michael Forest, Mirta Miller and Jorge Luke. Nice shark attack scenes. ORDER|
SILENT SENTENCE (1974 - Aka A Knife For The Ladies) Ok folks, you read about this rarity in the most recent Video Watchdog. Here is the completely uncut version of A Knife For The Ladies, which I also carry in it's 50 minute version. This has all the missing footage and more. Incredible Western/Slasher film complete with nudity and gore. This version is 80 minutes, in English with Dutch Subtitles. With Jack Elam and Ruth Roman. ORDER
UN SILENCO DE TUMBA (1972) Ultra rare Jess Franco mystery that sort of follows the plot of Ten Little Indians but really makes a stab at doing a suspenseful story that is very well crafted and interesting to follow. A group of society idiots having a party on a small island wind up being assasinated by an unknown assailant, and the finbal denoucement is actually quite a shock. Not his goriest, not his sexiest but truly captivating none the less. Off a Dutch cassette, in French with English subtitles. ORDER|
EL SINITRO DR. ORLOFF (1983) Franco Dr. Orloff adventure has that wacky surgeons son tying nude women to a table and transplanting their organs via a matter transmitter into his comatose mother. Tons of nudity and a "morpho" type monster who wears sunglasses. With Howard Vernon. In Spanish. ORDER
SKIN 'EM ALIVE (1978) Here's a hateful Italian film involving a bunch of mercenaries fighting in Africa. None of the mercenaries are likable, I take it they are supposed to be that way. Anyhow, one of the mercenaries half brother shows up looking for money to get himself out of legal troubles in Europe. Ultimately he must join the other mercenaries in rescuing his half brother when that brother is captured by African rebels. Even though you hate the mercenaries, the Africans are equally contemptible. This film has a huge body count. Not as hateful as the cannible films that would follow on it's heals, but still pretty horrible. No one is actually skinned alive, but folks are forced onto spears, shot at point blank range, etc...etc..ORDER|
SLAVES OF LOVE (197?) Ultra weird sexploitation movie from the early seventies, long out of print in this country, concerning a private dick (?) and his partner who investigate robberies on some God forsaken island only to discover the island is controlled by a race of amazon women who want only one thing, can you guess what that thing is?! ORDER
SLAVE QUEEN OF BABYLON (1963) Yvonne Furneaux plays Semiramide, the woman credited with the creation of Babylon. Her love for the slave Kir (John Ericson) stirs up all sorts of trouble which in turn has her pitting everyone against each other. This is a classic Peplum that has long been available in awful pan and scan versions, usually heavily cut. Here we have an uncut, beautiful version off a euro DVD complete with an English overdub. This will be the best version of this film you will ever see. Get it here, get it now! ORDER|
SLASHER IS THE SEX MANIAC (1975): Uncut print of Farley Granger's kill the slut cult classic. Mad man kills unfaithful wife's and further humiliates them by taking naughty pictures of their activities and leaving them behind at the murder scene. A lovely relationship film.Upgrade in English! |ORDER|
THE SLEEPING CAR MURDERS (1965) On an overnight train going from Marseilles to Paris, a woman is murdered and the five people sleeping along with her in the sleeping car end up as suspects. Ultimately, three of the suspects are killed by an unknown assailant. The last two suspects are left to unmask the killer before the killer gets them! This is a fun mystery most likely inspired by Hitchcock but more or less edging it's way into the Giallo teritory. Directed by the brilliant Costa Gavras (Z) and featuring a fantastic cast including Catherine Allégret, Jacques Perrin, Simone Signoret and Yves Montand. In English. ORDER|
SLOANE (1988) Crazy action film shot by Americans in the Phillipines in which this guy Sloan (a terrible actor who is still better than Chuck Norris) is hired to find a girls sister who has been kidnapped by a bad guy for some stupid reason or another. Loaded with violent action and explosions and gun play and all sorts of anti social nonsense. ORDER
THE SMILING GHOST (1941) Great, drop dead funny take on The Cat and the Canary has Wayne Morris as a private eye who is hired to pose as a fiance to Alexis Smith, who is having all her fiances murdered by a ghost on the eve of her wedding night. Willie "Sleep 'n Eat" Best steals the show as Morris's valet. Though it may set race relations centuries back, Willie Best was one of the funniest comedians of the 40's hands down. ORDER
SNUFF TRAP (2003) Outrageous new film by Italian hackmiester Bruno Mattei explores the world of "Snuff" films quite like you've never seen it done before. Extremely brutal and loaded with reems of nudity and sex. Mattei has never stopped, this crazy fuck has been pounding out exploitation films since the 1970's, and he shows no signs of slowing down. In English and letterboxed. Go for it, especially you fans of "Rough" stuff. ORDER
SOLEMENTE NERO (1978 aka The Bloodstained Shadow) Italian language version of Antonio Bido's late entry into the giallo genre. A young girl is found strangled, and years later a group of amoral folks start dying via the hands of a mysterious assasin. A very well crafted flick, and down right brutal in the Italian way! ORDER
THE SORCERERS (1967) Brilliant sci-fi horror by the late Michael Reeves, presented here in it's anamorphic widescreen glory, has Boris Karloff and Catherine Lacy as two old farts who take control of the mind of the youthful Ian Oglivy and drive him to commit murder and other such indecent things. Comes complete with the original trailer. Don't pass this up! ORDER
SPIDER (1972) Yep, you got it folks. A Turkish version of Spider Man. Certainly better than the films by Sam Raimi or the Broadway play, but also not doing any justice to the Marvel comic. If you like the Turkish movies, than you damn well know what to expect. In Turkish with English subs. ORDER|
THE SPY WITH TEN FACES (1966) Paul Hubschmid plays a "James Bond" style spy who is an expert at disguises and has in his stash a huge catch of masks that allow him to impersonate other people. A fun Euro spy flick that includes the lovely Karin Dor and Rosalba Neri. You can't beat this cast. Buy the premise, buy the flick. ORDER|
STACEY (1973) Long lost Andy Sadaris classic featuring the lovely Anne Randall as Stacey, a super sluth hired by a rich old matriarch to investigate an inheritance scam being perpitrated by someone in the family. Question is, who's the bad guy (or girl)? If you know Sidaris films, the highlight of any of his films is girls with huge tits and violent gunfights. Well, you get all that and more in this film, which sets the tone for later films to come. Off a long out of print video, but the quality is quite good and this film is rare enough to make it worth owning. Others in the cast include James Westmoreland and Cristina Raines (The Sentinel). |ORDER|
STONE BOY (1982 Aka Boy God or Roco, Batang Bato) This is one hell of a weird flick. A Filipino made madness involving a kid with super powers who battles witches, werewolve, cyclops and vampires.Made to cash in on Clash of the Titans. Really. So surreal that you'll think you have a fever. In English, off the old and long out of print Unicorn Video. ORDER
THE STRANGE CASE OF CAPTAIN RAMPER (1927) The incredible Paul Wegener plays Captain Ramper who gets lost in the artic and literally turns into an abominable snow man. Later, he is caught and put into captivity, and he longs to get back to his artic home. Can love save the day? Here is a real odd and lost German silent film that has recently been unearthed. This has to be one of the dtrangest Yeti movies ever made. And not only do you get the brilliant Wegener, but you also get Max "Nosferatu" Shreck. Can you beat that? Completely silent with English title cards, you need this in your collection, now! ORDER|
STRANGE LOVES OF THE VAMPIRE (1975): aka LA NOCHE DE LOS VAMPIROS. Leon Klimovsky takes a stab at Fearless Vampire Killers with his usual big fanged big titted vampires. Lots of spooky atmospheric scenes punctuate (no pun intended) this rare English language print. Go for it! |ORDER|
STRANGE PEOPLE (1933) Strange flick. Twelve members of the jury which sentenced an innocent man to death are summoned at midnight to the murdered man's house.It is soon discovered that a killer is on the loose using the secret passageways that honeycomb the mansion to hunt down and murder the guests. Shot on the same sets used for The Old Dark House (1932), "who did what to whom" type of penny dreadful story that was popular at the time. Creaky and old, just like your mother, but if you're a fan of Chesterfield Pictures, this is a missing one you need. With an awful young Walter Brennan, Lew Kelly (Bowery at Midnight), Michael Visaroff (Lugosi's Dracula) among the cast of characters. Dig in. ORDER
STRIKE COMMANDO (1987) Directed by Bruno Mattei, what more do I have to say. Here's Mattei's verson of Rambo, complete with a commando left to fight Russians in Vietnam while his superiors betray him in every way possible. This film ius loaded with action and violence, looks like they actually gave Mattei a budget as opposed to his usual lunch money paying for the whole film. Reb Brown is the Stallone style guy who is chump turned victor. Christopher Conelley is the two timing general who sets our hero up. Fun stuff. Off a Greek master in English with Greek Subtitles. ORDER
THE STUDENT CONNECTION (1973) This is without a doubt one of the most underrated Giallos, and underrated films ever made. Ray Milland runs a school for kids. He murders a blackmailer and knows he was seen by one of the students doing the murder. The question is, which student saw him do it? Milland intends to find out, with murder in mind! Great, suspenseful flick, with Sylvia Koscina and some nerve tingling suspense. Off a greek master in English with Greek subtitles. ORDER
STUNT SQUAD (1977) A police inspector organizes a special units team in order to dismantle a mafia boss who like to blow up the businesses of folks who don't pay protection money. This is an ultra violent crime thriller featuring Vittorio Mezzogiorno as the hateful Valli, vicious mafia boss. He syeals the show. Uncut in English with a few scenes in Italian but with English subs. ORDER|
SUICIDE PATROL (1969 Aka The Wings of War) Gordon Mitchell is on hand here as a tough US Marine doing battle with Nazi's on a Greek island. Stock footage galore fills out this Italian made exercise in macho man commando tactics. Buy the premise, buy the flick! ORDER
SUMMER LOVE (1957) Here is a rare teenage angst comedy featuring John Saxon and is a follow up to 1956 "Rock, Pretty Baby". You get John Saxon playing guitar at a Summer camp for teens and when his back home girlfriend and his family show up all hell breaks loose. If you like goofy light hearted entertainment such as this, then go for it. ORDER|
SUN DRAGON (1979) Do you love Kung Fu? Do you love revenge? Do you love lousy dubbing jobs? Then your gonna love this hunk of junk, as a young man must seek the help of a master of martial arts in order to avenge his family, who was wiped out by bad guys for who knows what reason. In English with Dutch subtitles. ORDER
SUPER MONSTER GAMERA (1980) Here it is, that elusive last Gamera movie that has that fire breathing turtle protecting earths children against alien women who keep raising up monsters from Gameras past (ok, using stock footage is more like it) to try and defeat that funny earthling loving turtle. This flick is letterboxed, in English with Dutch subtitles. ORDER
SWAMP OF RAVENS (Spain-1973): Here is a very eerie, English dubbed print of an elusive film from Spain. Crackpot scientist believes he can restore life to the dead if he can inject the body with a serum 8 minutes after they die... not many return from the dead, but tons of corpses pile up... most haunting scenes involve a swamp surrounded by ravens with the corpses of his victims rising to the top to keep an eye on his activities... Quality on this one is also rough, but once again, very rare! |ORDER|
SWEET JESUS, PREACHERMAN (1973) More blacksploitation from the rip roaring 70's. This one has a hit man pose as a preacher in order to infiltrate the syndicate and take over there business. Fun stuff with William Smith (Grave of the Vampire) as the head of the mob. This guy saying prayers as he kills mob men is priceless. ORDER
THE SWORD OF EL CID (1962) Sword and Sandle time again my friends. Written by Ferdinando Baldi, and directed by Miguel Iglesias, this one tells the story of the daughters of El Cid, who are being taken advantage of by their rotten husbands, both of whome were enemies to El Cid. However, one of the bad guys nephew decides to take up El Cids cause and free his daughters and their kingdom of tyranny. If you like these type of flicks, there is no reason why you are not going to like this. Roland Carey plays the hero. ORDER|
SYMPTOMS (1974) From Jose Larraz, who gave us the brilliant Vampyres. This one stars Angela Pleasence (daughter of the brilliant Donald) as a youngf lady spending time in the English countryside with her good friend (Lorna Heilbron) . The desolate envirement brings out the worst in both girls and they begin to fear that something is not right in the house they are sharing. Is there something creeping about in the attic? Is there someone in the house with them? Is it possible one of them is insane? Great, tense horror flick proves Larraz is one of the unsung masters of horror. ORDER|
TALES OF THE BIZARRE (1970) Crazy Antony Balch sex/horror film that has a mummy (?) recounting tales of the battle of the sexes over the ages, and thus we are treated to a series of bizarre vignettes involving various bits of sexual dementia. Female cat burgler, a crazy female photographer who tortures male models to get the expressions she needs, secret agents, what have you, this film throws everything but the kitchen sink at you. ORDER
TARKAN (1969) Ok folks, this is the one that started it. Here we get the history of the Tarkan character and how he was raised by wolves (actually German Shepherds) and how he became loyal to the Kahn, fighting off nasty Romans, Chinese, etc...etc...No subs on this but you don't need it, it's action and really not out weirdness that floats these films. ORDER
TERROR (1977) Director Norman J. Warren's attempt at a Susperia rip-off is both fun and very gory, especially for a British film. A group of filmmakers are wipped out one by one while filming at a cursed house. One wishes this could happen to the folks in Hollywood now. Rare, long out of print. ORDER
TAKE AN EASY RIDE (1976) Now this is one of the weirdest sexploitation films I've ever offered. It's a British public service film that runs under an hour and is supposedly about the dangers of hitchhiking. However, it really is a flesh feast, featuring tons of nudity and simulated sex, not to mention violence. We see young girls assaulted by a rapist, young men robbed and killed by knife carrying females, and a woman drugged to take part in a husband and wife sex orgy. No, I'm not joking, this is crazed from start to finish. Written by Derrick Slater and directed by Kenneth F. Rowles, this is one for the books. See it right away. It may save your life! ORDER|
A TASTE OF EXCITEMENT (1970) A young lady in vacation in France becomes the target of both gangsters and the British secret service.Seems she has importance evidence of an international crime conspiracy she doesn't know it. She hooks up with an artist who attempts to help her through the rough spots, and boy does it get rough. Really fun flick directed by Don Sharp, who gave us Rasputin The Mad Monk. Ultra nice Euro DVD of a vastly underated and under appreciated film. With Eva Renzi, David Buck, Peter Vaughan and Francis Matthews. ORDER|
TEENAGE PROSTITUTION RACKET (1975) , Carlo Lizanni's uncomplimentary look at the sex trade in Milan during the 1970's. We have the most complete print you are ever going to see, plus the hard out takes that were previously unavailable are here as an extra. This film is an uncompromising look at underage prostitution in Italy during the turbulant 1970's and though sold and advertised as an exploitation film, this is actually a very engrossing drama and so worth a watch. In English, with a few scenes in Italian with English subtitles. Intense and confrontational material that stares you in the eye and spits! ORDER|
TERROR IN THE WAX MUSEUM (1973). Now, for those of you in know of this film, it has never had a good VHS/DVD release. All the prints came off 16mm TV reels which were cut for running time, and were incredibly washed out. Now we have this HD broadcast from Spain which was played in it's original English soundtrack. No annoying subtitles, nothing of the sort. Just the film, the way it was meant to be seen. Now, this doesn't mean it's a good film, but it really isn't. But it is an amusing time waster, a old fashioned horror film featuring a top notch cast including Ray Milland, Broderick Crawford, Patrick Knowles, Louis Hayward, Elsa Lanchester and John Carradine. The cast alone makes it worth it. And yes, it's uncut. |ORDER|
LA TESTAMENT DU DOCTEUR CORDELIER (France- 1959): Originally made for television but released to theatres, this version of Jekyll/Hyde by acclaimed director Jean Renoir and starring mime Jean-Louis Barrault is a treat to behold. Barrault plays his Mr. Hyde as a demented Charlie Chaplin, acting like a clown yet doing vicious things such as trampling cripples, tearing infants away from their mothers, and just being a general mother fucker. Gorgeous Italian language print... eat it up like a fine French pastry. |ORDER|
THEY HAVE CHANGED THEIR FACE (1971) Brilliant satire of the corporate structure in which the big bussiness people turn out to be vampires that drain even more than blood. When an employee at a large car manufacturing firm is invited by his boss to a country estate, he learns he's being promoted but the promotion is coming with a price. Directed by Corrado Forina, who gave us Baba Yaga. This director is a highly under rated director in the horror film field, but his works stand out. Widescreen, in Italian with English subtitles. |ORDER|
THEY PAID WITH BULLETS: CHICAGO 1929 (1969) A country bumkin rises to the top of the mafia game when he pits two rival gangs against each other. An Italian/Spanish film directed by Julio Diamonte and featuring a mostly German cast including Peter Lee Lawrence and Ingrid Schoeller. Violent gangster stuff, the type you come to Cinefear for...ORDER
THE THIRD EYE (1965) All in all, Joe DeAmato's Blue Omega is basically a remake of this film. Amato's film is good, this is ten times better. Franco Nero is a mentally disturbed Count who lives under the watchful eye of his jealous and possesive mother. When his fiance dies he goes completely overboard and decides to fill his mansion with corpses. When the sister of his dead fiance arrives, things go from bad to worse. An incredibly directed film (Mino Guerrini) with atmospheric B/W photography and a killer performance by Franco Nero. With Erica Blanc. In Italian with English subs. Widescreen. ORDER|
THREE THE HARD WAY (1974) Black paranoid fantasy involving white supremacists contaminating the water supply with a poison that will only effect the black population. Enter heros Jim Brown, Jim Kelly and Fred Williamson to help save the day! From Gordon Parks, the director of Superfly. ORDER
THRONE OF FIRE (1983) Directed by Franco Prosperi, this is an all out blood and gore homage to Conan The Barbarian. The son of satan must rule a kingdom to have dominion over the world. But first he must kidnap and marry a warrior princess who wants nothing to do with him. Enter Siegfried to save the day. Muscle man nonesense loaded with violence, hot chicks, cruelty, stupidity. Made by the Italians, how can you go wrong! ORDER
THE TIGER GANG (1971) From the Komissar X films of Germany comes this beauty, featuring the incredible Tony Kendall and Brad Harris as a pair of self styled "James Bond's" who are in assignment in Pakistan. Directed by Harald Reinl, so expect plenty of style and good, heart pounding action. In German with Dutch subtitles. ORDER
TIME WALKER (1982) Interesting take on the Mummy films has some jerk lab technician stealing some gems from a mummy's tomb only to find that the mummy is more than a mummy and needs his jewels back for a very good reason. Some interesting gore, and the always amusing James Karen make for fun. Long out of print. Check it! ORDER
TOGETHER BROTHERS (1974) A kind of black "giallo", this flick has never been available on video in the U.S., and is perhaps one of the best explorations of the ghetto ever filmed. When a black cop is gunned down by a psychotic killer, a group of street kids intend on hunting down the killer themselves, In between, folks are hung, stabbed, etc... Ultra rare film off a fine Dutch master. Music by Barry White and Love Unlimited. ORDER
TOP OF THE HEAP (1972) A Black version of The Bad Lutenant long before the Bad Lutenant was ever made. Christopher St. John is the cop hated by both the brothers and whitey. It causes him lots of internal conflict, making him prone to his own fantasies. Rare Blacksploitation. ORDER
THE TOUCH OF SATAN (1974) Untra rare mid seventies horror flick involving Devil worship and a hideous old hag that will give you nightmares for years to come. The L.A. Free Press said of this film: "The Touch of Satan' makes "Rosemary's Baby' look like a Sunday school picnic!". Directed by Don Henderson. ORDER
TOUGH ONES (1977) Here is the uncut (five additional minutes) version of the Umberto Lenzi classic known here as Assault With A Deadly Weapon. A crazy hunchback criminal battles a facist cop in corrupt Italy. Off a Dutch master tape. ORDER
THE TOWN THAT DREADED SUNDOWN (1977) Now what makes this edition interesting is that the film is letterboxed, hence making this one of the only wide editions of this film around. Off a Greek master, in English with Greek Subtitles, this drive-in classic features Andrew Prine and Ben Johnson searching for a lunatic who wears a burlap sack on his head and kills folks in lovers lanes. Dawn Wells (Maryanne from Gilligans Island), plays one of the victims. Nice print! ORDER
TOWER OF THE SEVEN HUNCHBACKS (1944) Oddball fantasy horror film from Spain involving a gambler becoming involved with a mysterious stranger that no one can see except the gambler. The mysterious stranger can tell the gambler all the winning numbers but in exchange he asks the gambler to protect his daughter from the tower of the seven hunchbacks. A ghost story done in the style of the Hollywood movies from the time, Tower of the Seven Hunchbacks is officially one of Spains first horror movies. And now, at last, it's available to you with English subtitles. Dig in...ORDER|
TRASPLANTE DE UN CEREBRO (1970) This is a very interesting mixing of genres that includes surgical horror, giallo and crime motifs, and a love story (if you can believe that). But it's the cast that really makes this film work. A surgeon grafts the brain of a love lorn criminal (who's been dragged into a life of crime by his brother) into the head of a man dying from brain cancer. The result is obvious, and the respectable recipient takes on the personality of the love sick criminal who is once again being hunted by the gang he betrayed. Eduardo Fajardo is fantastic as the man with the transplanted brain, and equally good is Frank Wolf as the doctor who realizes the error of his ways way too late in the game. In Italian with English subtitles. ORDER|
THE TREASURE SEEKERS (1979 Aka Jamaican Gold) Here's another of those strange Jaws/The Deep style rip-off films. This one features an all star cast out for booze money; Rod Taylor, Stuart Whitman, Elke Sommer, Jeremy Kemp, Keenan Wynn. Taylor and Whitman are old buddies who meet up and decide to search pirate Captain Morgans treasure. In doing this, they run into bad guy Kemp as well as some nasty sharks. This is a rare film, no DVD release in sight. The cast alone makes it worth it. ORDER|
THE TRIUMPH OF ROBIN HOOD (1963) More fun nonsense from the incredible Umberto Lenzi. King Richard is captured by the Germans hence Robin Hood and his Merry Men must raise enough money for his ransom but the Sheriff of Nottingham keeps getting in the way. Plenty of sword fights and action to put one big smile on your face! Off an Italian DVD and in English! Really nice version. ORDER|
TRUNK TO CAIRO (1966) An American agent (Audi Murphy) goes to the Middle East to fight a neo-Nazi scientist(George Sanders) who is trying to create an atomiuc bomb for the Eyptiansto use aganst their enemies. The Scientists daughter (Marianna Koch) falls in love with the American agent, which complicates things quite a bit. A fun Euro spy flick brought to these shores by American International Pictures. Ultra rare! ORDER
TURKISH STAR WARS (1982) Fantastic, imaginative and outrageously idiotic Star Wars rip-off as invisioned by those masters of outright copyright infringment the Turks. As if you need any more reasons to hate Muslims, this flick has the most idiotic monsters you'll ever see (picture guys in revamped ape suits) attacking the Turkish version of Luke and Hans Solo. Violent, stupid, and loaded with scenes stolen right out of Star Wars plus a soundtrack lifted from Indiana Jones. Don't go through life without seeing this...Should be screened for all our soldiers in the Middle East. English Subtitles. ORDER
LA TUMBA DE LA ISLA MALDITA (1973) Here is the original Spanish version of the film Hanna, Queen of the Vampires. When Hanna was released stateside, it featured some new material by Ray Danton,whoin turn toned down the gore.This version features the missing gore scenes, and certainly runs longer than the U.S. print, though the Spanish print is credited to run 99 minutes, this doesn't run that long. But it is uncut violence wise and features much more material. And the best part, it's fan dubbed, English language track laid over the original Spanish. You'd be amiss to pass this up if you're a fan. With Mark Damon, Andrew Prine, Patty Shepard. ORDER|
A TUTTE LE AUTO DELLA POLIZIA (1975) Director Mario Caiano gives us this combo giallo / police drama that reads very much like "What have they done to Solange". A young girls murder trips off a series of brutal slayings and nasty rumors. Italian language but easy to follow. Run, don't walk... ORDER
TWO EYES TO KILL (1968) Jack Taylor plays a nighclub owner who sets up an innocent man (Fabio Testi) who is executed due to the set up. However, the dupe has donated his eyes to science, and they end up in someone elses head. Then Jack Taylor realises someone is watching him...this is a very early giallo, ultra rare in Italian with English subtitles. ORDER|
TWO EVIL EYES (1989) George Romero's and Dario Argento's collaboration on the works of Edgar Allen Poe is pure genious. Here is a lovely, letterboxed, uncut English language print print that comes all the way from France right into your DVD/VCR's straight from your loving friends at Cinefear. With Harvey Keitel, Adrienne Barbeau (or is that Barboobs), Sally Kirkland, and Martin Balsam. Who's your daddy?! ORDER
L' UOMO SENZA MEMORIA (1974) Crazy giallo has an amnesia victim attempting to remember details of his past, details that he would rather forget! Gruesome, fun and memorible giallo directed by Duccio Tussari and starring Senta Berger, Luc Merenda and Anita Strindberg. ORDER
THE ULTIMATE RAPE (1977) Insane Mexican rip off of Straw Dogs featuring Troy Donahue as a man recovering from a terrible accident who marries one of his former students and starts a new life out in the mountains. A couple of local blue collar workers decide to have some fun and rape the wife, beat Donahue and drown his kid. Donahue decides to grab an axe and teach these guys a lesson. Yes, it's ever bit as sleazy as it sounds. Violence, sex, nudity and really ugly bad guys. Doesn't get better than this. In Spanish with English subtitles. |ORDER|
UNA SULL' ATRA (1969) Aka One On Top Of The Other. Lucio Fulci's first giallo, in which a doctor, who's wife supposedly died from Asthma, finds out the hard way that it wasn't asthma at all. A decomposed corpse, nude women, and a score by Riz Ortolani, how can you go wrong? Off a Greek master in English with Greek subtitles. You can't beat it. ORDER
VACANZE PER UN MASSACRE (1980) Last House on the Left influenced madness has Joe Dallasandro invading the domain of a man, his wife and her sister and raising all sorts of hell. Torture, rape, nudity, you get the picture. Directed by the incredible Fernando Di Leo, who gave us Slaughter Hotel. In Italian with English Subtitles. ORDER
VALERIE AND HER WEEK OF WONDERS (1970): French art film about Valerie and her vivid imagination, which includes Inquisitional fantasies and other flights of fancy. Off a nice, British master, with English subtitles. |ORDER|
THE VAMPIRE OF DUSSELDORF (1964) Very interesting take on the Peter Kuerten murders that were commited in German prior to the start of WWII. Robert Hossein both directed this film and plays the killer as well. Shot in beautiful black and white, this film plays like the film noirs of the 1940's only with a European art senisibility of the 1960's. Details Kuerten's life and actvities during the turbulant 1930's of Nazi era Germany. In French with English subtitles. Worth every penny. ORDER
THE VAMPIRE OF THE OPERA (1964) Another in the series of erotic vampire films by Renato Polselli. A performance troup arrives at an unused opera house in France. Soon the girls are being lead to the basement by a phantom who turns them into vampires one by one. Very early erotic horror complete with a lesbian subplot, this is one of the rarest filoms, presented here in Italian language but with English subtitles. With Milena Vukotic (Blood For Dracula). ORDER
EL VAMPIRO Y EL SEXO (1969) Here is the most saught after version of Santo and the Treasure of Dracula. This is the "Adults Only" version that was shot simultaniously with the "straight" version. Directed by the master of exploitation, Rene Cardona Sr. this version offers all the naked skin you could possibly want, including softcore sex scenes between Dracula and his lady victims. This version offers up some of the hugest torpedo tits that side of Mexico, you'd swear these girls were raised near Love Canal or Three Mile Island. The boobs in this film will take your breath away, and I'm not kidding. You'll want to perch this baby right next to your Russ Meyer collection. In Spanish with English subtitles. Ultra rare! ORDER|
VAMPYROS LESBOS (1969): German language, English subtitled, letterboxed British import of the classic Jesus Franco groundbreaker. Soledad Miranda is an enchanting vampire who makes nocturnal visits to young ladies. Super surreal, made with the Acid crowd in mind. Comes complete with original theatrical trailer and a music video compiled from scenes of the film. |ORDER|
THE VAMPIRE WOMAN (1967) Ok folks, here is something completely rare and unique. It's an Iranian vampire film, and it tells the story of a wandering vampire soul that takes refuge in a young womans body and forces her into a life of vampirism. Anyone she bites os also transformed into a vampire. This is an insane film, full of outrageous imagery, shot in atmospheric B/W, and best part of all, it has English subtitles. Do yourselves a favor and watch something you would regularly never have the chance to see. ORDER|
VAULT OF HORROR (1973): Excellent sequel to Tales of the Crypt, totally uncut off a British master, featuring all the gore that was cut from the American video release. One of the best of the Amicus anthologies. Stellar cast includes Terry Thomas, Curt Jurgens, and Tom Baker. |ORDER|
LA VENGANZA DEL DR MABUSE (1972) Franco's take on Dr. Mabuse is certainly his own unique vision and this classic has Jack Taylor in the Mabuse role complete with a Frankenstein monster and some fantastic, surreal atlospher and action that you could get only from Franco in one of the most productive years of his life. Now finally available with English subtitles. You will not regret buying this one, believe me! ORDER|
VENOM (British- 1971): Freaky horror flick from Britain that was also known as Legend of Spider Forest. Is a beautiful young woman, reputed to be a spider goddess, killing folks off in a Bavarian village? from director Peter Sykes, who gave us the brilliant Demons of the Mind. |ORDER|
VENUS IN FURS (1970): Directed with the usual style by Giallo expert Massimo Dallamano, here we have another fine British import (boy, those British really love those Italians), and it is another fine adaptation of a Leopold Von Sacher- Masoch story. S&M and other assorted stuff will keep your attention, but then again, if you didn't like that stuff, you would not be on this site! |ORDER|
VICIOUS AND NUDE (1980) A terrific piece of Spanish made sexploitation that involves a house invasion by two psychotic girls (Adriana Vega and Eva Lyberten). The incredibly stoic Jack Taylor plays a writer who sides with the problems of the youth of Spain. All is well and good until two female fans of his drop by his house claiming their car has broken down. They end up seducing the uptight writer and then taking over his house, making him a prisoner they humiliate time and time again. Basically this is a remake of the film Death Game from 1977. Only it's a hell of a lot more exploitive and fun. And Taylor frolicking with the two nude girls has to be seen to be believed. In Spanish with English subtitles. ORDER|
EL VIOLADOR INFERNAL (1988 - The Hellish Rapist) One of the most fucked up Mexican horror flicks I've ever seen. One of the last actually shot on film, this film features a serial killer being put to death in the electric chair. A demon woman appears and revives him, as long as he promises to go on a rampage of rape and mutilation, with each victim being taken in the name of satan. And this he does, raping chubby Mexican chicks with big tits, and even violating a gay man, killing him while butt slamming him. Really jaw dropping madness. In Spanish with English subtitles... ORDER
VIRGIN AMONG THE LIVING DEAD (1972- AKA CHRISTINA, PRINCESS OF EROTICISM): Here is the way this film should be seen, letterboxed, uncut, 77 minute French language with English subtitles. This is a great, dark comedy from Franco, who combines elements of Polanski's WHAT with the surrealism of Goddard. A young girl goes to a secluded island for the reading of her fathers will. A weird and ghostly family are there to welcome her with open arms. With the captivating Christina Von Blanc and the always ugly Howard Vernon. This is NOT the stupid Wizard video version that had idiot zombie footage inserted by the desperate Jean Rollin. |ORDER|
VICTIMS (1977) One of those interesting stalk and slash flicks involving some woman hating nut (Tony Vorno) persuing some gals and giving them a hard time. Interesting in that it attempts to explain via flashback how the psycho became pyschotic.This is the Daniel DiSomma film as mentioned in the British book Nightmare USA. Michael Pataki was a Line Producer on this one. Never available in this country, this copy comes off a British master that has quite a bit of wear, so be forwarned. ORDER
THE VISITORS (1972) Directed by always reliable Elia Kazan, this is a very psychological and interesting revenge film involving a soldier who returned home, settled and rases a family. One day, two of his old army buddies show up to settle a score from some undisclosed altercation that took place on the batrtle fields of Vietnam. Long out of print on video, here's your chance to scoop this baby up. Killer cast includes Steve Railsback, James Woods and Patrick McVey. This is a must, don't pass it up! ORDER|
THE VIY (1967) Here is a masterpiece of a film, Russian adaption of a story by Gogol, in which a priest undergoes a true test of faith when he is asked to prey for three nights over the corpse of a young woman who's body is now under the possession of an old witch. Outrageous special effects by Soviet effects pro Aleksandr Ptushko knock this film into high orbit. Off a Greek master in English with Greek Subtitles. ORDER
VLAD TEPES (1979) Here is a fantastic and historically acurate presentation of the Romanian warrior who faught valiantly to keep the Turks out of Romania during the time of the Otterman Empire. Credited as the inspration for Bran Stokers Dracula, this real life prince ruled with a firm arm and was unflintching when it came to punishing those who challenged his authority, but he is still considered a national hero in his native country and this production richly captures his reign and life story. If your a fan of films like Braveheart, you are going to love this. In Romanian with English subtitles, complete uncut 134 minutes! ORDER|
WAKE UP AND DIE (1966) Here's the tale of a small time hood who becomes a big time hood only to be brought down by his mole. Fun and violent action flick featuring the dashing German actor Robert Hoffmann. An Italian production directed by Carlo Lizzani. In English with Greek subs.ORDER|
WEEKEND MURDERS (1970) Excellent send up of Agatha Christie story's combined with a Giallo mentality, this story of murder over an inheritance at a mansion in England is truly a pip. Directed by Michele Lupo, and featuring a top notch cast including Anna Moffo, Peter Baldwin and Giacomo Rossi - Stuart. ORDER
WELCOME HOME, SOLDIER BOYS (1971) Outageous movie featuring a group of Vietmam veterans who return to the U.S.A. only to find that the land they defended isn't treating them very well. They decide to give the town a special "thank you" and the revenge they take makes Rambo look like an infant. And to think this was made a good ten years before Rambo. An excellent revenge film that also makes you think. Starring the incredible Joe Don Baker. ORDER|
WEREWOLF'S SHADOW (1971): The best of the Paul Naschy werewolf flicks, completely uncut off a Greek master, letterboxed and in English. Plays like a warped Grimms fairytale, with more breast and blood than you can shake a stick at. Featuring the cute little German chick Gaby (Mark of the Devil) Fuchs as his love interest, and Patty Shepard as Countess Waldessa, Vampire extrodinaire! Directed by Leon Klimovsky. |ORDER|
WEREWOLF WOMAN (1975): One of the best Italian horror films from the seventies. Featuring the scrumptious Ann Borel as a woman who believes she is a reincarnation of a werewolf ancestor who was burned at the state. Her mental condition is made worse after she is raped by a couple of cretins. This film teaches you not to make women angry. When miss Borel gets nude and wolfy, well, I end up howling at the moon. This amazons body will have you in tears as you watch this flick, I'm not kidding. Worth it for the nudity alone, never mind the lesbian scene, ripped throats and smashed heads, and can't recommend it enough. Off an uncut British tape and letterboxed. Dig in. |ORDER|
WHAT HAVE YOU DONE TO SOLANGE? (1971): Widescreen, uncut, English language masterpiece of Giallo directed by Massimo Dallamano and photographed by Joe D'Amato under his real name. Featuring Fabio Testi and Camille Keaton in a story of brutal deaths in a girls school. Based on a story by Edgar Wallace. Loved by just about every fan of the genre. |ORDER|
WHEN HEROES DIE (1970) A plot by the Americans to capture and replace Rommel goes haywire when the Americans are caught and replaced by Germans. Sounds like the plot of a Laurel and Hardy comedy but it's not, actually this is a very fun WWII flick directed by the interesting Jose Luis Merino, and featuring a good cast including Craig Hill (from many Spaghetti Westerns) and Annabella Incontrera. Lots of action, explosions, violence and all the fun stuff you associate with war. In English. Grab it while it is hot! ORDER
THE WHIP HAND (1951) When a reporter on vacation discovers a lake full of dead fish, it opens up a Pandoras Box filled with Communists who hope to whipe out the world with a chemical weapon they've been experimenting with. The reporter teams up with the sister of a local Doctor and they set out to expose the commies. Long lost noir complete with a killer cast; Elliott Reed, Raymond Burr, Carla Balenda. ORDER|
WHITE CANNIBAL QUEEN (1979): That's right, Jess Franco took a stab at the cannibal genre, and this is the result. Dressing Spaniards up as primitive natives has the same effect as Al Jolson dressed up as a Negro, you can't help but laugh. Cheap gore, cheap production values, cheap Franco... what more do you want! |ORDER|
WHITE SLAVE SHIP (1961 - Aka Meuterei Auf Der Albatros) Now here's a gem of a film and most likely one of the rarest titles I offer. This Italian made Swashbuckler featured Edmond Purdom and Anna Maria Pierangelias two of many political prisoners on a slave ship bound from England to America. Along the way there is a mutiny by pirates who in many ways turn out to be far worse than the original slave ship masters. This film features some fantastic violence (fishhooks through necks) and tons of cleavage, the woman are beautiful and the tits are huge. Better yet, this is off a widescreen beautiful transfer. The only draw back, is that the film is in German language, it unfortunetly has yet to surface in English. The plot is not all difficult to follow, hence the German language is not a problem. This is a very ambitious and well made flick, highly recommended. |ORDER|
WICKED, WICKED (1969) This is it folks, the infamous psycho flick shot in "Dual-vision", in which you can watch action take place on both sides of the screen. Not a bad film at all, and despite the photographic effect, not hard to watch at all! In fact, the dual-vision works best when characters in the film lie to each other, the opposite side of the screen telling the truth. Letterboxed, in English with German subtitles. ORDER
WILD POLICEMAN (1976) More facist cop nonesense, this one featuring Henry Silva as an ex-green baret who displays way too much pleasure while whipping out criminals. Usual over the top action/violence. Off a nice Dutch master. ORDER
WILLIAM SHATNERS MYSTERIES OF THE GODS (1977) Classic documentary hosted by brilliant asshole William Shatner exploring the theories of Dutch born Astronomer Erik Von Daniken. It's all here, plus you have Shatners overacting nonesense. ORDER
THE WITCH THAT CAME FROM THE SEA (1975): More Cinematic scum from pervert Matt Cimba, this one featuring Millie (Diary of Ann Frank) Perkins as a sexual psycho who cuts men's balls off. Perkins flashbacks to her father molesting her are unbearable to watch. This is really an underrated classic. |ORDER|
WITCHFINDER GENERAL (1968): British cut of the Vincent Price classic, with all the gore, plus nudity that Deke Heywood insisted on but Mike Reeves hated. Masterpiece of horror cinema, this version is good, but you're better off with my CONQUEROR WORM transfer, as the inserted nudity in this version gives the film a Monty Python feel, it's inaccurate and stupid. For completists only! |ORDER|
WOMEN AND BLOODY HORROR (1970 - Aka His Wife's Habit) This is a real sleazy psycho drama directed by Joy N. Houck Jr (Night of Bloody Horror). It tells the story of a Nymphomaniac wife of a very rich tycoon who ruins both her and her daughters life with her sexual promiscuity. First she has an affair with her daughters boyfriend (played by Major Dad himself Gerald McRaney) then she attracts a psycho car hop who inlists his buddy in a plasn to rape the nympho and her daughter. This ends in disaster for everyone. Georgine Darcy (Rear Window) is fantastic as the out of control Nympho. Old VHS source material has age on it but is very watchable. ORDER|
THE WOMAN WHO WOULDN'T DIE (1964) Ultra rare Gorden Hessler directed thriller involving an evil employer who blackmails an employee to murder his own wife, who is a cripple. Tense B/W thriller that is very rarely seen. Here is a super nice film transfer. Comes complete with with trailers for other British horror films.With Gary Merrill. A must! ORDER
WONDER WOMEN (1974 - Aka The Deadly and the Beautiful) Now this is really a fun blast of science fiction, action, martial arts, horror. Directed by Robert Vincent O' Neil (Blood Mania, Psycho Lover) but made in the Phillippines, this gem has Ross Hagen fighting an evil doctor (played by Nancy Kwan) who kidnaps athletic superstars and uses their organs for transplants for wealthy people. She also has a cage full of monsters created during her experiments. Sid Haig plays her procurer. With Roberta Collins and Vic Diaz. Really fun stuff. ORDER
THE WORLD, THE FLESH, AND THE DEVIL (1959) Three survivors of a nuclear holocaust try and get it together despite the odds. A rare and fantastic contribution to the Sci-Fi genre. With Harry Belafonte, Inga Stevens and Mel Farrer. ORDER
ZORRO IN THE COURT OF SPAIN (1962) The perfidious brother of the deceased Duke of Lusitania usurps the throne from its legitimate heir, the Grand Duchess; however, an enigmatic man in black known only as the Zorro is out for justice. George Ardisson is Zorror, Alberto Lupo is the bad guy. Really nice copy of a fun film. |ORDER|
ZORRO THE FOX (1968) More Zorro madness featuring George Ardisson but with the added value of the villian played by Giacomo Rossi Stuart and comic relief supplied by Ignazio Spalla. Plays more like a Spaghetti western with the violence turned up a notch. Lousy copy but a rare film regardless. |ORDER|
Repeat after me, you must order our catalog, you must order our catalog, must order our catalog.....