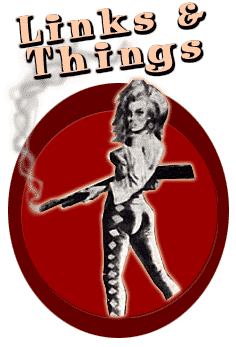 Ok folks, here is a page of interesting contacts in the same field of interest that unites us all under the banner of Fandom. I will only list truly unique and interesting sites and addresses for the folks I feel contribute to the genre, not bastardize it. All sites listed will be direct links, so hop in and check them out. All others that do not have a web site (or at least not that I know of) will be supplied with an address to "write to" for more info. I really do like the folks I have listed here, if I didn't, they wouldn't be up here. The reason for the promotion is simple, either what they offer is beyond great, or they have hearts of gold and should be made aware to everyone.
---
PUBLICATIONS
Patty Breen and William Girdler- Here's a real treat, Ms. Breen is a William Girdler fanatic and has erected one of the best sites I've ever seen dedicated to the work of one filmmaker, William (ABBY) Girdler. This site is a magazine on the web, a great concept that will save the author the horror of printing costs. She has interviews with Girdler associates (such as Lee Jones) and pictures from Girdler's home town and office of operations. This is a real fan who goes the whole nine yards to draw you into the wonderful world of William. The other best part is that this is the work of a woman, an opinion you never get in this cramped fanboy world of chronic masturbates. I hope more lovely young ladies like this one pop up and post sites and publish mags. Check her out at www.williamgirdler.com. It does not get any better than this.
HEATHER DRAIN'S BLOG SPOT - Hey, if your a fan of Cinefear contributor Heather Drain, then how about you get your ass over to her very own, personal bog spot. That's right fan boy, she's got her own blog and she's slowly but surely filling it up with delicious reviews and insights into cinema unlike anything you've ever read before. Here she is: http://mondoheather.blogspot.com/
SHOCK CINEMA - One of the longest running zines has one hell of a website, check it: www.shockcinemamagazine.com
THE WONDERFUL WORLD OF K. GORDON MURRAY - Irishmen are gold, little leprechaun's to be exact. One such fellow was the incredible K. Gordon Murray, a brilliant film distributor from Florida who gave us great kiddie matinees such as Rene Cardonas Santa Claus, Mexi-horror such as Braniac, and adult fare such as Shanty Tramp. This film is a tribute to such a brilliant blarny boy as Murray was. Please check out the great teaser for the upcoming film of K. Gordon Murray's life: kgordonmurraymovie.org .
INFLICTION FILMS - Long time friend of the Exploitation Journal, Mitch Davis, give us these great links into what's going on in the genre scene over in Canada. Check out both the filmmaking and the festivals our Canadian cousins are involved in: www.inflictionfilms.com and
www.fantasiafestival.com .
Sleazoid Express and Metasex - There is no substitute for experience, and these two magazines are the brain child of two of the most experienced writers around, of course I mean Bill Landis and Michelle Clifford. Landis, a legend in the zine world, is back with a bolder and bigger version of his amazing newsletter of the early eighties known as SLEAZOID EXPRESS. For info on exploitation cinema you CANNOT get anywhere else, this is your final stop. His connections to the New York underground cinema scene are second to none. His wife, Michelle, does the companion piece METASEX, dedicated to sexuality of all vices. Sleazoid Express.com.
CINEMA SEWER - Here is the internet only version of the fantastic zine put out by the one and only Robin Bougie, a crazy Canadian who is also one hell of a cartonist. Really recommended by your pals here at Cinefear. Check out www.cinemasewer.com.
PETER CUSHING - Here is the lovechild of the incredible Chris Gullo, who's respect and love for Peter Cushing shines on this site with the utmost professionalism: www.petercushing.co.uk
The Flesh Farm - Here's an interesting site in that they review and post clips from our beloved genre films, plus they sell great T-Shirts and such. Give them a peak and tell them that Cinefear sent ya! http://www.thefleshfarm.com
VHS WASTELAND - Here's a site that is a true blast from the past for those of you who lived through the golden age of video stores. Outrageous selection of scanned, high resolution video covers that will have you salivating for the old days. Fun articles, informative, simply put a great time to be had by all. Check it: http://serialkillercalendar.com/VHSWASTELAND/
---
DVD'S & VIDEOS

There are lots of really good independent DVD/video companies out there, and I will link what I consider worth linking to, hence keep your eyes peeled for new entries. Again, this is not a promotional gimmick, I only will post what my heart tells me to:
WILDEYE RELEASING - One of the newest on the block, and my bet for the best of the future. This company is releasing and will be distributing various genre titles to appeal to all tastes, ranging from made for TV horror movies to some true, decent independent cinema made by truly talented filmmakers (unlike the garbage distrubuted by third rate pornographers like Troma and E.I.). Please keep an eye on thse guys, they are truly a breath of fresh air for the future. Check 'em: http://www.wildeyereleasing.com/
CULT CUTS- Here is a fine reference site dedicated to both the big (Anchor Bay) and small (Cinefear) distributors of exploitation cinema. Editor Mark Engle reviews product from all the available video distributors out there and posts the reviews on his site. He includes digital photos pulled off the video highlighting a films best scenes. This is a great site to go to in order to enhance your focus. Check it out at http://www.icehouse.net/cultcuts.
SINISTER CINEMA- My personal favorite and the grand daddy of us all. Greg Luce has provided us with the rarest genre titles and some of the best film to tape transfers around. His prices cannot be beat, he's an archivalist in the best sense of the word. Check him out at www.sinistercinema.com, or write for a catalog to P.O. Box 4369, Medford, OR 97501-0168.
SOMETHING WEIRD VIDEO- If it wasn't for Frank H., this company would have went nowhere. Again, proof positive that filmmakers should be behind film preservation and video and DVD distribution. What this company does as a service to vintage exploitation cinema is invaluable, and their intentions are damn good. Also, their catalog is forever expanding, so go to www.somethingweird.com .
---
WHAT THE HELL?
Bet you'd never thought you'd see this on this site... A Cooking Blog! But wait, this ain't your regular cooking blog. Actually, it's the work of a brilliant writer, and one hell of a funny woman, Mrs. Freya Erickson .For now you can sample her wares by reading this funny and informative blog: http://zombiesnack.blogspot.com/ . She's one of a scant few who's writing actually makes me laugh out loud. Plus she's a damn good cook. And just when you think this wasn't enough, Freya comes at us with Youthquakers, which, "Put into cold, simple terms, Youthquakers is a chronological record of UK and US Vogue, betweens the dates January 1965 and December 1969." If your a fashion freak from the old days, you gotta dive into this: http://www.ciaovogue.com/ .