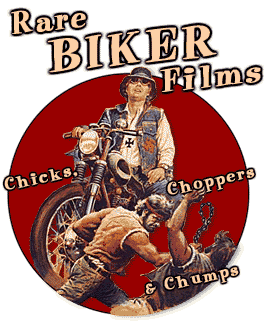 Exploitation cinema has many sub genres, one of the most popular of these being the Biker film. The roots of this genre began in the 1954 with The Wild One, starring Marlon Brando. This was a Hollywood production and was a major hit among audiences, and it did introduce us to the bike riding rebel, which appealed so much to the alienated youths of the 1950's.
Easy Rider, which starred Dennis Hopper and Jack Nicholson, an independent production directed by Hopper, was released in 1969 by Columbia pictures and presented a very sympathetic counter culture bike riding hero's. But prior to and after this, the exploitation film paved a very violent, drug and sex filled road for the biker to ride on.
Some of these films (the bulk of which where produced between 1967-73) presented negative stereotypes of the biker, (loud, nasty, drunken/drugged menace to society who gang raped and plundered for cheap thrills) while others presented the biker as a misunderstood rebel, truly living and breathing the American dream of freedom.
I think both presentations bear some resemblance as the biker is a hard personality to pin point, multi-faceted and representing the dilemma caused by the hypocrisy of American society, an ideal that preaches freedom but then does everything in its power to surpress it. The biker, like the cowboy of old, always remains the symbol of independence, the one stronghold of the rebel spirit that built this country. I've known a few bikers in my time and I have to say, they are the most loyal and helpful, yet fiercely independent people I know.
The following is a list of rare and out of print biker titles I offer copies of through Cinefear Video. These titles are available for $15.00 plus $4.50 shipping and handling for the first three tapes purchased, a 1.50 more shipping for any additional tapes ordered. The only exception is Devil's Angels, which is $20.00. All titles now available as DVD+R.
Or, you can have all 40 titles for $400.00, shipping included in U.S.A. That is a total savings of $335.00, not counting that U.S. also pays no shipping. NOTE: Europe and Asia must pay shipping for total. Then Came Bronson not included in this offer!
BRAND NEW:
THEN CAME BRONSON (Aired on CBS 3/24/69) Ok folks, not only do we have the pilot episode, but we have the whole series as well. Complete, uncut episodes, the story of a News paper mans drop out from society and his treck around the country by motorcycle. Here they are in order: Then Came Bronson, The Runner, The Old Motorcycle Fiasco, A Famine Where Abundance Lies, The Circle of Time, Where Will The Trumpets Be?, Amid Splinters of the Thunderbolt, The 3:13 Arrives at Noon, Old Tigers Never Die, Your Love is Like a Demolition Derby, Two Percent of Nothing, All the World & God, A Long Trip to Yesterday, The Spitball Kid, Against a Blank Cold Wall, 69 Sibyl, A- Pickin' An 'A- Singing, The Gleam of the Eagle Mind, That Undiscovered Country, Lucky Day, Mating Dance for Tender Grass, The Mountain, Still Waters, The Forest Primeval, The Ninety-Nine Mile Circle, The Mary R, What's An Ark Without Centaurs. Now, this is sold as a set of seven on DVD format. If you want VHS or individual titles, you must Email me with your wants, and price will be adjusted at that point. This set cannot be chosen as a "Free" title. Otherwise... ORDER
---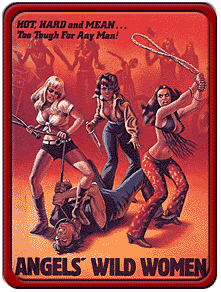 ANGEL UNCHAINED (1970) Don Stroud plays Angel, who joins a biker gang just in time to be hasseled by local rednecks. Well, he decides to bring in some baddies to extract a little revnge, biker style! With Tyne Daly. ORDER
ANGELS DIE HARD ! (1970): With custom bikes by Gary Littlejohn, you can't go wrong with this story of intolerant townsfolk fighting it out with the Angels. An honorary member of the Angels is killed being released from jail. If you know the Angels, well, they are not going to put up with that!!! This winning cast includes head Angel Tom Baker, the incredible William (Grave of the Vampire) Smith and producer Beach Dickerson. |ORDER|
ANGELS FROM HELL (1968) Tom Stern plays a "Psychos psycho" in this story of a biker fresh from Vietnam who's ready to pull together the ultimate outlaw biker gang in the name of all that's evil and rotten. Is trouble with the police far behind? With Arlene Martel. ORDER
ANGELS HARD AS THEY COME (1972): From producer Jonathan Demme comes this story of loose women, fast cycles and gang vengeance. Featuring Scott Glen in his film debut performance, and if you keep your eyes peeled you will see a young Gary Busey in one of his first performances. |ORDER|
BLACK ANGELS (1970) A black biker picture which has a spiteful cop setting a white biker gang up against a black biker gang. The black gang is actually played by real life bikers called the Choppers. Very violent and topical of the times. Never released officially on video in the U.S.A., this tape comes off a nice Dutch master tape. ORDER
BURY ME AN ANGEL (1972): Here is the first biker film to be directed by a woman, Barbera (Humanoids from the Deep) Peters. Six foot blonde Dixie Peabody gets on her bike with a sawed off shotgun and goes after the killer of her brother. Cast includes Dan Haggerty and Beach Dickerson. |ORDER|
CC AND COMPANY (1970) A great cast ushers this film into a classic! Joe Namath plays CC, who belongs to a gang called "The Heads". When CC falls for a fashion journalist (Ann-Margret) this causes conflict with gang leader Moon (William Smith). How does it end, well, you'll have to see for yourself...ORDER
CHROME & HOT LEATHER (1970) Big, bad William Smith runs a group of renegade bikers who murder a girl out of stupidity. Turns out her boyfriend is a marine straight out of Vietnam, and he intends on avenging her death. Cool bikers vs, soldiers flick, complete with Marvin Gaye as one of the marines. ORDER
CYCLE SAVAGES (1969) Playing a biker named Keeg, Bruce Dern adds another psycho role to his resume. High school girls are kidnapped, given LSD and banged by bikers before being sold into slavery. Can hero Chris Robinson save the little ladies before it's too late?! Buy it and find out. ORDER
DEVIL'S ANGELS (1967): John Cassevetes stars in this violent follow-up to THE WILD ANGELS. Directed by Daniel Haller. Off a lovely British master. Biker gang has a run in with a small town sheriff. " There god is violence... and like rabid dogs, lust is the law they live by! This tape is extreemly rare and long out of print in the U.S.A. Comes with cool color boxart, hence the price difference. ($20) |ORDER|
FIVE THE HARD WAY (1969 Aka SIDEHACKERS) This is not the MST episode, this is the full feature, uncut with no nonesense added. It does have a screener warning throuout on the bottom, but it's not obtrusive so be forwarned. Biker Rommel and his girlfriend join a gang run by the unstable J.C. J.C. decides to rape and kill Rommel's girlfriend, who in turn decides to seek revenge. Ultra rare flick, so hop on it and ride it the Hell out of here! ORDER
GIRLS FROM THUNDER STRIP (1970) More Biker madness from the prolific but talentless David Hewitt. A group of bootleggers(who are sisters) battle a vicious biker gang who are serial killers. In the short run, you get T&A and slaughter in the same package. Would make a perfect double feature with Hell's Chosen Few, another biker flick from Hewitt that we offer. Don't just stand there, buy the damn film! With Casey Kasem, Jody McCrea, Jack Starrett. ORDER
THE GLORY STOMPERS (1967): Dennis Hopper's bad boy gang, the Black Souls, beats a man and kidnaps his girlfriend with the intention of selling her to a white slavery market in Mexico. Does this chick's boyfriend intend to lay back and take this abuse? Damn right he doesn't!!! Cast includes Jody McCrea and the incredible Jock Mahoney. DJ Casey Kasem appears as a guy called Mouth! |ORDER|
THE HARD RIDE (1971) A Viertnam vet returns home with his pals body and a promise to his dead friend that he'll look up the corpses girlfriend and reuite the dead man with his beloved bike which he wants buried with him. Problem is the dead buddies gang doesn't want this to happen. By now you know what to expect! Very rare! ORDER
HELLS CHOSEN FEW (1968) Biker fun from the late, great David Hewitt, the man who caused countless suicides when he released the film The Wizard of Mars on the unsuspecting public. A Biker gang member (Gary Kent) is accused of murder. When his brother, who has just returned home from being a marine in a tour of duty in Vietnam, decides to join the gang in order to get to the bottom of the matter, a huge rock is overturned and a rotten snake is exposed! If anything, you have to give Hewitt credit for trying. ORDER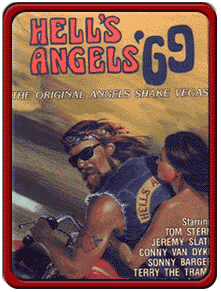 HELL'S ANGELS '69 (1969): Two spoiled rotten East Coast kids trick Sonny Barger and his gang into acting as a diversion for a robbery they pull off in Las Vagas. Needless to say, the Angels don't take this lying down. Why do people keep thinking they can fuck with the angels?!! Cast includes Tom Stern and Jeremy Slate. |ORDER|
HELLS BLOODY DEVILS (1967) Al Adamson's rarest and first "Bad Biker" film. Nazi's and the Mafia team up with bikers to spread counterfit money in Las Vegas. Cast includes Broderick Crawford, Scott Brady, Kent Taylor and John Carradine. Gang rape, violence, and just about every extreme ever known punctuate this Adamson classic. Off a Greek master, in English with Greek Subtitles. Dig it! ORDER
HELL'S BELLES (1969) When Jeremy Slates bike ends up stolen and in the hands of bad guy Adam Roarke, you better believe he is not about to back down in his attempt to get it back. Jocelyn Lane and Angelique Pettyjohn play the mamas.
ORDER
HELLCATS (1969): The Brother of a murdered man hooks up with the murdered mans wife and both play biker in order to infiltrate a biker gang with ties to the mob. He will track down his brothers murderer even if it means his own death! A real nifty revenge melodrama with some great brawling and endurance test scenes. A great scene involves two Angels proving their streanth by allowing themselves to be tied between two dune buggies going in opposite directions!!!! Has to be seen to be believed. |ORDER|
HELLRIDERS (1985) Adam West and Tina Louise star as two folks trapped in a town under the siege of a nasty motorcycle gang. Worth it alone for the re-uniting of West and Louise. ORDER
HEX (1973): "Meet the Easy Riders of Bingo, Nebraska". Considered by many a "New Age Classic", this unconventional biker flick involves four bikers (Keith Carradine, Gary Busey, Scott Glenn, and Dan Haggerty) who are traveling their way across Nebraska on vintage WWI motorcycles in the summer of 1919. Along the way they run into two teenage witches (thats witches, not bitches) who lay the wammy on them. A nice meeting of biker and horror flick. Very rare. NOTE: This video suffers from minor wear damage. The bottom of the picture has minor static, which at times produces a flutter in the picture. Due to its rarity, I continue to offer it, but purchase with caution! Really should be selected as a free tape to accompany a four tape purchase. |ORDER|
HOT RODS TO HELL (1967) Dana Andrews and his family get tormented on their Summer vacation by a group of asshole hot-rod happy juvenile delinquents. Not per say a biker film, but a forerunner of the genre just the same. ORDER
LOSERS (1970) Directed by Jack Starret, who also acts in the film, this flick has been called the ultimate biker film. Five Hells Angels with armoured choppers are recruited by the CIA for special projects in Cambodia. They do everything from busting up native villages to rescuing a Presidential advisor from the Red Chinese. ORDER
MINI-SKIRT MOB (1968) Diane McBain stars as a motorcycle gang leader who will do anything to get her boyfriend (Jeremy Slate) back after he leaves her for a straight laced chick (Sherry Jackson). You can only imagine how messy this gets! ORDER
MASTER'S REVENGE (1971 - Aka DEVIL RIDER) From director Brad F. Ginter (Flesh Feast) comes this story of a karate teacher forced to battle a biker gang because they kidnapped his girlfriends sister. If you know Ginter's work, you'll know what to expect. ORDER
NAKED ANGELS (1969): Roger Corman was executive producer of this classic. Into the Nevada desert ride the Angels in search of the rival gang that put their leader (Michael Green) in the hospital. The usual rough housing ensues. |ORDER|
NAM ANGELS (1988) Late entry in the biker in Vietnam sweepstakes in which Hells Angels enter Southeast Asia and rescue POWs. Lots of explosions and violence, and shot on location in the wilds of Asia. Directed by exploitation pro Cirio Santiago. ORDER
NORTHVILLE CEMETERY MASSACRE (AKA FREEDOM R.I.P. 1971): William Dear (that's right, of Harry and the Hendersons fame) directed this wacked out tale of bikers fighting for survival against a red neck sheriff and his posse.It seems the sheriffs men raped the daughter of a multi millionaire and blame it on the bikers, who receive the rich mans wrath. He hires an army of assassins to pick off the bikers one by one. A very bleak film with a no hope ending. But that is the point, life does not always have a happy ending and justice is not always served. |ORDER|
NUMBERED DAYS (1974 - Aka Cycle Pyscho) Insane outing regarding a biker gang involved with white slavery. With Stephen Oliver and Kubrick fave Joe Turkel. Fun exploitation garbage. ORDER
PEACE KILLERS (1971) A brother and sister team, who are staying at a local commune, run into trouble when a biker gang spots them in a local grocery. Turns out the sister once dated the biker gangs leader, and now he wants her back in the worst way....ORDER
PINK ANGELS (1971) Believe it not, a band of transvestites hop on their Harleys and head out for LA. This flick is one of the first "Comedy" Biker films, in this case a motorcycle version of "La Cage Aux Folles". If you thinks transvestites are funny, than this rarity is for you. ORDER
REBEL ROUSERS (1969) Bikers stage a drag race to see who will a pregnant chick as a prize. Why a pregnant woman is considered a prise is beyond me, but what a cast for this classic: Bruce Dern, Jack Nicholson, Cameron Mitchell, Harry Dean Stanton and Diane Ladd. ORDER
RETURN OF THE REBELS (Aired on CBS 10/17/81) An aging biker gang come to the rescue when one of their own (Barbara Eden), now the owner of a camping ground, has trouble with a group of arrogant groupies. Cast includes Don Murray and Patrick Swayze. With Jamie Farr. A made for TV Biker film so only $15.00. ORDER
RUN, ANGEL, RUN (1969) William Smith plays Angel who decides to take a generous offer from a news magazine and exposes the inner workings of a gang. Needless to say, the gang isn't to pleased so Angel and his girl must go on the run. Raw! ORDER
SINNERS BLOOD (1971) Two sisters discover sex, drugs, Rock & Roll when a gang of bikers come to town. It's the education of their lives. Of course disaster looms around the corner. Strange morality tale from the backwoods of America. Sleazy. ORDER
SLEAZY RIDER (1972) Softcore sex film that gives us a whole new "Sleazy" slant into the wild world of bikers and their "hot, hog riding momas". Ultra rare tape, never before available in the U.S. Off a nice Euro master. Do not pass this up! ORDER
STONE (1974) Ride with Stone, the undercover cop who joins the GraveDiggers motobike gang to find out who's killing them off. They have their own law, there own Satanic religion, and no one is safe with them, not even Stone. An Australian classic biker film with a cult following all over the world. "The best biker movie ever produced"... - Live To Ride Magazine ORDER
TORMENTORS (1971) A man goes gunning for revenge after his wife and kids are killed and raped by a gang of renegade bikers. Directed by David L. Hewitt, who gave us The Mighty Gorga. With Anthony Eisley. ORDER
WILD REBELS (1967) A police lieutenant talks a failed stock car racer (Steve Alaimo) into being a biker gangs getaway car driver for their bank jobs. When the bikers find out Alaimo is a plant, there is hell to pay! Directed by William (Sting of Death) Grefe. Comes complete with violence, musical numbers, and choppers. ORDER
THE WILD RIDERS (1971) Kind of like "The Last House on the Left" of biker films. Two sociopaths get tossed out of a biker gang. They decide to take refuge in a rich womans home, where they go on a rape and murder spree. But their just desserts lay wait around the corner...featuring the incredible Alex Rocco as one of the two thugs, this film is certainly among the rarest as far as biker films go. Don't wait, hop on it, now! ORDER
WEREWOLVES ON WHEELS (1971): This is my personal favorite biker film. Bikers interrupt a satanist's ceremonies and pay dearly for it. The film acts sort of as a "who done it" in that you are left guessing who the werewolf is until the end. This flick was directed by Michael Levesque, who acted in directing assistant capacity on some of the above film's. The cast features the incredible Severn Darden (see career retrospect in the Exploitation Journal, Volume 3 #3) as the Satanist called "One" and the incredible raspy voiced Barry (Eve of Destruction) Maguire as one of the bikers. This is a must!!! |ORDER|
---
Hope you all enjoyed this trip down biker heaven. For more great reading on biker flicks, pick up the fantastic new book from Australia called CYCLE CINEMA & SICKLE SOUNDS, which covers not only the films but the soundtracks to the films as well. Contact cmusic@hotkey.net.au or www.garyusher.com/cmusic.html for more details. Also, Canada has some home grown Biker flicks they'd like you to know about. Check out this link www.cultureshock.tv for "THE DEATH LORDS". As we acquire more rare titles, they will be posted. Check back for more updates. Keep riding on!