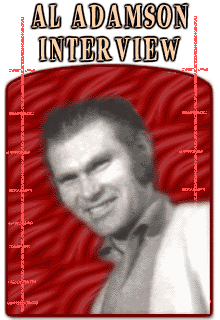 Interviewed by George R. Reis & Keith Crocker, The Exploitation Journal
During the 60's many independent American directors came to promise, shooting exploitation films of varying quality. Their subject matter was low budget drive-in fodder, great trashy films that could be viewed again and again. For me, one man stands out from the rest. His films were better directed, better paced, and overall more entertaining than the others. That man is Al Adamson. Adamson usually threw everything but the kitchen sink into his films, most of which were made up of horrifying creatures, rough biker gangs, mad scientists, deranged dwarves, scantily clad girls, long-fanged vampires, and whip-yielding feminists. What more could you ask for?
We had the pleasure to chat with this great gentleman (who is rarely ever interviewed) last Halloween.
- George R. Reiss, 1994
---
EJ: Do you like doing horror films?
Al Adamson: I did like doing them. To me, it's fun. I don't take it seriously.
Sometimes your films become really brutal. There's a lot of gruesome effects in Brain of Blood. The brain transplant scene: were those effects or did you use actual surgery footage?
No, we went down to the market and got some brains, you know, they sell brains from animals. It was just so simple. It really wasn't hard to do at all.
I saw you on "The Joe Franklin Show," and you seemed to favor Satan's Sadists. Is that your favorite?
Oh, it's one of the better films I've made ... and one called Jessi's Girls is another one. It's a western. That's a good one. I think that I'm a better action director than anything.
We interviewed Russ Tamblyn and he said that on Satan's Sadists, he improvised a lot of his own lines and did some of his own things in the film.
I gave Russ a free hand, that's why he worked for me. He had retired pretty much at the time, and I found him. I said, "Look Russ, I want you to add what you can to the film." So in certain situations I let him do what he wanted to do. He enjoyed that. He always worked for me because he was given that freedom. Some of them ruin a picture. It just depends on the type of situation. You can't do it (improvise) with everybody in every situation. Even with Russ, I'd say, "Hey Russ, that don't work."
Did you have to handle a lot of the technical work on your films, or was that in other people's hands?
The things I worried about most were having a good cameraman and sound man. That's all I need: me, a cameraman and a sound man and I could make a movie right now.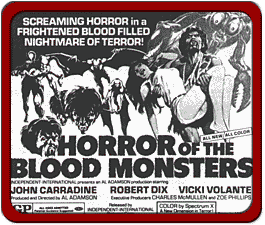 We were all sad to hear about the death of Regina Carrol. She will remain a cult hero to many of us. What are your memories of her?
Regina was a great dancer, a great actress, and a wonderful person. She went through a lot of pain at the end. There wasn't much I could do about it, just stay with her. It's amazing, it's almost been one year now. She died on November 4th, 1992.
Had she acted for you first, or had you already been married prior to working in films together?
I used her as an actress in Satan's Sadists, and we started going together right after that. We actually didn't get married until '72. We had lived together for a couple of years.
You've worked with some of the best cameramen around. Psycho A Go-Go had Vilmos Zsigmond.
Right, and he also did Blood of Dracula's Castle. He split that with Laslo Kovacs. He did three pictures for me. Vilmos was one of the best, and then of course Kovacs, and then I used Gary Graver, who was Orson Welles' cameraman. The last one I used was Louis Horbath. He was another Hungarian in the same mold as Zsigmond and Kovacs. I've always been blessed with having good cameramen. As I say, a cameraman, sound man, and myself could go make a movie.
You had a stable of actors that you often worked with. Were you all friends at the time?
We always had fun on our sets. We never had fights. We didn't have time for it. We used a lot of the same people over again because they were dependable. They were reasonable pricewise. We had to watch those sort of things.
What was the general budget of one of your pictures?
We had budgets of usually $200, 000 to $500,000. It depended on the picture. Some had more production, some had more time to shoot. I know I didn't get rich. (laughs)
With the death of the drive-in, where do you hope to see your latest film released?
Well, we planned on shooting it for television and cable, and foreign. The film is about UFOs. It's called Beyond This Earth. Sam Sherman is producing. Then we're doing one called Alien Landing, then we're doing one in Australia called Gold Fever, so that should keep us busy!
---
Note: This is only a small portion of the Al Adamson interview. To read the full article, pick up a copy of The Exploitation Journal, Vol. 2#1: American Masters Special. Price: $5.
Cinefear also carries hard-to-find Al Adamson movies, including Cinderella 2000 and The Murder Gang. Each tape is $20. Also check out Al Adamson.com for information on how to purchase the latest Adamson DVDs.