CINEFEARS CLEAN OUT YOUR CLOSET SALE
Ok folks, here we have factory boxed original VHS and DVD's for sale. These tapes and DVD's are used, some viewed only once (watch them and you'll quickly learn why), others former rentals, what have you. They have been priced to move, condition of tape and box will be described in the descriptions for each item, and once they are sold, they are gone and will be removed from the list, unless ofcourse I have doubles. These are final sales, no returns accepted unless merchandise is not as described. The bulk of these tapes and DVD's are out of print. Again, this will be noted in description. So this is your one shot deal to get ahold of some truly rare finds.
VHS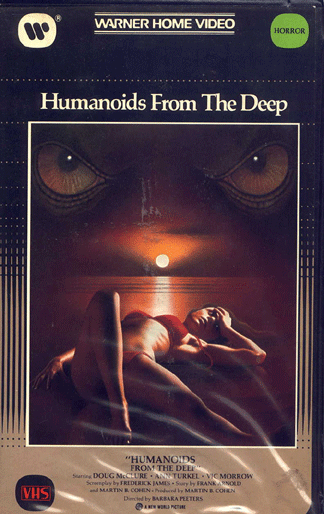 ALIEN SPACE AVENGER (1993) From the director of Class of Nuke 'Em High. Aliens escape a bounty hunter by entering the bodies of earthlings. Worldvision Home Video release is in excellent condition, both box and video. Recorded in the SP mode. $2.99
AIR PANIC (2001) A Psychotic Computer genius carries out a personal crusade of destruction. DEJ Productions original slip cover box in fine condition. $2.99
BALLAD OF DEATH VALLEY (1966) Also know as The Return of Ringo. Off the Eddie label in the SP mode. $2.99
THE BIG BIRD CAGE (1972) Classic Jack Hill women in prison film featuring the pendelous breasts of Pam (Coffy) Grier as well as exploitation greats Carol (Abby) Speed and Sid (Spider Baby) Haig. This is the original Warner Home Video big box edition from the early eighties. The tape and box are in fine shape, despite having been a former Blockbuster video rental (has a Blockbuster sticker on tape and box). $19.99
CHRIS CASSIDY'S FANTASIES (1980's) From the long out of print Showgirl Superstar series. Big, blond, beautiful Chris Cassidy lets us into her deepest, most intimate secrets. From lesbian leasons to taking on three guys at once during a rocking time in a recording studio. This chick leaves the porn goddesses of today out to dry. Check it! This is a legal VHS cassette complete with uncut box art, it's original, collectible clamshell intact. $19.99
CRYSTAL DAWN'S FANTASIES (1983) Here is one of those fantastic compilations featuring anal pro Crystal Dawn showing the world her remarkable talents for taking it in the ass. If you know Crystal, you know what your going to get. Double penetrations, facials, and just about everything you expect from this lovely honey. Yeah, this is the one you've been waiting for. With Lynx Canon, Blair Harris, Lisa Thatcher, Paul Thomas, Hershel Savage, and many more.This is a legal cassette complete with uncut box art, it's original, collectible clamshell intact. It is a BETA cassette, not a VHS.$19.99
DANGEROUS LOVE (1981) Insane sex drama directed by Mario Sicilano and featuring Karin Well (Burial Ground) as a rich women who cuts her gigilo husband off from his allowance when she disdcovers he's having an affair with a wealthy countess. Both Karin and the countess hook up and plan revenge. This is an original, SP mode recording off the very rare and in demand Private Screenings label. $25.00
EARTH VS THE FLYING SAUCERS (1956) Classic Ray Harryhausen sci-fi featuring Hugh Marlowe. 1989 Goodtimes Home Video LP speed with slipcase in fine condition. $2.99
THE EVIL OF DRACULA (1975) Another of my former master tapes, this one taken from a clean Japanese DVD complete with English subtitles, and uncut! Can you afford to be with-out it? $2.99
HUMANOIDS FROM THE DEEP (1980) Here is the original Corman produced classic in it's giant clamshell box as released through Warner Home Video in the early eighties. A former rental but in excellent condition, both box and video. $9.99
IT CAME FROM BENEATH THE SEA (1955) Classic Ray Harryhausen sci-fi featuring Kenneth Tobey. 1988 Goodtimesa Home Video LP speed with slipcase in fine condition. $2.99
THE MAGIC CHRISTIAN (1969) Crazy 60's era comedy starring Peter Sellers, Ringo Starr, John Cleese, Raquel Welch, Christopher Lee, Richard Attenborough, Roman Palanski. Republic Pictures Home Video slipcase in fine condition. $2.99
MOVING TARGET (1988) Italian made madness featuring Janine Lindemulder (future porn star) as a gal who witnesses the murder of her boyfriend and is then relentlessly pursued by his killers. The cast is full of alcoholic has beens including Ernest Borgnine, Linda Blair, Stuart Whitman, and Larry Koster. Original South Gate Entertainment release in SP speed, very rare indeed. $9.99
PSYCH-OUT (1968) Hippies and bad guys torment Susan Strasberg. Great cast includes Dean Stockwell, Jack Nicholson, Bruce Dern asnd Adam Roarke. This is the original directors cut off the long out of print HBO Video. This is a ultra rare cassette so hop on it while you can! $50.00
RENALDO & CLARA (1975) Bob Dylands Rolling Thunder tour film. A decent quality bootleg on two VHS cassettes. No artwork. $5.99
SANTO & BLUE DEMON VS. DR. FRANKENSTEIN (1970) The two supermen do battle with Dr. Frank and his army of moron zombie men. This film will provide giggles from start to finish. A Cine-Mexico video release, SP speed, tape and cover in prime shape, tape played once. In Spanish. $19.99
SANTO VS. FRANKENSTEINS DAUGHTER (1972) In Spanish, this master tape was taken from an all Spanish television broadcast. Quality quite good, tape quite rare. No cover, tape in fine condition. $9.99
SEVEN DEATHS IN A CATS EYE (1972) Great Italian giallo, directed by super hack Antonio Margheriti. Anton Diffring stars in this brutal tale of murder and pussy cats. This is the original, long out of print Prism Video release, box is cut and fit into plastic box, in the SP mode. Ultra rare! $10.99
SHATTERED SILENCE (Aka When Michael Calls 1970) Michael Douglas and Ben Gazarra in a great, creepy made for TV thriller. This is an SLP copy that has some drop outs, but it's a legal release, and actually quite rare. $2.99
SPONTANEOUS COMBUSTION (1989) A late eighties film directed by Tobe Hooper. Brad Dourif discovers he can light fires with his mind. This is the original Media Home Entertainment release, long out of print. Recorded in the SP mode, both tape and box in fine condition. A former Blockbuster rental (Blockbuster sticker peeled off back of box). $9.99
TEENAGE EXORCIST (1993) More stupidity from Fred Olen Ray. Prim and proper Brink Stevens get transformed into a smoking, drinking, chainsaw-wielding seductress. Features Michael (Hills Have Eyes) Berryman, Eddie Deezen, Robert (Count Yorga) Quarry. Original AIP Studios Video, recorded in the SP mode, box and tape in fine condition. Former rental. $9.99
THIS MAN CAN'T DIE (1967) Spaghetti western with Guy Madison as a gunslinger avenging the death of his family. Usual over the top violence and hate as delivered by crazed pasta man Giafranco Baldanello. Original JTC label in EP mode. $2.99
THE TORTURE CHAMBER OF BARON BLOOD (1972) Here's the original Thorn EMI/ HBO video label release of the Mario Bava classic featuring Elke Summer and Joesph Cotten. Super scary stuff with a bloody baron rising from the grave to take revenge on the towns folk who's ancestors killed him all those years ago. Ultra rare video! $10.99
TRAUMA (1992) Dario Argentos ill fated American made giallo, with guest turns by Frederic Forrest, Brad Dourif and Piper Laurie may leave a lot to be desired, but this Worldvision Video release, in the SP mode, is quite rare and out of print, and is in excellent condition to boot. $9.99
WAR BUS COMMANDO (1989) Italian rip-off of War Bus starring knuckle headed Mark Gregory (1990: BRONX WARRIORS) and the always sleazy John Vernon. Takes place in Afganistan. Original SP mode Trylon Video release. $9.99
DVD
ANY GUN CAN PLAY (1968) Another Spaghetti gem with Edd Byrnes, Gilbert Roland and George Hilton. A VCI DVD in letterbox, directed by Enzo Castellari, so you know your going to get over the top gun play. $2.99
CUBE (1997) Canadian made Sci-Fi thriller that predates the televsion show Survivor in that it details the efforts of a group of people to survive life or death situations that they are put into. Intelligent Sci-Fi that doesn't rely on fancy special effects but rather some clever dialog and story telling. This is a rare French DVD with English language options, as well as a ton of extras, well worth owning. $15.00
FIND A PLACE TO DIE (1968) Spaghetti western with Jeffrey Hunter trying to help a woman defend herself from bandits out to claim her gold mine. Great spaghetti brought to you by VCI letterboxed looking and sounding great! $2.99
NIGHT FRIGHT (1965) This is the classic late night cure for insomnia that would play at four in the morning on your local TV station. Jogn Agar plays a sheriff who battles mutated lab animal who returned on a crash landed rocket ship. The monster looks like an ape with a football helmet on. This is an Alpha DVD release, thus that means you are going to get kickass artwork on the cover sleave. Don't miss out on this rare and interesting title, and don't forget to swallow some "No Doze" before you start it up! $2.99
35MM TRAILERS
Ok folks, here is a collection of used 35mm film trailers. Some are a tad worn, others in much better condition, but all are ready to go for the serious film collector. All are priced according to their rarity, and these are one time only sales. If you have any questions on any title please email me.

HUSTLE - $15.00



Check back weekly, more titles to come.....